WASHINGTON ― Allies of President Donald Trump are reportedly plotting to smear the credibility of journalists, perpetuating his pattern of undermining the free press and dismissing critical reporting as "fake news."
The strategy was detailed in a Washington Post report Tuesday night about chaos within the White House, as administration officials struggle to mount an effective response to revelations of the president's eldest son, Donald Trump Jr., meeting with a Russian government-linked lawyer who promised damaging information about Hillary Clinton during last year's election.
A handful of Republican operatives close to the White House are scrambling to Trump Jr.'s defense and have begun what could be an extensive campaign to try to discredit some of the journalists who have been reporting on the matter.

Their plan, as one member of the team described it, is to research the reporters' previous work, in some cases going back years, and to exploit any mistakes or perceived biases. They intend to demand corrections, trumpet errors on social media and feed them to conservative outlets, such as Fox News.
The details of Trump Jr.'s June 2016 meeting, first revealed in New York Times' stories within the past week, represent the clearest indication yet that the Trump campaign may have colluded with Russia in the country's efforts to influence the U.S. election.
The New York Times did not immediately respond to a request for comment.
Trump and White House officials have regularly sought to undermine the free press, in part by labeling reporting critical of the administration as "fake news." Such attacks have been particularly fierce against journalists following the growing controversy involving his campaign and its contacts with Russian officials. Trump's war on the media is popular with his base of supporters.
The White House did not respond to a request for comment.
If reporters made up sources, they would be fired. Trump and his aides have continually railed against leaks of information and the use of unnamed sources in media coverage of the administration, even as they themselves often provide information anonymously.
Trump Jr. on Tuesday released copies of the emails on Tuesday revealing the details of how his meeting with Kremlin-linked lawyer Natalia Veselnitskaya came about. He did so after being informed by the Times' that it had obtained the emails and planned to publish them, according to the newspaper.
Also attending the meeting in New York were the elder Trump's son-in-law, Jared Kushner, who is now a presidential adviser, and to Paul Manafort, Trump's then-campaign manager.
Before You Go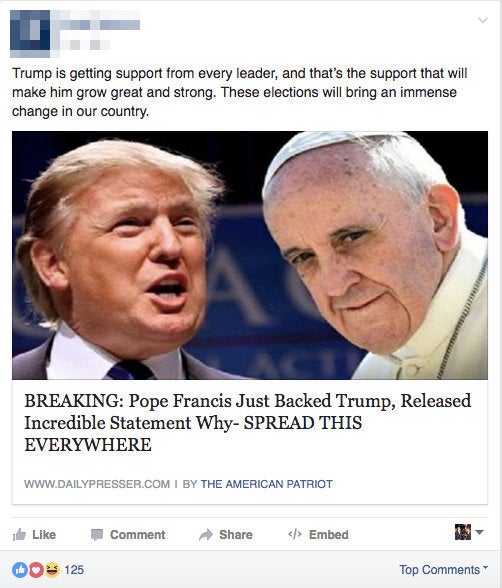 Fake News Spread By Social Media During The 2016 Election
Popular in the Community