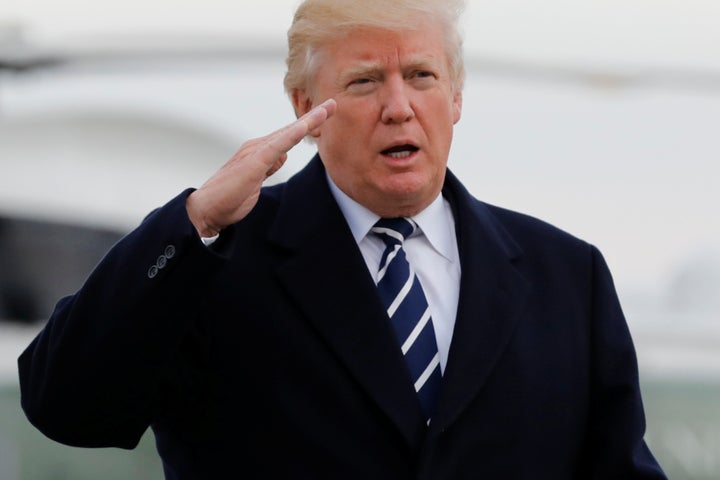 President Donald Trump took to Twitter Sunday morning to declare that the FBI's reputation "is in tatters," renewing his long-running attacks on the government's intelligence agencies.
The president appeared to be reacting to a Fox News report on Special Counsel Robert S. Mueller's investigation of potential collusion between Trump's 2016 presidential campaign and Russia. Fox reported that an FBI official was taken off Mueller's team after it was found he'd sent anti-Trump text messages.
In a tweet, Trump called the agent "tainted (no, very dishonest)."
On Friday, Trump's former national security adviser, Michael Flynn, pleaded guilty to lying to the FBI about his contacts with the Russian government after last year's election. Flynn admitted he spoke to the Russians at the behest of Trump transition team officials. His guilty plea to just one count suggests he is offering Mueller's team plenty of cooperation in its investigation.
Along with firing then-FBI Director James Comey in May, Trump has scoffed at findings by various government agencies, including the CIA, on Russian efforts to influence the 2016 election.
The FBI wasn't the only target of Trump's Twitter rage Sunday morning. He also singled out ABC News and its investigative reporter, Brian Ross. The network announced on Saturday it was suspending Ross over his false report that Trump had directed Flynn to reach out to Russia during the presidential campaign. (Flynn's meetings with Russians detailed in his plea were made during the transition.)
The stock market took a dive on Friday, likely at least in part due to Ross' report, which ABC later corrected. On Sunday, Trump made a legally dubious recommendation to anyone who lost money in the markets Friday: sue ABC and Ross.
As a presidential candidate, Trump vowed to make it easier to sue U.S. news outlets for libel, though he said nothing at the time about suing for damages due to drops in the stock market.
Popular in the Community