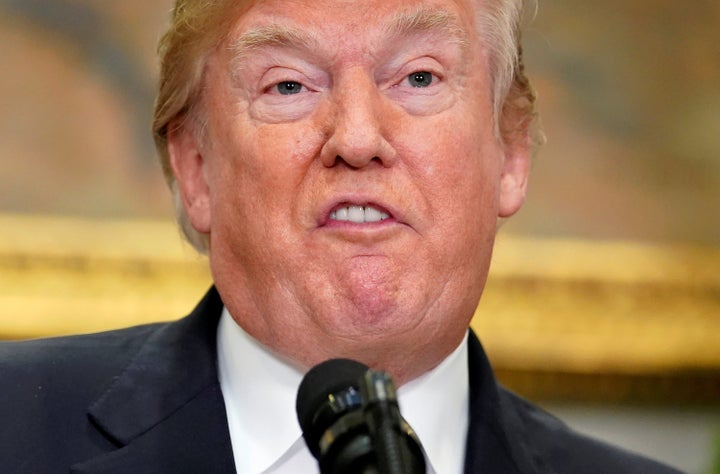 An angry President Donald Trump lashed out at The Wall Street Journal on Sunday, claiming the newspaper deliberately misquoted a single word in a 45-minute interview during its hunt for "fake news."
In his latest press row, Trump insisted he said: "I'd probably have a good relationship" with North Korean leader Kim Jong Un. The Wall Street Journal quoted him as saying: "I probably have a good relationship" with Kim. In recent months, Trump and Kim have sharply criticized each other and threatened to launch nuclear war on each other's nations. 
Washington Post columnist and CNN analyst Josh Rogin tweeted that either statement was "ridiculous":
Both the newspaper, owned by Trump's friend Rupert Murdoch, and the White House released their own recordings of the same brief section of the interview to back up their positions. It's difficult for a casual listener to say definitively if Trump said "I" or "I'd." 
The disputed quote followed an interview on Jan. 11 involving four Journal reporters. During a section of the interview, Trump talked about his good relationships with various world leaders.
"I have a great relationship with him [China President Xi Jinping], as you know I have a great relationship with Prime Minister Abe of Japan and I probably have a very good relationship with Kim Jong Un of North Korea," the newspaper quoted him as saying. 
Trump went on to say: "I would — I have relationships with people. I think you people are surprised."
The headline of the story that ran on Jan. 11 was "Donald Trump Signals Openness To North Korea Diplomacy In Interview." It began by noting that Trump believes he has developed a positive relationship with Kim.
Days later, Trump angrily attacked what he saw as a deliberate change of a single word:
The Wall Street Journal stands by its reporting, which was backed by a transcription of the interview, done by an outside service, the newspaper said. It printed the transcript ― except for sections that were off the record ― and posted a recording:
The White House also released what it called the "official" recording of the section of the interview:
White House press secretary Sarah Huckabee Sanders piled on the Journal over the weekend. She tweeted a mock "news story" with a red headline reading "FAKE NEWS":
Sanders said the White House asked the Journal to print a correction, but the paper refused.
"The Wall Street Journal, as you know, quoted totally wrong," Trump told reporters on Sunday night, per The Washington Post. "But we're going to see what happens with North Korea. We have great talks going on. The Olympics, you know about. A lot of things can happen."
Calling all HuffPost superfans!
Sign up for membership to become a founding member and help shape HuffPost's next chapter
BEFORE YOU GO