An audiotape of Donald Trump shortly after he won the presidency shows him hyping the upcoming drama of a new kind of reality show. 
On the tape, which Politico obtained from someone on the scene, Trump exhorts the "special people" at one of his golf clubs to be his audience and enjoy the drama of watching him interview potential candidates for his Cabinet.
"We're doing a lot of interviews tomorrow — generals, dictators, we have everything," says Trump on the tape, taken at a cocktail party last November at his golf club in Bedminster, New Jersey. 
"You may wanna come around. It'll be fun. We're really working tomorrow. We have meetings every 15, 20 minutes with different people that will form our government," adds Trump, who once displayed his showman skills as star of "The Apprentice" reality show. 
"We're going to be interviewing everybody — treasury, we're going to be interviewing secretary of state," he says. "We have everybody coming in — if you want to come around, it's going to be unbelievable … so you might want to come along."
Trump sounds joyful talking about his victory at the party, which honored longtime members of the club. It's the kind of milieu he seems to thrive in; this is his third week conducting the business of his presidency at his Mar-a-Lago golf resort in Palm Beach, Florida. 
He came under fire last week for meeting with Japanese Prime Minister Shinzo Abe — and discussing America's response to a North Korean ballistic missile test — at a Mar-a-Lago restaurant table in full view of club members, some of whom were snapping photos. One club member even took a picture with someone he described as the aide who carries the nuclear "football" with the codes for launching a nuclear attack. Democrats are demanding to know what kind of security measures are in place to screen club members, visitors and workers.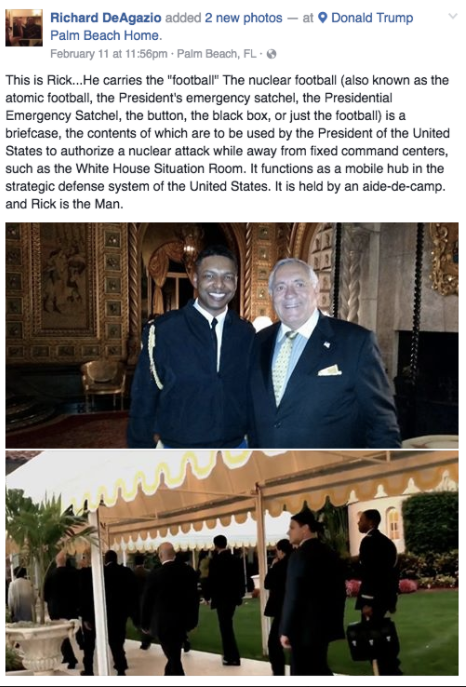 The club members are a circle of "special people," Trump noted at Bedminster, who have direct access to the president thanks to a membership fee. In the case of Mar-a-Lago, the fee was recently bumped up to $200,000. Throughout the presidential campaign, Trump himself accused Democratic opponent Hillary Clinton of trading access for charitable contributions to her family's Clinton Foundation.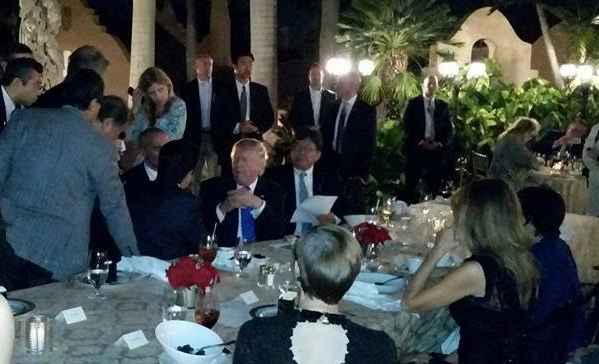 "Nice to see you," said Burke. "I'm a member of your club, by the way," he told the president.
"Very good," Trump said. "Very good."
REAL LIFE. REAL NEWS. REAL VOICES.
Help us tell more of the stories that matter from voices that too often remain unheard.