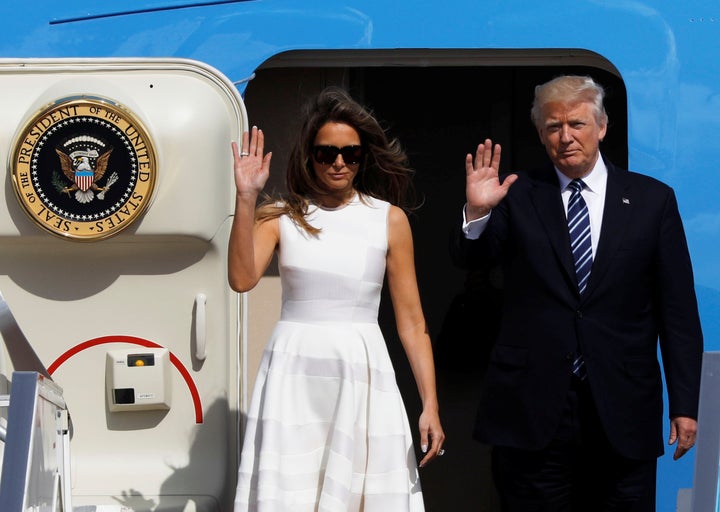 Trump's ratings took a noticeable dip in March after Republicans failed to pass a bill repealing the Affordable Care Act. They stabilized in the low 40s for much of April. In the past month, however, his ratings have taken a more significant downturn. His average approval rating stands at just below 40 percent as of Tuesday afternoon, with his disapproval rating at nearly 56 percent.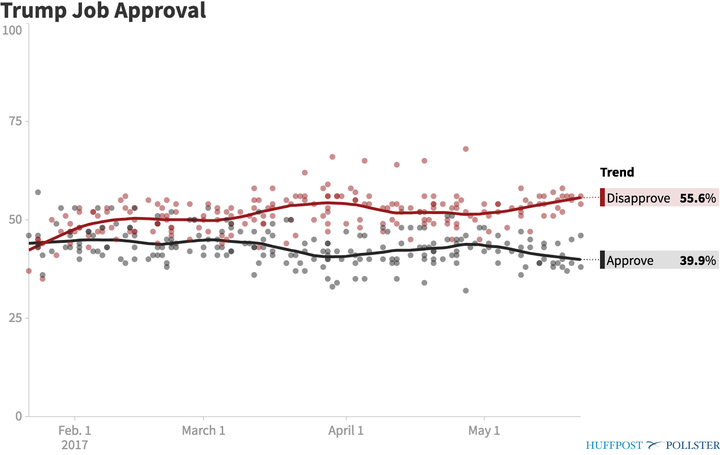 Polls tend to fluctuate, and the dividing line between 40 percent and 39 percent isn't itself especially significant. But regardless of the exact numbers, Trump, who began his term without the honeymoon period experienced by most modern presidents, is now in worse shape than ever. By comparison, former President Barack Obama never saw his average approval rating fall below 42 percent.
Individual pollsters who've tracked Trump's ratings this month have measured strikingly similar downward shifts. Of the six pollsters who've released multiple surveys taken in May, five found Trump's net approval rating ― the difference between his "approve" and "disapprove" numbers ― falling by between 7 and 9 points, as of Monday evening. The sixth, the Ipsos/Reuters tracking poll, shows him down by 11.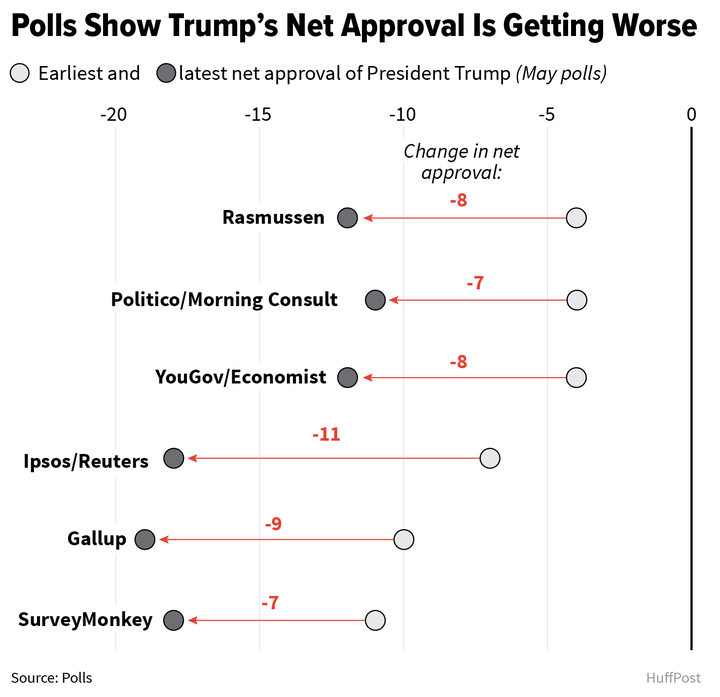 MORE OF THE LATEST POLLING NEWS:
ATTENTION TO HILLARY CLINTON'S EMAILS DOMINATED 2016 ― HuffPollster, on a presentation delivered Saturday during this year's American Association for Public Opinion Research conference: "During last year's election, the polling firm Gallup regularly asked Americans if they'd read, heard, or seen anything about the presidential candidates in the last few days. Those who had ― usually two-thirds or more of the public in any given week ― were asked to elaborate. The researchers then pulled out the words used by the public to describe what they were hearing about both candidates, as part of an effort to figure out what information was reaching voters and staying with them. In a chart of the most common words used in relation to Clinton between last summer and Election Day, the word 'email' quite literally crowds out the rest, with several of the other most prevalent words also alluding to perceptions that she was scandal-plagued... Many of the words surrounding Donald Trump also related to unflattering stories ― 'women,' for example, which likely encompasses everything from his litany of demeaning comments about women to the accusations he faced late in the campaign of sexual harassment and assault. But no one topic completely dominated the public's impressions of him or his campaign." [HuffPost]
ABOUT A TENTH OF PARTISANS SWITCHED SIDES LAST YEAR ― A new report finds that partisan identity is "sticky" but not immutable, with young Republicans relatively likely to have abandoned their party. Pew Research: "Some of the power of partisanship comes from its relative immutability: Most people remain loyal to a political party. But over a 15-month period encompassing the 2016 presidential campaign, about 10% of Republicans and Democrats 'defected' from their parties to the opposing party. Those who switched parties were less politically engaged than people who stayed with their parties. And among Republicans and Republican-leaning independents, young people were far more likely than older adults to leave the GOP….Only about half (53%) of those under 30 who initially identified as Republicans or leaned Republican consistently remained with the party over four subsequent surveys. Among older Republicans, 80% or more consistently identified as Republicans or leaned Republican." [Pew]
'OUTLIERS' ― Links to the best news at the intersection of polling, politics and political data:
- Most Americans say they're bothered that Trump reportedly shared classified information with Russia. [HuffPost]
- The Crowd Counting Consortium finds a sharp increase in the level of protest activity during the last month. [The Washington Post]
 - Harry Enten outlines the problems both parties face for the 2018 midterms. [FiveThirtyEight]
 - David Byler discusses the electoral map for gubernatorial candidates. [RealClearPolitics]
 - Robert Bird and Frank Newport find that white racial resentment fell during the Obama presidency, although not among Republicans. [Gallup]
  - The Associated Press and NORC at the University of Chicago examine the factors that determine people's trust in the news. [Media Insight Project]
 - A new report finds that most press coverage of Trump's first 100 days was negative. [Harvard]
 - Nate Silver looks at the historical context surrounding past attempts at impeachment. [FiveThirtyEight]
- Bruce Stokes notes that NATO's image has improved in Europe, the U.S. and Canada. [Pew]
- Jeff Guo introduces a new consumer confidence index. [Vox]
REAL LIFE. REAL NEWS. REAL VOICES.
Help us tell more of the stories that matter from voices that too often remain unheard.