LONDON ― President Donald Trump heads to Britain later this week for a working visit. All of his meetings with officials, however, have been organized away from the seat of government, which means he will avoid most of the protests scheduled across London and beyond.
Trump lands in London on Thursday but will head straight to a gala for business sector leaders outside the city at Blenheim Palace, the birthplace of Winston Churchill. The only time he'll spend in the city is overnight Thursday, when he and first lady Melania Trump will sleep at the U.S. ambassador's residence.
He will spend all of Friday at various locations in the countryside, including Windsor Castle where he plans to meet with Queen Elizabeth II, and Chequers, the U.K. prime minister's country house, before he heads to Scotland for the weekend.
Trump and the U.K. Prime Minister Theresa May will visit a defense site to view a military demonstration and integrated bilateral military training, according to a press release. The two will also discuss foreign policy.
Cities across the United Kingdom are expecting protests to reach gargantuan levels on Thursday and Friday. British police are preparing for the biggest mobilization of forces since 2011, police chiefs told The Guardian.
The epicenter of the protest movement will be London, where U.S. presidents normally spend time during visits to the country. The U.S. Embassy in London issued an alert Tuesday, telling Americans in the U.K. to "keep a low profile" during the protests.
Generally, presidential meetings with prime ministers and members of the royal family have often been held at 10 Downing Street and Buckingham Palace respectively, according to the U.S. Embassy in the U.K.'s website. Past presidents, including both Barack Obama and George W. Bush, slept at Buckingham Palace during their state visits.
Trump's working visit, however, is less formal than a state visit. British lawmakers objected to Trump getting the full treatment.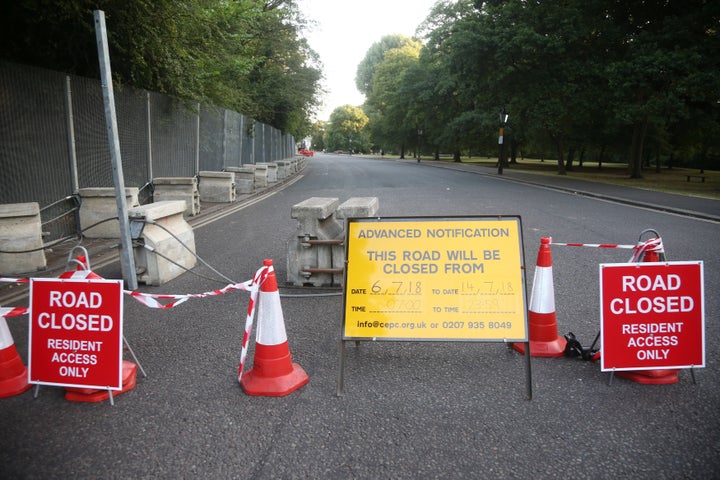 It's not uncommon for events to be held outside of the city, Prime Minister May's spokeswoman said.
"Prime ministers frequently make use of Chequers for meetings with foreign leaders," she said. "It offers a more informal setting for important bilateral discussions. We're looking forward to making sure the president has a chance to see and experience the UK beyond London and the south-east."
Presidents Richard Nixon, George H.W. Bush and George W. Bush all spent time at Chequers, she added.
Woody Johnson, U.S. ambassador to the U.K., denied that Trump was staying away from London to avoid demonstrations.
"No, the president is not avoiding anything," he said Friday. "The president is merely trying to get as impactful a trip as he can get in a 24-hour period."
Yet past presidents have braved the chaos of dissenters and chosen to remain in London. About 100,000 people demonstrated during George W. Bush's 2003 state visit, for instance. For security reasons, he opted out of an open-carriage parade near Buckingham Palace, but it didn't stop him from making several stops across London.
It's clear that the extensive preparations being made to keep Trump away from the public are deliberate, Lance Price, who served as former Prime Minister Tony Blair's media adviser, told The Independent.
"If he's having to be ferried around in secret, by helicopter, without coming into contact with any ordinary British people, then almost by definition the protesters have won," Price said.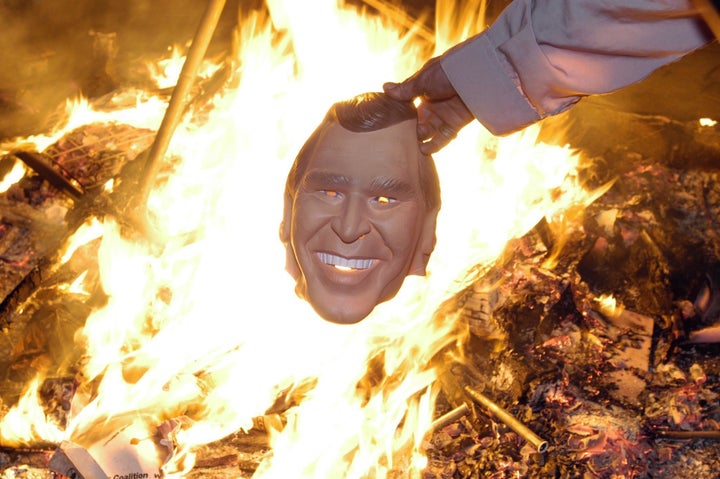 London is expecting about 50,000 protesters on Friday afternoon, who will be slaloming through the central part of the city before demonstrating in the city's Trafalgar Square. Other marches are also being organized for earlier in the day. Mayor Sadiq Khan granted activists permission to fly a giant inflatable baby Trump over Parliament during the visit.
Trump was scheduled to visit London in January of this year to commemorate the opening of the new U.S. embassy. He canceled his trip at the last minute, explaining on Twitter that he disagreed with the Obama administration's "bad deal" concerning the location of the embassy.
Popular in the Community