Days after President Donald Trump praised U.S. ties with Bahrain and vowed to mend any "strain" in the countries' relationship, the Gulf state launched a violent security raid that led to the death of one protester and dozens of arrests.
Bahraini security forces on Tuesday raided the home of prominent Shiite cleric Sheikh Isa Qassim in the village of Diraz. Demonstrators had been taking part in a sit-in outside Qassim's after authorities revoked the cleric's citizenship last year on vague charges of aiding a foreign state.
Bahrain's suppression of human rights and violent put-down of protests has created tensions with the U.S in the past. Former President Barack Obama's administration advocated for reforms and restricted some arms sales. But Trump has taken a different approach, appearing to ignore human rights concerns in dealings with Bahrain, potentially giving the kingdom a free hand to quell dissent.
Trump met with Bahrain's King Hamad bin Isa Al Khalifa on Sunday, and pledged more amicable relations.
"Our countries have a wonderful relationship together, but there has been a little strain, but there won't be strain with this administration," Trump said during the meeting.
The raid continues a crackdown on dissidents by Bahrain's Sunni authorities, who have targeted activists and prominent members of the country's Shiite majority since political uprisings swept the region in 2011.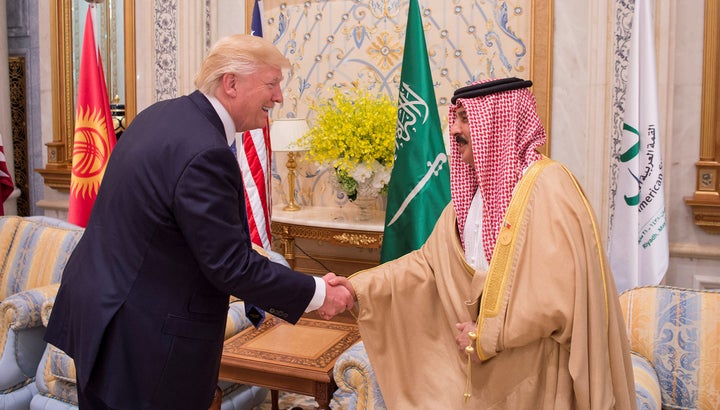 The shift in White House rhetoric on Bahrain continues Trump's conciliatory line on strongmen and authoritarian governments that have shared interests with Washington. During Trump's visit to Saudi Arabia last weekend, he praised a Saudi airstrike campaign in Yemen that has killed thousands of civilians, and complimented Egypt's President Abdel Fattah al-Sisi for "doing a tremendous job."
Trump's first foreign visit has seen a prominent focus on securing arms deals and bolstering support for regional powers that want to constrain Iran. Trump announced Saturday that he had struck a $110 billion sale of arms to Saudi Arabia.
In late March, Secretary of State Rex Tillerson decided to waive human rights conditions on the sale of F-16 fighter jets to Bahrain. The Obama administration struck the deal, worth billions, with the caveat that Bahrain refrain from certain rights abuses. Human rights groups condemned the Trump administration's move to remove those assurances, saying that it would give Bahrain a green light to ramp up repression.
Human Rights Watch issued a statement following Tuesday's raid in Bahrain, saying that the timing of the operation, two days after Trump's friendly meeting, "can hardly be a coincidence."
Although the U.S. has a long history of looking the other way on human rights when it is strategically or economically beneficial, the Trump administration has at times signaled that it is willing to do away with even the most milquetoast of condemnations if it could jeopardize potential deals.
Tillerson summarized the White House view in a speech this month to State Department employees, in which he said that putting too heavy of an emphasis on other nations accepting American values "really creates obstacles to our ability to advance our national security interests, our economic interests." Despite that sentiment, he claimed that the U.S. would not leave its values on the sidelines.
Related
Popular in the Community