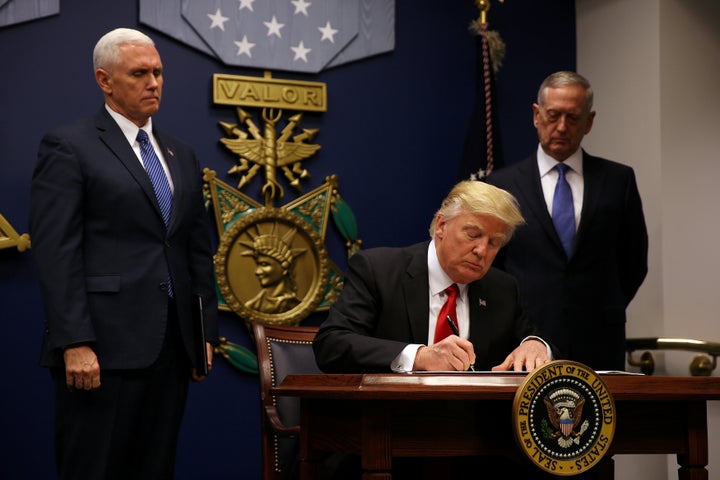 WASHINGTON ― Ever since the judiciary blocked President Donald Trump's travel ban, his favorite statistic has become that "72 percent" of refugees are now coming from the seven predominately Muslim nations the ban specifically names.
It is also misleading to the point of being flat-out wrong.
Trump on Sunday morning tweeted: "72% of refugees admitted into U.S. (2/3 -2/11) during COURT BREAKDOWN are from 7 countries: SYRIA, IRAQ, SOMALIA, IRAN, SUDAN, LIBYA & YEMEN."
On Saturday morning, he'd used an even higher figure: "Our legal system is broken! '77% of refugees allowed into U.S. since travel reprieve hail from seven suspect countries.' (WT)  SO DANGEROUS!"
The reason such a high percentage of refugees came from the banned countries in the week following U.S. District Court Judge James Robart's Feb. 3 ruling is because almost none had come during the week after Trump signed his executive order, before Robart blocked it.
In that week, only 2 of the 843 refugees admitted came from the seven countries listed in Trump's Jan. 27 order, according to State Department figures.
In the week following the judge's ruling, approximately 1,000 of the 1,450 refugees who entered came from the seven nations, which appears to be the basis of Trump's 72 percent figure. This occurred because many refugees who would have arrived the previous week from those nations arrived that second week instead.
Combined over that two-week period, about 1,000 of the nearly 2,300 refugees who came in were from the seven nations, or about 44 percent. Refugees from the seven countries made up 49 percent of the total number of refugees allowed into the country since Oct. 1 ― just slightly more than that two-week figure.
"Taken together and averaged, refugee admissions from the seven countries over the past two weeks are consistent with previous admissions numbers this fiscal year," a State Department official said, speaking on condition of anonymity.
White House press secretary Sean Spicer on Sunday defended Trump's numbers. "What he said was accurate," Spicer said.
Trump's argument also ignores the reason people become refugees in the first place. Of the seven nations on the list, six are wracked by warfare and violence. Only Iran is not. The United States has accepted zero refugees, for example, from Great Britain, New Zealand or Japan.
The 9th U.S. Circuit Court of Appeals unanimously upheld Robart's order last week. Trump's White House has not yet made clear its intended path forward, offering a variety of sometimes contradictory possibilities from a number of different officials, including Trump himself. Those include writing a brand new executive order with the goal of avoiding the legal problems of the last one, arguing the existing case on its merits, and appealing the appellate court decision to the U.S. Supreme Court.
Trump's original executive order suspended all refugees for 120 days, blocked refugees from Syria indefinitely, and imposed a 90-day ban from entering the United States on most nationals of those seven countries.
Calling all HuffPost superfans!
Sign up for membership to become a founding member and help shape HuffPost's next chapter