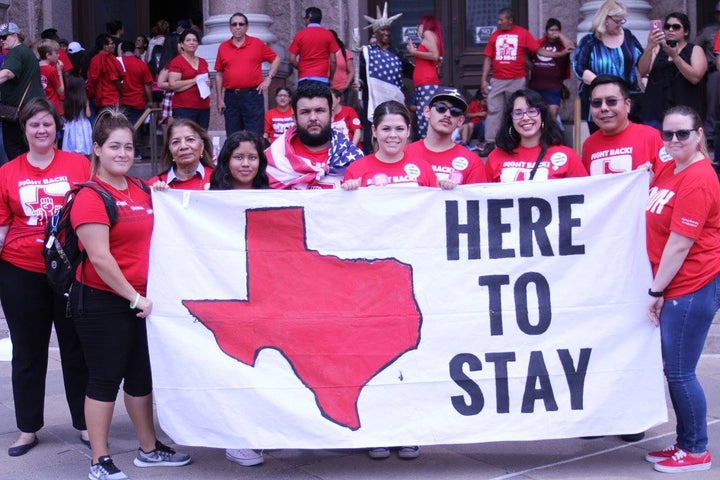 Last Tuesday, I stood in the crowd and watched Trump deliver a campaign speech full of finger-pointing, race baiting and alternative facts – all under the false pretense of unity. I stood aghast as Trump uttered some of the most un-presidential words in our history—words driven by fear, insecurity and hate.
Trump's pardoning of Sheriff Joe Arpaio demonstrates the lengths to which Trump will go to exploit the frustration of those willing to spew hate. It should therefore come as no surprise that Trump is leaning towards ending DACA—stripping legal status from hundreds of thousands of young people and putting them back at risk of deportation. In Arizona alone, nearly 28,000 young immigrants benefit from DACA. As a fourth generation Arizonan, a mother of five and a grandmother of six, I've seen the positive effects of Deferred Action for Childhood Arrivals (DACA) in Arizona. In only five short years, DACA has transformed and revitalized so many communities. It has given young people (known as DREAMers) newfound agency and hope. It has empowered a new generation of immigrant youth to actively contribute to this great nation.
I have a message for Trump: Be not afraid. Our country deserves better. By standing with DREAMers, Trump has the opportunity to be a president for all Americans – not just people that look like him. He has the opportunity to uphold the values of family, opportunity, equality and self-reliance that this country was built on. Or, he can choose to succumb to extremists and fail not only the DREAMERs – but all of us who call this country home.
We cannot allow our President to side with bigotry camouflaged as patriotism. After the events that transpired in Charlottesville, he claims to seek unity and healing. However, by not denouncing the extremists, he has emboldened the darker forces in our country to the point where they no longer cover their faces. By claiming blame on "all sides," he is giving neo-Nazis and white supremacists credibility.
If Trump truly wants to truly reject hate, he can start by defending DREAMers – young people who simply seek the right to contribute to the only country they have ever called home. DREAMers are our neighbors, our teachers, our doctors and our friends. DACA has allowed nearly 800,000 DREAMers to work, study and actively contribute to their communities without fear of having their lives uprooted and their families ripped apart. We should be honoring our proud history as a nation of immigrants – not rounding up people with deep roots in our communities and tearing them apart from their families.
If Trump's heart led him to pardon an individual like Arpaio – a man found guilty by a court of law who would have been sentenced to serve his time in jail – Trump need not be afraid to use that same heart to pardon and provide relief to DACA recipients. He need not be afraid to extend DACA and DAPA (Deferred Action for Parents of Americans) to millions of families who want their shot at the American Dream.
DREAMers are integral not only our communities but also to our economies. The economic impact of ending DACA equates to almost 685,000 fewer workers and a loss of more than $460 billion from the national GDP. We should be building bridges, not walls for people who want to strengthen our economies and make our country stronger.
There is strong bi-partisan consensus on this issue. Public opinion polls found that nearly two-thirds of Americans say they'd like to see a path to legal status for undocumented immigrants rather than deportations.
Young immigrants who have long called America home should not be victims of Trump's racist and xenophobic agenda. These young people deserve the assurance that they can live full lives without fear of being deported to countries they haven't set foot in for years. We must urge Trump to protect DREAMers and refute an extremist agenda of hate by defending DACA on Sept. 5. He can stand with the right side of history or forever be deemed the real Deporter in Chief.
President Trump, we will not sit idly by while you demonize our community and force us into the shadows. We will continue to stand for the ideals this country was built on -- even if the person holding the highest office will not.
Petra Falcon is the Executive Director of Promise Arizona. She is a fourth generation Arizonan and a mother of five children and six grandchildren.
REAL LIFE. REAL NEWS. REAL VOICES.
Help us tell more of the stories that matter from voices that too often remain unheard.