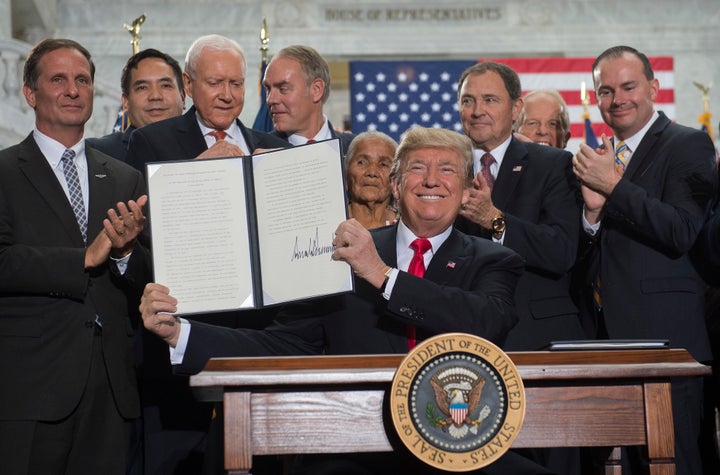 A year ago, the Obama administration took the extraordinary and long-awaited step to designate Bears Ears National Monument in Utah. Bears Ears has been home to Native peoples since time immemorial, and we cherish it for its cultural, spiritual, and archaeological importance.
Indigenous people have been caring for Bears Ears for countless generations, but formal protections under American law for the entirety of the area were made permanent only with the creation of Bears Ears National Monument. Five tribes (Hopi, Navajo, Ute, Ute Mountain Ute and Zuni) worked with the U.S. Government to protect our sacred ancestral lands at Bears Ears, and it was an example of our government-to-government relationship in action. Last year's announcement brought some closure, as well as a powerful sense of justice after decades-long goals had finally been met. But all of this changed in an instant.
Today, President Trump made history by undoing all of this, walking back the progress that had been made with the federal government. Never before has a U.S. president tried to reduce a national monument to such a degree for so little reason.
President Trump does not have the authority to take the action he took today. Under the Antiquities Act, the president may create national monuments. That is all. He or she may not modify or revoke existing monuments — only Congress has that ability. Trump's actions are illegal, unwarranted, and deeply unpopular. And they are a blatant attack on tribal sovereignty and self-determination.
Until the designation of Bears Ears, our sacred lands were under constant threat. Those unfamiliar with our cultures and our traditions contributed to the steady destruction of our sacred sites by looting, grave robbing, and indiscriminately drilling for oil and mining uranium at the expense of our heritage.
In a remarkable display of tribal unity, the five tribes joined together to protect Bears Ears National Monument. These five tribes worked tirelessly with the previous administration to voice our concerns, and to offer a detailed plan for preserving Bears Ears. These efforts led to planned visits by the administration, numerous consultations with Native community members, tribal and local governments, and businesses. While the tribes did not get everything they desired, the national monument designation (and protection) was a major and long-awaited victory. Trump's executive order today dishonors the agreement reached between tribes and the federal government.
In true government-to-government fashion, Representative Reuben Gallego (D-Ariz.) introduced legislation that would expand the boundaries of the national monument. In fact, it sets new and proper boundaries that the five tribes originally proposed to the Obama administration. Rep. Gallego's bill also offers an important footnote on how the federal government should engage in government-to-government relations: a member of Congress approaches the tribes, and in open and transparent dialogue, we discuss our shared priorities and interests.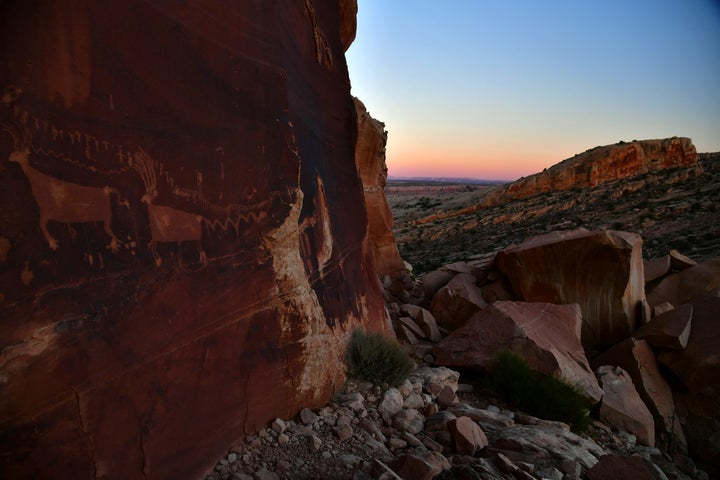 It is clear that Trump's attack on Bears Ears is motivated by his desire to undo decisions made by his predecessor, but also to grant political favors to the Utah politicians who would see our sacred lands plundered for short-term economic gain that could come from drilling for oil and mining for uranium. In the hollow and politically-motivated national monuments review, spearheaded by the Secretary of the Interior Ryan Zinke, the Trump administration failed to meaningfully consult tribal governments, despite claims to the contrary. In the lead up to Secretary Zinke's visit to Utah this spring, tribes offered to meet with the Secretary, government-to-government. The hastily arranged hour-long meeting that was finally taken was an insult, and it confirmed the tribes' doubts of the administration's sincerity.
Bears Ears signaled progress in preserving and perpetuating our thriving indigenous cultures, and advancing tribal sovereignty and self-determination. Sadly, Trump's actions today fit a growing pattern of discrimination that dishonors Native people, our ancestors, and all those who have fought and sacrificed in service of this sacred land.
The Native American Rights Fund, among others, is prepared to fight for the tribes and for Bears Ears. In the coming days, we will take that fight to the courts. For many years we have fought to protect our ancestral lands, and millions of people have supported us in this. We will not allow the rights of tribes and tribal members to be willfully pushed aside for petty politics and the interest of greed.
We will stand firm for justice.
John Echohawk, Pawnee, is the Executive Director of the Native American Rights Fund, America's oldest and largest nonprofit law firm dedicated to asserting and defending the rights of Indian tribes, organizations, and individuals nationwide.
Popular in the Community