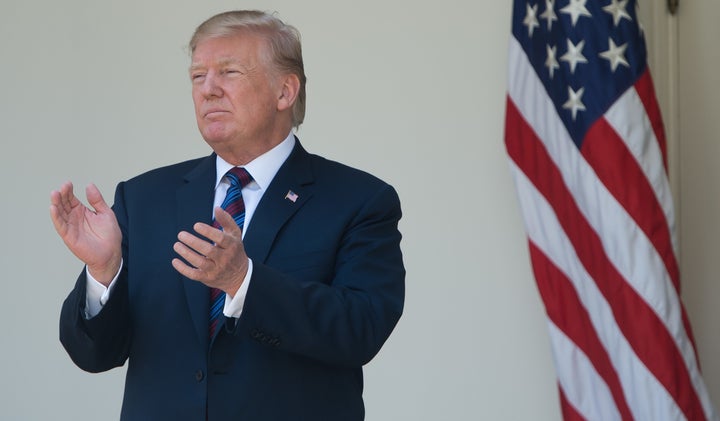 President Donald Trump held an event in the Rose Garden on Thursday to tout the GOP tax cut law's benefits for "American workers."
One attendee was John Azchet, a 21-year-old plumbing apprentice with two children. He and his wife recently had a son who spent a week in the neonatal intensive care unit, and they faced high medical bills: 
AZCHET: As the doctor bills started to come in, me and my wife were worrying on how we are going to pay for these doctor bills. And then our company, Universal Plumbing, came to us and gave all the employees thousand dollar tax cuts. And with those, we were able to pay our doctors' bills.     

TRUMP: Thank you very much.     

AZCHET:  Thank you very much.         

TRUMP:  It's beautiful. 
Azchet is likely referring to a bonus his company gave him as a result of the tax law. After its passage in December, some companies began handing out $1,000 bonuses to their employees ― and made sure to say it was due to the tax law, in order to thank Republican politicians for passing a massive corporate tax break.
It's also questionable whether it's "beautiful" that Azchet had to hope for a surprise bonus from his employer in order to pay his medical bills. 
Health care is a top issue for voters in 2018. People are worried about paying their medical bills and ensuring that they have access to care. 
Since failing to repeal the Affordable Care Act last year ― which would have caused roughly 20 million people to lose their health coverage ― Republicans in Congress effectively abandoned their efforts on health care and have made no attempts to make it more affordable for patients. The Trump administration's actions to date mainly have consisted of regulatory changes making it easier for health insurance companies to offer skimpier policies that cover less and to avoid covering people with pre-existing medical conditions. 
Trump's response is similar to a famous exchange from 2005 between President George W. Bush and a woman who told him that she worked three jobs. 
And then in 2013, former GOP presidential candidate Mitt Romney praised "single moms who are working two jobs so their kids can have the same kind of [things] other kids at school have," and "dads who don't know what a weekend is because they've taken on so many jobs to make sure they can keep the house."
"We're a patriotic people," he proclaimed. "The heart of America is good."
REAL LIFE. REAL NEWS. REAL VOICES.
Help us tell more of the stories that matter from voices that too often remain unheard.