Republican Nominee Pivots Toward George Washington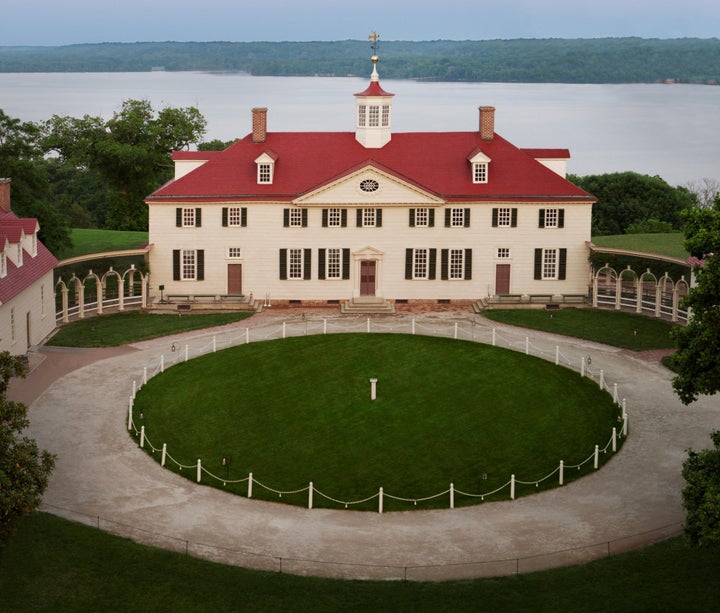 New National Headquarters of Trump Campaign
In a dramatic effort to appear "more Presidential," Donald Trump announced today that he's leased Mount Vernon, the plantation home of George Washington, first President of the United States, for use as his campaign headquarters. The lease is for the next 90 days and is costing Trump the astronomical sum of one billion dollars.
"Who's looking 'Presidential' now," a beaming Trump asked when he made the announcement early this morning. "How's 'Hateful Hillary' going to respond to this? Is she gonna rent Monticello? Well, screw her, she can't! I checked and it's not available."
Leaders of the Republican establishment in Washington, DC greeted Trump's announcement with unbounded joy, a rare experience for them these days.
"I'm both relieved and pleased," declared Senator Mitch McConnell (R-KY), the Senate Majority Leader. "I've been praying that Trump would finally put his money where his mouth is. So far all his big talk about 'self-funding' his campaign has consisted mostly of buying stuff from Trump-owned companies, baseball caps and crap like that. But here's the pivot we've been hoping for. And it's HU-GE!"
"At last, here's solid evidence that Trump is both serious and sincere about his run for the Presidency," exclaimed House Speaker Paul Ryan when he heard the news. "To tell you the truth, until now I feared he was running primarily to build his own brand. That scared the bejesus out of me. But now I couldn't be happier. Mount Vernon represents all that's best about America."
Trump's leasing of Washington's home is possible because the site is not owned by the government, but by the Mount Vernon Upper Class Ladies' Association, a historic preservation group and one of the ritziest women's organizations in the United States. "Trump made us an offer we couldn't refuse," said Susan Mary Livingstone, the association's President. "And, besides, it's only for three months."
The association does not accept government funding. As a 501(c)(3) nonprofit organization it relies solely on contributions from patriotic individuals to maintain the house and site. Livingstone believes she and Trump struck a good deal for both parties. "Golly, just imagine what upper-class women can do with a billion dollars," she exclaimed. "Spending money is what we do best! We're thinking of making an offer to buy the Potomac River."
Kellyanne Conway, Trump's new campaign manager, has already gone to work in the mansion, setting up an office in the "little parlor" located on the first floor. Mr. Trump and members of his immediate family intend to actually reside in the mansion for the duration of campaign, but his staff will be housed in a Budget Host Traveler's Motel located five miles from the historic site.
During these three months, Mount Vernon will be closed to the general public, but Trump intends to invite many supporters and potential supporters to visit him there. He plans to stage numerous "photo-ops" with dignitaries and luminaries on the mansion's famed two-story piazza which extends the full length of the back of the house facing the river. Actor Scott Baio (Chachi on Happy Days) is scheduled to visit later today, and singer Wayne Newton ("Mr. Las Vegas") will pay a call tomorrow.
Some especially prominent individuals will be invited to stay overnight as houseguests. Mr. Trump says he's already invited Queen Elizabeth II of England to visit. "I told Her Maj she could sleep in the very bed that Washington died in. I thought she might get a kick out of that, given the way he whipped the ass of George III, her ancestor."
Xi Jinping, President of the People's Republic of China, is expected for a weekend visit later this month. "We're gonna put on a fireworks show that'll knock his socks off," Trump chortled. "The grand finale will be his profile and mine displayed inside the shape of a heart that's formed by 1,600 different colored shells. If that's not 'Presidential,' I don't know what the hell is."
The coming visit of another world leader, however, is being kept under the tightest of wraps by Mr. Trump and his campaign staff. According to today's Wall Street Journal, Trump hopes to pull off the biggest "October surprise" in US Presidential campaign history by persuading Russian President Vladimir Putin to spend Halloween at Mount Vernon. (The holiday is on October 31, just nine days before the November election.)
In a related development, the New York Daily News reported that Mr. Trump had quietly dumped two of his famed Trump Tower buildings on the market to raise the billion dollars needed to rent Mount Vernon. Both Towers were sold for what the newspaper described as "bargain-basement prices."
Satire by Byron Kennard: "I couldn't be more serious about this funny stuff."
Popular in the Community