Judging from the list of attendees provided by the White House, the president mostly listened to people who think he's a great guy.
Unlike a similar session that the Trump transition team held before his inauguration ― which featured about 100 leaders from a variety of African-American organizations, including the NAACP and traditionally black sororities and fraternities ― the people at the latest meeting were mainly his top supporters, surrogates, campaign staffers and transition officials from the African-American community.
The full list of those in attendance, via the White House:
Mr. Armstrong Williams, Howard Stirk Holding Broadcast Group
Mr. Darrell Scott, Pastor, New Spirit Revival Council
Ms. Belinda Scott, Wife of Darrell Scott
Mr. James Davis, National Diversity Coalition [for Trump]
Mr. Gerard T. Robinson, American Enterprise Institute
Mr. Earl Matthews, Lt. Col US Army (Retired)
Mr. Paris Dennard, Thurgood Marshall's College Fund/CNN Contributor
The Honorable Bill Cleveland, Former Vice Mayor of Alexandria, VA, Retired Capitol Hill Police Officer
Dr. Ben Carson, HUD Secretary-designee

African American Members of the Trump Administration
Ms. Omarosa Manigault, Director of Communications, OPL [Office of Public Liaison]
Mr. Landon Davis, Department of the Interior
Mr. Ashley Bell, Department of State
Ms. Lynne Martine Patton, Department of Housing and Urban Development
Mr. Daris Meeks, Director of Domestic Policy, OVP [Office of the Vice President]
Mr. Ja'Ron Smith, Domestic Policy, Urban Development and Revitalization
Ms. Mary Elizabeth Wells, Political Affairs
Ms. Leah LeVell, Communications
Ms. Monica Alexander, OPL
Ms. Kara McKee
There's nothing unusual about hosting such sessions. President Barack Obama held numerous meetings on criminal justice reform and the environment, for example. But those generally brought together local stakeholders ― public officials, business leaders, educators ― who could provide input on domestic policy.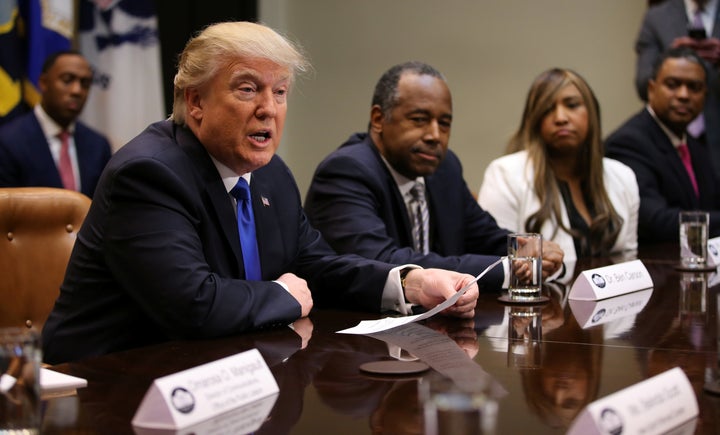 Ben Carson, Darrell Scott, Armstrong Williams, Paris Dennard, and Omarosa Manigault all played prominent roles on cable boosting Trump's presidential candidacy. Lynne Patton, who is set to advise Carson at HUD, is the former vice president of Eric Trump's charity, which suspended operations last month amid concerns over potential conflicts.
In his public remarks at the meeting, the president vowed to work to improve wages and reduce violence in inner cities, which he called "terrible." He turned to Carson, who will be tasked with housing policy, as someone who could address crime and violence.
"It's a big job. And it's a job that's not only housing, it's mind and spirit," Trump said.
The president also paid tribute to some of the biggest names in the historical fight for civil rights, including Martin Luther King Jr., Rosa Parks, Abraham Lincoln, Harriet Tubman and Frederick Douglass.
"Frederick Douglass is an example of somebody who has done an amazing job that is being recognized more and more, I noticed," Trump said.
When Scott, whose main church is in the Cleveland area, told Trump that Chicago's top gangs had reached out to him seeking a "sitdown" with the president about decreasing the violence in that city, Trump sounded receptive.
"I think it's a great idea because Chicago is totally out of control," he said.
"They want to work with this administration," Scott said of the gangs.
Before You Go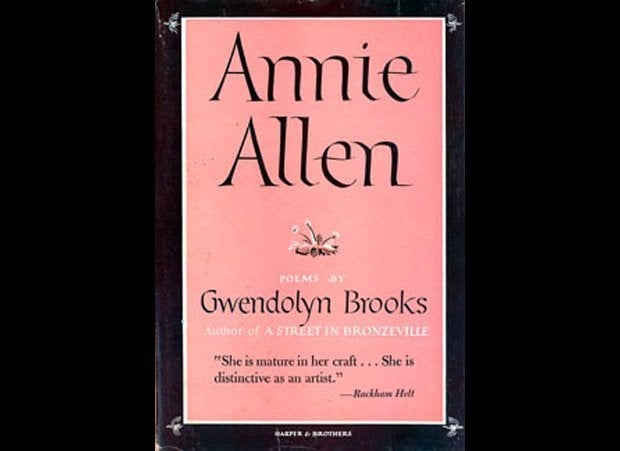 50 Books That Every African American Should Read
Popular in the Community