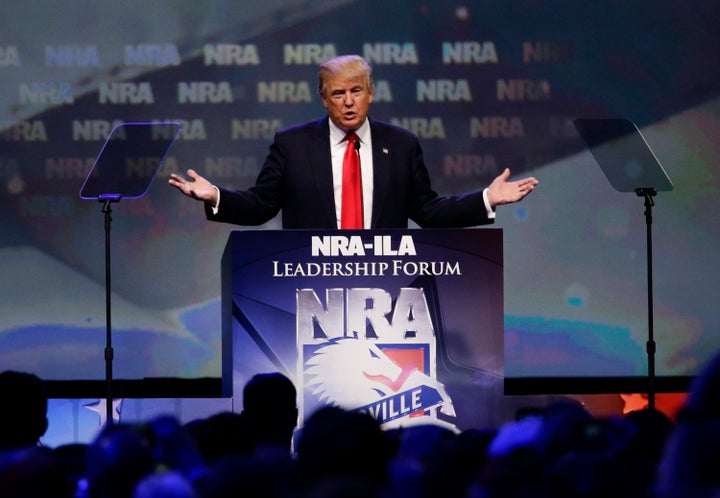 During his visit to a black church in Detroit on Saturday, Trump called for "a civil rights agenda for our time." He was characteristically short on policy details, though he said he was visiting Great Faith Ministries International to "learn" about what the black community wants: "I am here to listen to you," he said.
If Trump really wants to listen, black and Latino communities have plenty of ideas about addressing gun violence ― which differ pretty significantly from those of white voters. A Huffington Post/YouGov poll found that while only 25 percent of white respondents felt that passing stricter gun control laws would be "very helpful," 47 percent of black respondents felt that way, along with 51 percent of Hispanic respondents.
Meanwhile, 32 percent of white respondents felt that allowing more private citizens to carry guns would be "very helpful," compared to just 9 percent of black and 15 percent of Hispanic respondents. The poll, conducted in December, surveyed 1,000 adults.
Thirty-two percent of black respondents and 38 percent of Hispanic respondents also said that laws that make it easy for people to obtain guns were among the biggest contributing factors to gun violence in their communities, compared to just 15 percent of whites.
The partisan split on gun violence was even starker, with 58 percent of Democrats saying stricter gun control laws would be very helpful in reducing the violence, compared to 11 percent of Republicans. And Republicans were more likely to think that allowing more private citizens to carry guns would be very helpful, at 43 percent, compared to just 12 percent of Democrats.
There was a general consensus across the racial and ethnic groups that creating programs that help reduce poverty in high-crime areas and programs that keep teenagers from joining gangs would be helpful in addressing gun violence.
On gun issues, Trump has aligned himself with the NRA, a group that has opposed every gun proposal before Congress in recent years. And he has suggested that more guns would help address violence.
The split in poll responses along racial lines makes more sense when, for instance, you drive down almost any street in St. Louis and see a shrine of teddy bears and flowers memorializing someone killed by a gun. In 2015, there were 188 homicides in the city ― 178 of those committed with a gun, according to St. Louis Metropolitan Police Department records. Over 90 percent of the St. Louis residents killed by guns in 2015 were African-Americans, and nearly two-thirds of them were younger than 30 years old.
The proportion of homicides in St. Louis that were committed with a gun has increased in recent years, from 86 percent in 2013 to 87 percent in 2014 and 95 percent last year. But while death at the end of a barrel occurs much more frequently in black and brown communities, the voices of those communities are left out of the national discussion of gun control. "Gun control" is a topic that comes up in national news and politics only in the wake of a mass shooting, not as it relates to the dozens upon dozens of shootings in a city like St. Louis.
But rather than restricting access to guns ― as many of these respondents felt was necessary to protect their communities ― states like Missouri have moved to make them more available. In 2014, Missouri lawmakers passed a measure stating that it would not enforce federal laws that infringe on gun rights. Under the law, citizens have an "unalienable" right to bear firearms, and state residents could sue if they felt that law enforcement was infringing on those rights.
More recently, Gov. Jay Nixon (D) vetoed a bill that would eliminate the need for concealed carry permits. The Senate plans to attempt an override of that veto on Sept. 14.
Missouri's gun laws are already pretty lax. Residents aren't required to have a permit to purchase a gun. They don't have to register their firearms, and they don't have to have a license. There are no restrictions on magazine capacity, and there is nothing preventing people from purchasing the kind of semi-automatic weapons that some other states have banned.
Although the 2014 bill later expired in the legislature, lawmakers' move to undermine federal law and make the state's rules even more lax drew criticism from those whom gun violence has affected most.
"They should have never passed that law. It's senseless," James Bolden said of the 2014 legislation. Bolden's 9-year-old daughter Jamyla was fatally shot through a window while doing her homework in her Ferguson, Missouri, home in August 2015. Police arrested 21-year-old De'Eris Brown for the shooting and charged him with second-degree murder, but have not described a potential motive for the crime.
State Rep. Stacey Newman, a Democrat representing a suburb of St. Louis, also criticized the bill. Law enforcement officials in St. Louis fought strongly against the proposal, she said, because it "hamstrings" their ability to prosecute gun crimes. "It gives criminals more gun rights," Newman told HuffPost.
Newman says she has been working closely with St. Louis Mayor Francis Slay, St. Louis Police Chief Sam Dotson and an anti-gun violence initiative affiliated with Washington University. The initiative invites community leaders, scholars and professionals to study gun violence and create solutions.
Jooyoung Lee, an assistant professor of sociology at the University of Toronto, said the debate over gun violence "too often gets mired and stuck too centrally on gun control as the magic bullet or the panacea that's going to fix everything."
"When the media covers school shootings, there is a public uproar on getting tough on guns. But the people who are really affected at a statistical level by access to guns are black and brown communities in the U.S.," Lee told HuffPost.
Communities of color tend to be more interested in other ways of addressing the issues that underlie gun violence ― issues like "improving the educational system, building more affordable housing, and increasing people's access to health care," Lee said. "Some of these are the basic necessities in life, that many people who are wrapped up in the gun control debate take for granted."
The HuffPost/YouGov poll consisted of 1,000 completed interviews conducted Dec. 9-10, 2015, among U.S. adults, using a sample selected from YouGov's opt-in online panel to match the demographics and other characteristics of the adult U.S. population.
The Huffington Post has teamed up with YouGov to conduct daily opinion polls.You can learn more about this project and take part in YouGov's nationally representative opinion polling. Data from all HuffPost/YouGov polls can be found here. More details on the polls' methodology are available here.
Most surveys report a margin of error that represents some, but not all, potential survey errors. YouGov's reports include a model-based margin of error, which rests on a specific set of statistical assumptions about the selected sample, rather than the standard methodology for random probability sampling. If these assumptions are wrong, the model-based margin of error may also be inaccurate. Click here for a more detailed explanation of the model-based margin of error.
Sign up for the HuffPost Must Reads newsletter. Each Sunday, we will bring you the best original reporting, longform writing and breaking news from the Huffington Post and around the web, plus behind-the-scenes looks at how it's all made. Click here to sign up!
Popular in the Community