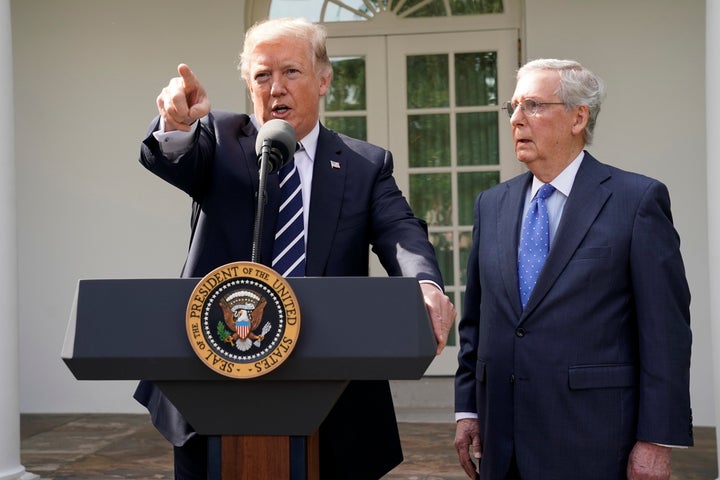 "Despite what the press writes, I have great relationships with, actually, many senators, but, in particular, with most Republican senators," Trump told reporters. "But we're not getting the job done. And I'm not going to blame myself. I'll be honest, they are not getting the job done."
In that poll, just 9 percent of Americans said they believed that Trump had already lived up to his campaign promises, with another 29 percent saying he was eventually likely to do so. The plurality, 43 percent, thought he was unlikely to fulfill the promises.
Of those who didn't expect Trump to meet expectations, two-thirds said it was primarily his fault for being unable to do so. Just 13 percent blamed Congress.
Among all those surveyed, many expressed little faith in the president's ability to live up to some of the key planks of his campaign: just a quarter thought that Trump already had or would eventually "drain the swamp" in Washington, with 28 percent believing he had or would succeed at building a border wall and making Mexico pay for it, and barely over a third saying the same about repealing the Affordable Care Act. 
A majority, however, credited him with following through on naming a new Supreme Court justice, enacting a travel ban, and allowing the Keystone XL pipeline to proceed. Americans also were likelier than not to think that Trump had or would renegotiate trade deals, bring manufacturing jobs back to the states, and deport millions of undocumented immigrants.
Trump's supporters, of course, took a more positive view of his accomplishments. Twenty-two percent believed the president had already lived up to his promises, and 63 percent said that he was still likely to do so. Just a tenth didn't have faith in his ability to follow through with what he promised as a candidate.
 A majority of Trump voters said they had faith that the president had or would live up to all 10 of the specific campaign pledges asked about in the survey, although they were less confident in his ability to drain the swamp, build a wall, deport undocumented immigrants or repeal the ACA than about other promises, such as restoring jobs or "making America great again."
Use the widget below to further explore the results of the HuffPost/YouGov survey, using the menu at the top to select survey questions and the buttons at the bottom to filter the data by subgroups: 
More recently, a CBS/YouGov poll found that just 15 percent of Americans ― and 18 percent of Trump voters ― agreed that congressional Republicans "like Donald Trump and want to help him." Most Americans thought that congressional Republicans were pretending to like Trump to get their agenda across, while a near-majority of Trump voters said that these lawmakers were actively attempting to undermine him.
The HuffPost/YouGov poll consisted of 1,000 completed interviews conducted Sept. 16-17 among U.S. adults, using a sample selected from YouGov's opt-in online panel to match the demographics and other characteristics of the adult U.S. population.
HuffPost has teamed up with YouGov to conduct daily opinion polls. You can learn more about this project and take part in YouGov's nationally representative opinion polling. More details on the polls' methodology are available here.
Most surveys report a margin of error that represents some, but not all, potential survey errors. YouGov's reports include a model-based margin of error, which rests on a specific set of statistical assumptions about the selected sample rather than the standard methodology for random probability sampling. If these assumptions are wrong, the model-based margin of error may also be inaccurate. Click here for a more detailed explanation of the model-based margin of error.
Calling all HuffPost superfans!
Sign up for membership to become a founding member and help shape HuffPost's next chapter