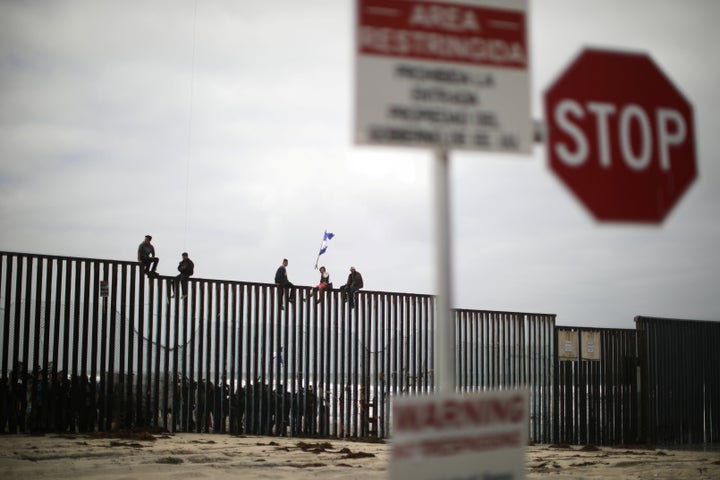 President Donald Trump spent his first year in office calling for a border crackdown. But there was a problem with his narrative of an urgent crisis: Illegal crossings had dwindled to their lowest number in more than four decades, and many of those coming were families and children.
This spring, he seized on the opportunity to illustrate the border "crisis" he'd been warning of all along: A caravan of Central American asylum-seekers headed for the southern border, at the same time as border agents reported an uptick in border apprehensions.
The caravan has traveled to the border each year for a decade, and apprehension numbers, while higher than last year, were well in line with standard trends. But that didn't seem to matter. Fox News covered the caravan constantly. The president tweeted about it. The Department of Homeland Security and Department of Justice made statements targeted at the caravan. The message was that the caravan was a symbol that the border wasn't secure, thanks in part to "loopholes" for asylum-seekers that the administration wants to eliminate.
Citing the caravan and the apprehension numbers, the administration has justified a major policy change and demanded legal reforms that could make it harder for people in danger in their home countries to legally seek asylum in the U.S.
On Monday, the administration publicly announced a long-in-the-works policy to prosecute illegal border crossing that is already separating parents from their children and putting asylum-seekers in jail.
This comes soon after the president called for the National Guard to be sent to the border, and the DOJ announced it was sending more prosecutors and immigration judges to handle border cases.
"This image and the scapegoat that's being used to galvanize anti-immigrant supporters is something that doesn't even exist," said Alex Mensing, an organizer with Pueblos Sin Fronteras, the group that coordinated the caravan. "There's no horde of invading people using fraud to game the asylum system. That's not there, and it's definitely not what the caravan is."
What the caravan really is
The immigrant rights group Pueblo Sin Fronteras started organizing caravans in 2008 to help people in Central America who wanted to flee danger and to call attention to the plight of migrants. It offers migrants safety in numbers — the journey from Central America to Mexico and then the U.S. can be dangerous. Once at the border it can be helpful to have other witnesses around should U.S. officers break protocol and turn away someone they shouldn't. Organizers advise caravan participants to go to ports of entry to seek asylum, which is perfectly legal, and many have done so.
The Trump administration hasn't framed it that way. In an April 23, statement DHS Secretary Kirstjen Nielsen said the department was monitoring the caravan and that its participants had "the apparent intention of entering the United States illegally." A week later, Trump tweeted that the caravan was "openly defying our border shows how weak & ineffective U.S. immigration laws are."
On April 30, the DOJ announced the first prosecution associated with the caravan. They alleged 11 people were caravan members, although their arrest reports don't explain how they arrived at that conclusion. Several of the 11 defendants are challenging their arrests on the basis of discrimination, noting that the administration's "zero tolerance" policy didn't lead to the prosecution of Indian nationals traveling in the same group, only to Central Americans.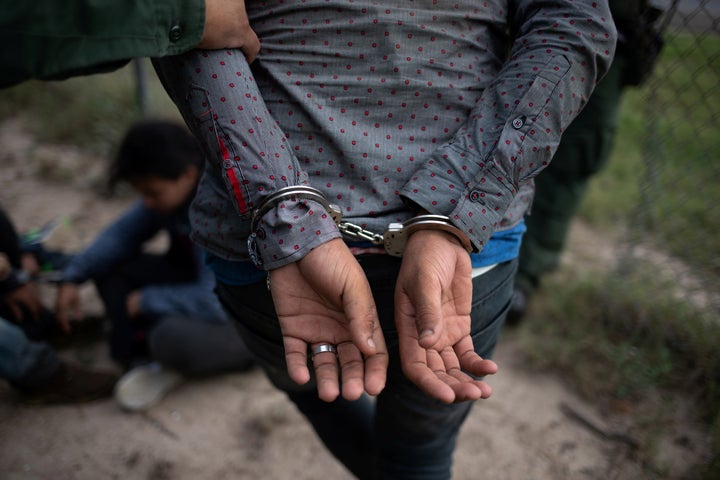 Conflating legal asylum-seeking with illegal border-crossing
Overall, the Trump administration has mashed together two issues: illegal entry into the U.S. and asylum-seekers who arrive at points of entry because they fear returning to their home countries. Top officials know that the latter is legal — Nielsen repeatedly said it was the proper channel during a Senate hearing on Tuesday.
But the administration wants to deter people from using it anyway. Nielsen has said in public statements that asylum-seekers should stay in Mexico rather than coming to the U.S. for safety. She and Attorney General Jeff Sessions implied repeatedly that many asylum claims are fraudulent.
The claim is that these protections — based on U.S. and international law — are loopholes that are preventing the U.S. from keeping out Central Americans, whom Trump sarcastically referred to last week as "some real beauties."
"There seems to be a working assumption that anyone who expresses a fear of returning to their home country is somehow gaming the system," Royce Bernstein Murray, policy director at American Immigration Council, said.
Meanwhile, the administration has decried the "crisis" of border crossings, which are tracked by counting apprehensions both at ports of entry and along other places on the border. Numbers increased in March 2018, but then remained about the same in April. They're considerably higher than the same months in 2017, but those were particularly low ― this year's crossing numbers are roughly in line with prior years, including a trend of increases in the spring. Last year, illegal crossings were at their lowest point since 1971, with asylum-seeking children and families making up a large number of the arrests.
"They are trying to justify the policies that they've already come to the conclusion are good for the country. And so they're using any statistics that they can put together in order to justify greatly expanding enforcement operations, expending more time and resources on this issue," David Bier, immigration policy analyst at the Cato Institute.
Using a media campaign to justify a crackdown
On Monday, Sessions used both the caravan and border apprehension numbers to justify a new DHS policy that will refer all illegal entry arrests to the DOJ for potential prosecution. This was notable because it has already included people that have historically not been prosecuted, such as asylum-seekers and parents traveling with their kids. Locking up parents for prosecution, rather than holding them in immigrant detention, necessitates splitting them up from their children.
The policy was a long time coming — the administration has floated splitting up families for a while. It separated at least 700 children from their parents at the border since October 2017. From July to November, it piloted the same "zero tolerance" policy of prosecutions in one sector of the U.S.-Mexico border. During that period, border apprehensions of families who weren't at ports of entry increased, although DHS claimed the opposite in an internal memo, Vox reported.
Sessions implied the policy change was meant, at least in part, as a deterrent to both border crossings and group efforts like the caravan.
"Today we are here to send a message to the world: We are not going to let this country be overwhelmed," Sessions said in San Diego on Monday. "People are not going to caravan or otherwise stampede our border. "
These prosecutions won't apply to people who show up at ports of entry, which means it has little to do with the caravan's participants who did so. At the same time, it will affect other asylum-seekers, some of whom cross the border illegally but then present themselves willingly to Border Patrol. Those aren't the frightening criminals trying to evade the law that the administration makes them out to be, Murray said.
"Whether it's an effort to get funding for a border wall, or whether it's an effort to get tough at the border, or to fear-monger and paint asylum-seekers as part of some dangerous invasion, it all fits into a convenient narrative that immigrants are scary and here to hurt us when they are oftentimes moms and kids looking for help," Murray said.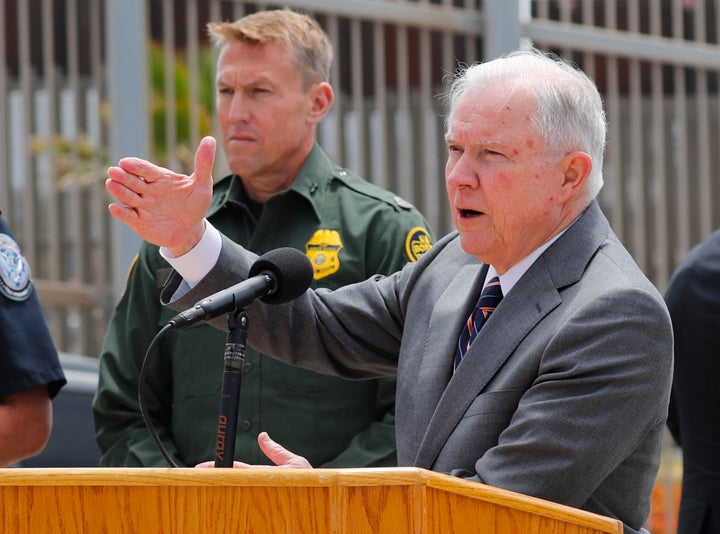 All of this could cause a new crisis
These prosecutions will also allow the Trump administration to point to a statistic to show how hard they're cracking down on illegal crossings. Sessions said Monday he wants to double the number of immigration prosecutions this year. Funneling people into magistrate court to convict them of illegal entry typically results in light sentences of a few days, before they are whisked into deportation proceedings ― which could easily rack up successful prosecutions. But immigration prosecutions already take up half the federal criminal docket, sapping the time that federal judges have to hear more serious crimes.
"What the United States administration is doing is criminalizing people, putting people in one basket and saying everybody is criminal."
All of this almost certainly will be used for more calls urging Congress to change the law to limit the "loopholes" that prevent the administration from keeping migrants out of the country. Many of those so-called loopholes were created to protect both asylum-seekers and children. They include allowing people who express a credible fear of returning to their native countries to make a case for asylum ― not that all of them get it ― rather than being turned away or swiftly deported. They also include releasing families and unaccompanied minors from detention while they undergo their cases, thanks to a decades-old court settlement and law enacted by Congress.
During a Senate hearing on Tuesday, Nielsen attributed the increase in asylum claims, family unit apprehensions and unaccompanied minors to people "gaming the system" — rather than problems in Central America.
The administration's framing deceives Americans into thinking asylum-seekers who do the right thing are actually breaking the law, said Marselha Gonçalves Margerin, advocacy director for the Americas at Amnesty International USA.
"What the United States administration is doing is criminalizing people, putting people in one basket and saying everybody is criminal," she said.
"People here in the United States," she added, "are being told lies."
Roque Planas contributed reporting.
Before You Go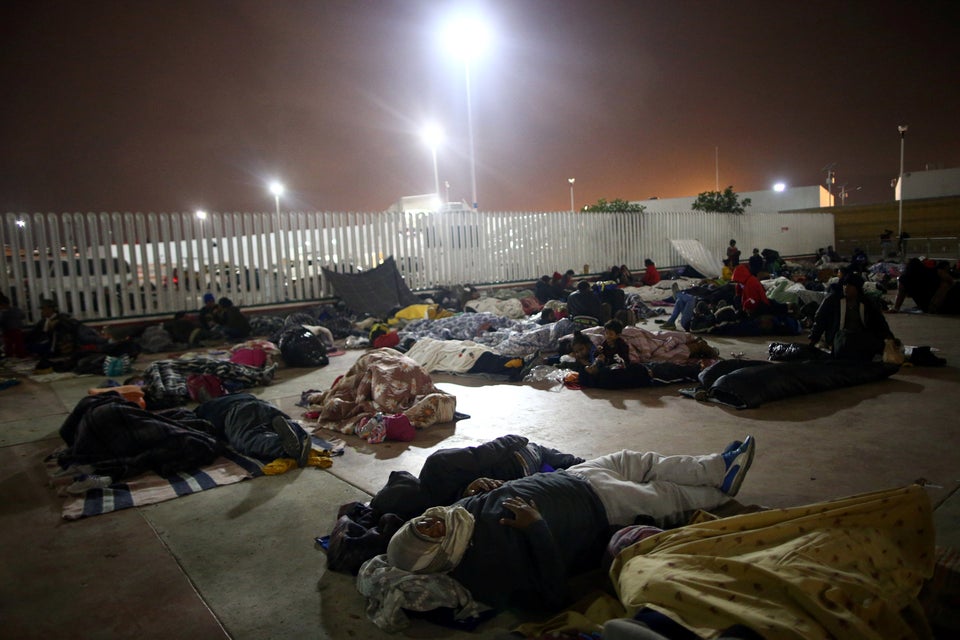 Migrant Caravan
Popular in the Community