WASHINGTON ― Just as President Donald Trump most needs to be believed, the country's top Boy Scout is making him out to be a liar.
Trump has been trying to get Americans to take his word that he did not mislead them about his son's meeting with Russians last year. He's also been working to convince them that he did not attempt to discredit U.S. intelligence agencies ― which say Russians helped him win the election ― by spreading a conspiracy theory about the death of a Democratic Party staffer.
Both assertions, though, rest on Trump's credibility ― credibility that took another hit Tuesday when his claim about a laudatory phone call from the Boy Scouts of America was denied by the organization.
"I got a call from the head of the Boy Scouts saying it was the greatest speech that was ever made to them, and they were very thankful," Trump told The Wall Street Journal last week, one day after speaking to some 40,000 Boy Scouts and troop leaders at their quadrennial "jamboree" in West Virginia. 
But the Boy Scouts say they have no knowledge of any such call. Instead, they refer back to the statement by chief executive Mike Surbaugh apologizing for Trump's speech as inappropriately political. While addressing a crowd largely made up of 12- to 18-year-olds, the president boasted about his election win, ridiculed Democratic opponent Hillary Clinton and called the news media dishonest. 
"I want to extend my sincere apologies to those in our Scouting family who were offended by the political rhetoric that was inserted into the jamboree. That was never our intent," Surbaugh wrote in a statement released July 27. "We sincerely regret that politics were inserted into the Scouting program."
It's another reminder that any organization that associates with President Trump risks damage to their reputation.

GOP consultant
White House press secretary Sarah Huckabee Sanders on Tuesday acknowledged there was no phone call, but argued that Trump was not lying.
"I wouldn't say it was a lie," she said. "Multiple members of the Boy Scout leadership following his speech there that day congratulated him, praised him, and offered quite powerful compliments."
Sanders also defended Trump's statement to the Journal that the president of Mexico called him to thank him for the drop in undocumented immigrants crossing into his country through the southern border. Mexican President Enrique Peña Nieto, however, on Tuesday denied having called Trump recently. Sanders said Trump was referring to a conversation the two leaders had at the G-20 meeting in Germany early last month.
"The conversations took place, they just simply didn't take place over a phone call," she said. "He had them in person."
The apparent whole-cloth fabrications ― which come as special counsel Robert Mueller is likely investigating whether the president committed obstruction of justice, and as Trump would greatly benefit from appearing credible to the American people ― flummoxed even some insiders who generally defend Trump.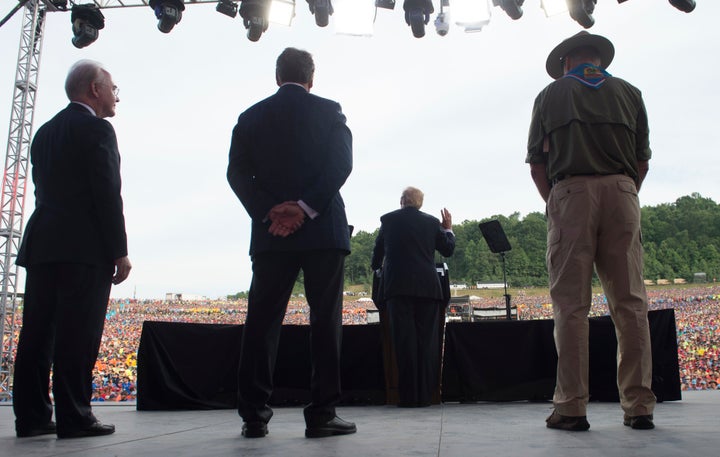 One Republican consultant said the episode should serve as a warning to other groups that might want to invite Trump to their events.
"If he's willing to lie about the Boy Scouts, what won't he lie about?" said the consultant, who asked to remain anonymous in order to be able to speak candidly about his party's leader. "It's another reminder that any organization that associates with President Trump risks damage to their reputation."
Trump's history of falsehoods goes back decades, from changing details about his businesses during sworn depositions to inventing a sexual relationship with an Italian supermodel (and making up a spokesman to pitch the story).
Fact-checking site PolitiFact found Trump to be the most falsehood-prone candidate of the 2016 election cycle, by far. Of the 433 statements checked from the start of his campaign through Tuesday, 69 percent have been rated "false," "mostly false" or "pants on fire."
White House counselor Kellyanne Conway recently said on CNN that Trump is not technically lying when he says false things because he often isn't aware that what he's saying is not true. Trump "doesn't think he's lying about those issues," she said.
But how that theory might hold in this instance is unclear, given the close proximity of the speech and the Journal interview the following morning ― with the supposed phone call having had to have come in those intervening hours.
Republican National Committee member Shawn Steel, a regular Trump defender, suggested that Trump may have simply misremembered who praised him and how. "What upsets liberals is that 40,000 kids were boisterously supportive of Trump," he said.
Dignitaries speaking at youth events typically focus on the value of perseverance and hard work, but Trump's remarks seemed more like a campaign speech.
"You know, I go to Washington and I see all these politicians, and I see the swamp, and it's not a good place. In fact, today, I said we ought to change it from the word 'swamp' to the word 'cesspool' or perhaps to the word 'sewer,'" Trump said, while calling journalists at the event "fake news."
The address drew outrage from scouts, parents of scouts and former scouts who do not support Trump, and Surbaugh posted a lengthy statement that included the apology only three days later.
The White House has acknowledged Trump's latest falsehoods while it also tries to downplay two new problems for Trump on the Russia front.
Trump personally crafted a misleading statement that his eldest son, Donald Trump Jr., released last month about meeting with Russians at Trump Tower last year, The Washington Post reported Monday. Trump and his lawyer initially denied that the president had anything to do with the statement, but Sanders said Trump had "weighed in" on it while it was being drafted ― "as any father would," she added. 
And a new federal lawsuit says that Trump personally approved a since-retracted Fox News story claiming that a Democratic staffer who was later fatally shot had given party emails to WikiLeaks. The story undercut U.S. intelligence agencies' consensus that Russian hackers had stolen the emails and released ones they thought would help Trump win the election. The White House acknowledged that it hosted a meeting with Fox and its sources prior to publication, but denied that Trump knew of the story.
Calling all HuffPost superfans!
Sign up for membership to become a founding member and help shape HuffPost's next chapter