Jewish leaders in Poland expressed sadness on Thursday over the fact that President Donald Trump didn't visit an important Jewish memorial site in Warsaw ― reportedly breaking with a tradition upheld by American presidents for decades.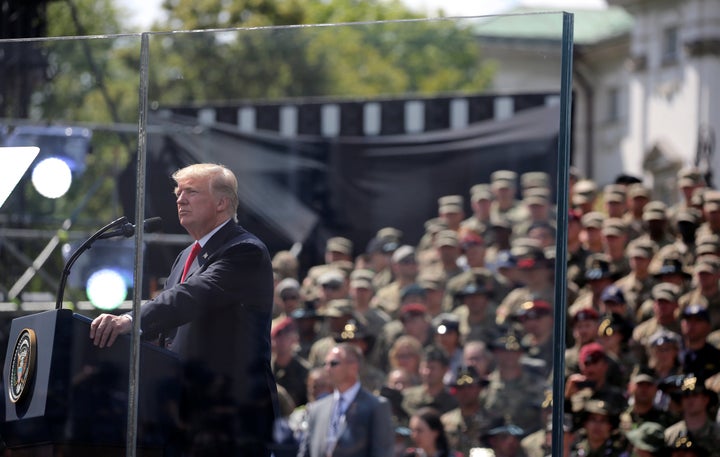 Ivanka Trump, the president's daughter and advisor, visited the Warsaw Ghetto Heroes Monument in her father's place. The first daughter, who is Jewish, laid a wreath and recited a prayer, called the Kaddish, before visiting the museum. 
In a statement given to White House reporters, Ivanka described the visit as "a deeply moving experience."
Poland's chief rabbi Michael Schudrich accompanied Ivanka during her visit. 
Schudrich told the AFP that Ivanka's visit was "very, very important… not only because she's a Jew, because her grandparents-in-law are survivors of the Holocaust, but also as a human being it's important."

"But it's sad because her father President Trump is the first US president in 25 years not to visit the Warsaw Ghetto Heroes Monument," he said.
A spokesperson for the POLIN Jewish museum told the AFP that museum officials heard about Ivanka's visit on short notice. 
On Wednesday, one day before Trump's visit to Krasinski Square, Jewish leading figures in Poland's Jewish community expressed their disapproval after finding out the president had no plans to visit the Warsaw Ghetto Heroes Monument. 
Schudrich, along with Anna Chipczynska, Jewish Community of Warsaw president, and Leslaw Piszewski, president of the Union of Jewish Communities of Poland said in a joint statement that past presidential visits to the Jewish memorial were very important to Poland's Jewish community. 
 "For the Jews of Poland, rebuilding in a democratic Poland their communal life, after the horror of the Shoah and the devastation of Communism, this gesture meant recognition, solidarity and hope. We deeply regret that President Donald Trump, though speaking in public barely a mile away from the Monument, chose to break with that laudable tradition. We trust that this slight does not reflect the attitudes and feelings of the American people."
BEFORE YOU GO
PHOTO GALLERY
President Donald Trump's First Trip Abroad