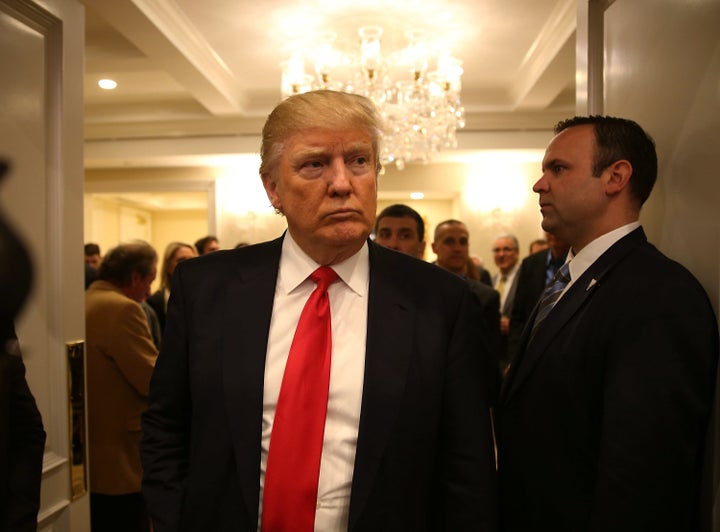 Politico reported that Lewandowski "forcibly grabbed" Fields' arm when she tried asking Trump a question as he left the press conference, "moving her out of the way and nearly bringing her down to the ground."
Breitbart News CEO Larry Solov, said in a statement Wednesday that "it's obviously unacceptable that someone crossed a line and made physical contact with our reporter."
"What Michelle has told us directly is that someone 'grabbed her arm' and while she did not see who it was, Ben Terris of The Washington Post told her that it was Corey Lewandowski," Solov added. "If that's the case, Corey owes Michelle an immediate apology."
Terris confirmed to HuffPost that he saw Lewandowski forcibly grab Fields' arm, but declined to comment further.
The Trump campaign did not immediately respond for comment.
Daily Caller senior editor Jaime Weinstein, who is Fields' boyfriend, also identified the attacker as Lewandowski, whom he described as a "thug."
The idea of Lewandowski grabbing a reporter from Breitbart News may seem surprising, given that the conservative website is considered one of the most supportive of the reality TV star's candidacy. But such a response fits a pattern in which the Trump campaign has tried exerting tight control over the media.
Last month, a Secret Service agent roughed up a Time magazine photographer after he left the pen to cover protesters at a rally. It's not the role of the Secret Service to enforce the campaign's press restrictions, but agents, at times, have appeared to do just that. The Secret Service is still investigating the incident.
Lewandowski has personally tried to stop journalists from covering protesters at Trump events, which are a frequent occurrence.
In November, Lewandowski threatened to blacklist CNN reporter Noah Gray for leaving the pen to report on an incident in the crowd.
Lewandowski then confronted Gray.
"Inside the pen, or I will pull your credentials," he said. "Media goes in the pen."
During January discussions with Fox News, Lewandowski reminded the network that anchor Megyn Kelly had a "rough couple of days" after an August debate in suggesting she not appear at the next one. The campaign manager said he'd "hate to have her go through that again," according to the network.
"Lewandowski was warned not to level any more threats, but he continued to do so," Fox News said in a statement at the time. "We can't give in to terrorizations toward any of our employees."
This article was updated after publication with a response from Ben Terris.