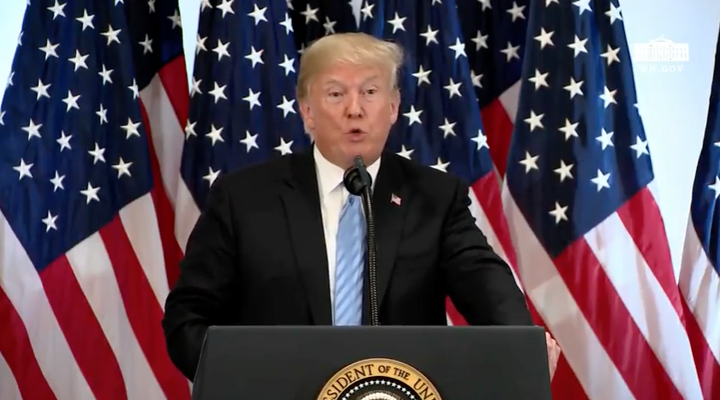 President Donald Trump on Wednesday told reporters he believes all the allegations of sexual assault raised against Supreme Court nominee Brett Kavanaugh are "false."
Asked during a press conference in New York whether he thinks the three women who have accused Kavanaugh of sexual misconduct are liars, the president at first responded, "I won't get into that game."
But then he added, "I only tell you this: This is one of the highest quality people that I've ever met. And everybody that knows him says the same thing. These are all false to me. These are false accusations."
Trump also reiterated his claim that the allegations are a "con job" by Senate Democrats.
"I guarantee they go into a room and they laugh like hell at what they've pulled off on the public," the president said.
When asked what kind of message it sends to women to call the allegations a con job, Trump answered, "That's probably the nicest phrase I've ever used."
Three women have independently come forward in recent weeks to publicly accuse Kavanaugh of sexual misconduct. Christine Blasey Ford, a California psychology professor, told The Washington Post earlier this month that the future judge held her down on a bed, covered her mouth and groped her at a party when they were both in high school.
Deborah Ramirez alleged in an interview with The New Yorker on Sunday that Kavanaugh exposed himself to her and thrust his penis in her face during a party when they were both students at Yale University in the 1980s.
A third accuser, Julie Swetnick, came forward on Wednesday with the allegation that she was a victim of gang rape at a party in Washington in approximately 1982 and that Kavanaugh was present at the party.
At the Wednesday press conference, Trump brought up the effect the allegations may have on Kavanaugh, whom he called "a great gentleman, a great intellect, a brilliant man."
Asked again whether he believed the judge's accusers to be "liars," the president said he would be watching Thursday's hearing to decide. "I could be persuaded," he said.
One of Trump's main talking points about the allegations has been to question why the accusers didn't come forward sooner. He hit that theme again on Wednesday: "36 years, no charges," he said, referring to the time that has elapsed since the alleged attack on Blasey.
He also claimed that the allegations have a chilling effect on other men. "People are going to be scared, because we could say it about you. Thirty-five years ago you met someone. ... What is going on? Why did they wait so long?"
Trump could have been referring to his own situation, as several reporters pointed out. When asked whether the allegations by more than 20 women accusing him of sexual misconduct have influenced his perspective on Kavanaugh, Trump claimed that some of those women were "paid a lot of money to make up stories about me."
Popular in the Community