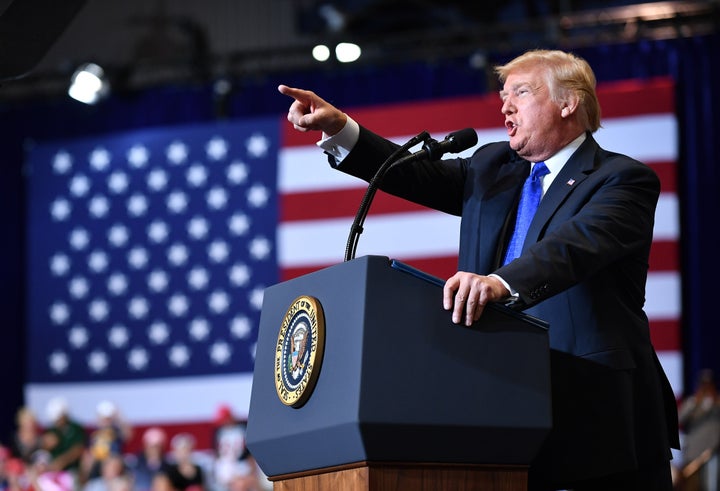 President Donald Trump roundly defended Supreme Court nominee Brett Kavanaugh during a rally Thursday in Las Vegas and questioned why the woman who has accused the judge of sexual assault didn't come forward decades ago when they were both teenagers.
"Frankly, Sean, to see what is going on is very, very sad. Why didn't somebody call the FBI 36 years ago?" Trump told Fox News host Sean Hannity in an interview just before the rally began. "You could also say, when did this all happen? What is going on? To take a man like this... with that being said, let her have her say and let's see how it all works out."
Christine Blasey Ford, who goes by Christine Blasey professionally, accused Kavanaugh of sexually assaulting her at a party in the 1980s when they were both in high school. She came forward publicly in an interview with The Washington Post on Sunday. Blasey claims a "stumbling drunk" Kavanaugh pinned her to a bed and attempted to remove her clothing before she was able to escape.
The judge has vehemently denied the allegation.
Trump has remained steadfast in his support for the nominee throughout the week, saying he felt "terribly" for the man, and on Thursday he called Kavanaugh a "great gentleman" with "an impeccable reputation."
"You know, one of the reasons I was elected was because you believed I was going to pick great Supreme Court justices," Trump said as the crowd chanted the nominee's name. "And Brett Kavanaugh ― and I'm not saying anything about anybody else ― I want to tell you that Brett Kavanaugh is one of the finest human beings you will ever have the privilege of knowing or meeting."
He continued to note that Kavanaugh has "got tremendous support. ...So we'll let it play out, and I think everything's going to be just fine. This is a high-quality person."
Republicans on the Senate Judiciary Committee had urged Blasey to testify in front of the panel on Monday, but her attorneys have been negotiating the terms of such an appearance, citing concerns for her safety. Blasey had called on the FBI to investigate her claim before she gave any testimony, but she said she is willing to speak with lawmakers next week under "terms that are fair," potentially on Thursday.
"She wishes to testify, provided that we can agree on terms that are fair and which ensure her safety. A hearing on Monday is not possible, and the committee's insistence that it occur then is arbitrary in any event," her attorney Debra Katz said Thursday. "Her strong preference continues to be for the Senate Judiciary Committee to allow for a full investigation prior to her testimony."
Blasey has received death threats and threatening messages since coming forward, and her attorney said that earlier this week she was forced to relocate her family.
Popular in the Community