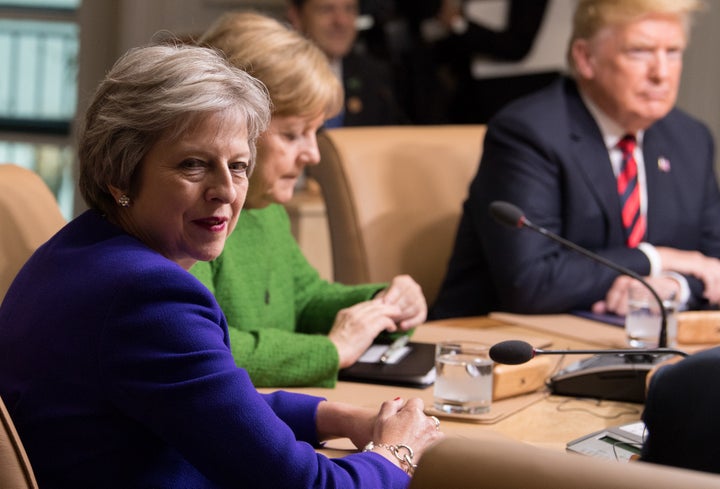 WASHINGTON — Russian President Vladimir Putin two years ago helped put candidate Donald Trump into the White House. He also helped persuade Britons to leave the European Union.
Later this week, he can watch his two election victories of 2016 come together, as Trump makes his first official visit to U.K. Prime Minister Theresa May, who is now facing the nightmare of implementing Brexit — also supported by Trump ― which threatens to wreck her nation's economy.
"It makes things very complicated for Theresa May, to be frank. It does not help her at all," said Monica de Bolle, with the Peterson Institute for International Economics, of Trump's visit. "It certainly puts the prime minister in an extremely awkward position."
As it happens, Trump will head off directly from Britain for a summit with Putin in Helsinki, a meeting that Trump has clamored for since his election but his advisers had, until now, thwarted.
Trump will arrive in the United Kingdom on Thursday after two days of a NATO summit in Brussels, where other leaders of the military alliance fear he could throw a wrench into what's normally a mundane gathering — much the same way he blew up the G-7 economic summit last month. He refused to sign onto a joint statement about free trade after getting into disputes with the other leaders on the topic.
Alina Polyakova, a scholar of far-right European politics at the Brookings Institution, said Trump's behavior at G-7 likely stemmed from his dislike of being there, as he instead looked forward to his meeting in Singapore with North Korean dictator Kim Jong Un. She said that dynamic could repeat this week.
"I doubt that he's looking forward to the NATO summit. I doubt that he's looking forward to his meeting with Theresa May. He's looking forward to meeting Putin," Polyakova said.
The necessity for Trump's visit to Britain this week is unclear. He will have seen May in Brussels, and there does not appear to be any major agreement in the works. Her government has been careful to label his trip a working visit, not a state visit — a distinction that in theory makes it easier to explain why he is not visiting Buckingham Palace or the prime minister's official residence at 10 Downing Street.
Instead, Trump will meet May at her country residence and Queen Elizabeth II at Windsor Castle — both of which are relatively removed from the massive protests expected all over the nation for his visit.
"President Trump is very unpopular in Britain," said Heather Conley, a State Department official under President George W. Bush and now the head of the Europe program at the Center for Strategic and International Studies.
She added that Trump's visit is not helpful for May in the middle of Brexit negotiations, which are not going well for her. "She doesn't need any more difficulties than she has already," Conley said.
The U.S. ambassador to the United Kingdom, Robert "Woody" Johnson, denied that the expected protests had anything to do with an itinerary that largely avoids London, where demonstrations will likely be largest.
"The president is not avoiding anything," said Johnson, the owner of the New York Jets football team. "The president is merely trying to get as impactful a trip as he can get within a 24-hour period."
Trump will meet with U.S. Embassy staffers and have a formal dinner with May and business leaders the day he arrives, then meet with May and the queen on Friday before leaving for Trump Turnberry, one of his two golf resorts in Scotland. He will remain there until Sunday afternoon, when he is to fly to Helsinki for his meeting with Putin the following day.
"Whether the president plays golf, I'm not sure. I think that he's going to spend a lot of time preparing for Helsinki," Johnson said. "His schedule hasn't been finalized."
As the schedule has been described, Trump will spend more time at Turnberry than he will with British officials — fitting into his pattern of visiting his properties on nearly 170 days so far since taking office.
"Not unexpected at all. It certainly seems like he vacations more than any other president," said Lisa Gilbert, the head of legislative affairs at the government watchdog group Public Citizen. "When there is so much going on that needs attention in the nation and so many relationships around the world that need tending, it's interesting that he spends such an endless amount of time at his own properties."
Johnson said Trump will discuss trade with May and is eager for an agreement as soon as the U.K. is officially out of the European Union. "As Americans, we always look at where the opportunities are," Johnson said. "The president would love to do a bilateral trade deal."
U.K. voters in 2016 narrowly approved Brexit, which recent revelations show was secretly advocated by Russian-sponsored propaganda. Trump — who was also supported by secret Russian-sponsored propaganda — backed Brexit at the time; May opposed it.
After its passage, she vowed to carry out the voters' wish but is now facing a European Union that is uninterested in easing the U.K.'s pain with a soft exit that would allow the country to retain most of the trade benefits of the common market without its regulatory requirements. If no accommodation can be found, Britain will be left with a hard exit that will put it outside the bloc, which accounts for the bulk of its international trade — a prospect that economists predict will severely damage the British economy.
Johnson, though, said he and Trump see Brexit as good for the United Kingdom but have not pushed for a particular strategy. "We're not advocating hard or soft," he said. "We know that Great Britain is going to do very, very well because we have a lot of confidence in the people here. And we know what they're capable of doing."
To Polyakova, Trump's boosterism for Britain's departure from the European Union smacks of unseemly opportunism. "The reality is that Brexit is now the law of the land. And the U.S. is acting now not like an ally but like a predator," she said.
For de Bolle, the Brexit die has been cast, and it's doubtful May can do much to salvage things. "Britain is going to be kicked out of everything in the worst way possible," she said. "It is going to be a small country. Which is what it is. And that is what they're going to be."
REAL LIFE. REAL NEWS. REAL VOICES.
Help us tell more of the stories that matter from voices that too often remain unheard.