President Trump on Sunday suggested late-summer reading for his 37 million Twitter followers in a tweet that could get anyone else in his office fired.
The book, "Cop Under Fire," was written by Milwaukee County Sheriff and Trump campaign supporter David Clarke, Jr., who had pinned a link to the book's Amazon page on his Twitter profile in February.
Trump shared the Amazon link during a weekend of Hurricane Harvey-related tweets.

While technically legal, the tweet was criticized by government ethics groups as the latest in a string of rule-bending behavior by the Trump administration.
"This is only the latest unfortunate example of President Trump disregarding the ethical norms that help ensure that public officials are working for the public rather than for private interests," Brendan Fischer, an attorney with the Campaign Legal Center, wrote in an email.
"And when coupled with some of the president's other recent acts — the pardon of Joe Arpaio, for example — there is a sense that one of the administration's top priorities is to use the power of government to reward those individuals and special interests who've ingratiated themselves with the president."
Clarke's Twitter profile features multiple photos of Trump flashing a thumb's up.
Clarke's book isn't the only one on Trump's recommended list. He's also promoted two by conservative author Nick Adams.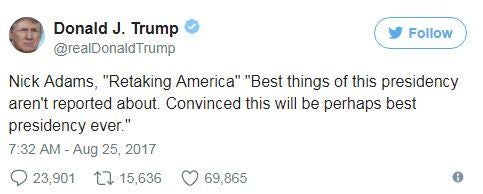 Popular in the Community