WASHINGTON ― In his first months in office, President Donald Trump has cut the State Department out of major decisions, sharply reduced State officials' access to the press and said many of the agency's jobs serve no purpose. His budget, released Thursday, calls for a 28 percent cut to funding for the diplomatic agency that he and others have long caricatured as feckless.
But Trump's characterization of the State Department as weak and useless bears little connection to reality. Instead, in neutering State, Trump is weakening the agency that U.S.-friendly governments and activists abroad rely on most. It also happens to be the department that Russian President Vladimir Putin and other autocrats most hate.
State helps define America's positions on matters of war, peace and human rights. The agency provides guidance to top U.S. officials, offering advice that's shaped by deep familiarity with the outside world ― not domestic politics. And State provides a daily press briefing that makes the U.S. voice a dominant feature of the global conversation and signals that the world's most powerful nation is committed to transparency.
When State draws on its foreign affairs expertise and makes its views known, it can be hugely influential ― and threatening to America's rivals. Take Putin, for example. As secretary of state, Hillary Clinton repeatedly challenged the Russian president's crackdown on domestic dissent, abruptly ending a meeting with Putin's foreign minister after he told her Moscow was ejecting U.S. officials supporting Russian civil society, and even going so far as to endorse independent assessments that Russian elections were rigged. Victoria Nuland, a diplomat who spent decades at State, was the loudest American critic of Putin's intervention in Ukraine, becoming the first U.S. official to call it what it was: an invasion. Without employing the threat of military force, both women weakened Putin by exposing his fear of his own under-served people and his need to deploy misleading narratives.
Putin retaliated. When Nuland took over Ukraine policy, a recording of her saying "Fuck the E.U." surfaced — a move she and other experts called a transparent Russian attempt to discredit her. Clinton, meanwhile, became a frequent specter in Putin's speeches, someone he regularly referred to as actively directing the work of his political opponents. According to the U.S. intelligence community, Putin launched a hacking campaign to undermine Clinton in last year's presidential election. And when Nuland left her job after Trump's win, the Kremlin-backed news outlet RT published a story celebrating her departure.
Conversely, silencing and undercutting State leads to confusion abroad ― and emboldens U.S. foes. The world does not stop spinning for President Donald Trump: State went 45 days without a press briefing after Trump was sworn into office, and that meant crises in Syria, Ukraine, South Sudan and other hotspots continued to evolve without clear American direction. And Secretary of State Rex Tillerson's arrival at international meetings without a standard staff could be interpreted as a sign of his relative weakness, causing more chaos. "With the Chinese, protocol is policy," a mid-level State officer told the Atlantic. "We're sending signals that are potentially damaging the relationship in ways we can't anticipate."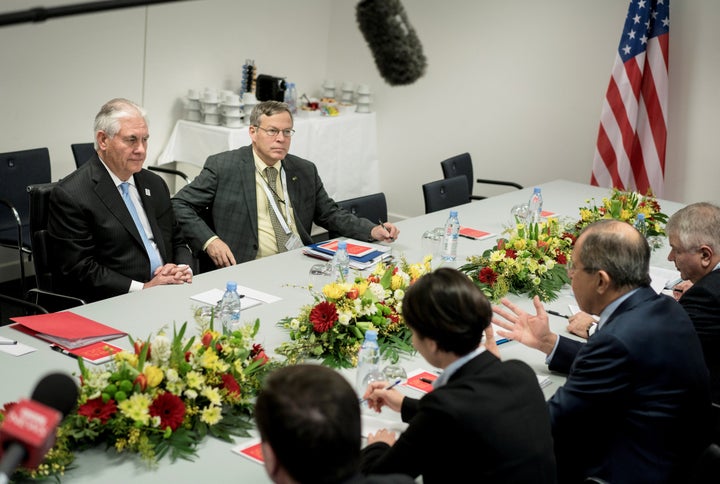 The State Department also saves lives. An American diplomat's engagement can literally mean the difference between life and death for activists and political dissidents fighting for foreign societies to look more like the U.S. Inquiries about the murder of a journalist or a friendly government's use of torture rarely make the cut at White House or Pentagon press briefings. But at State, reporters can get officials on the record on those developments.
The briefings allow Washington to show that it cares about everyday citizens abroad, undercutting the efforts of strongmen like Putin to turn people against democracy and the U.S. and of extremist recruiters in the Muslim-majority world to portray unpopular ruling regimes as stooges of an unsympathetic American empire.
The agency's outreach to all kinds of citizens ― not just governments ― in foreign societies amplifies that effect. "For some people, for example activists, a relationship with the State Department can be the difference between being able to do one's work and not being able to do it," said David Kramer, the head of the department's human rights, democracy and labor bureau under President George W. Bush. "The U.S. government is often the source of not only financial support, but moral and political support for activists overseas."
"Even just a mention in the press briefing, one line, even if it's the same line of, 'Yes, we're following their case,' it steels their resolve," said Cole Bockenfeld, the deputy director for policy at the Project on Middle East Democracy, describing his work with human rights workers in tightly controlled countries like Egypt and Bahrain.
The department is able to push even America's closest allies to respect human rights and the rule of law ― improving the lives of dissidents and political minorities without permanently damaging key relationships, and helping to ensure the health of societies that are important to U.S. global influence. As the only arm of the U.S. government to regularly call for reform from the repressive regime of U.S. ally Bahrain (and its patron, Saudi Arabia), for instance, State has pushed for more accountability in the kingdom. After Obama-era human rights official Tom Malinowski met with the leader of the country's chief opposition party in 2014, Bahrain expelled Malinowski. But after then-Secretary of State John Kerry made a phone call, the government granted Malinowski access for a new trip.
In the summer and fall of 2014, as Israel launched its latest attack on Gaza and tensions in the region were running high, State demanded justice for American citizen Tariq Abu Kheidr, a 15-year-old who had been assaulted by an Israeli police officer. When an Israeli court cleared the officer of wrongdoing in 2015, State loudly condemned the decision.
The department is also the public face of the U.S. government abroad ― handling visa requests, promoting American businesses and generally trying to make the country (and the president) look good.
"The State Department, particularly through its embassies, is often the first exposure that people overseas have to the United States," said Kramer, now the senior director for human rights and democracy at the McCain Institute think tank.
Tillerson appears unenthusiastic about that public role. In breaks from tradition, the widely criticized new secretary did not attend the rollout of State's annual human rights report and prevented reporters from accompanying him on a trip to Asia, after being caught on camera twice dodging questions from veteran foreign affairs correspondent Andrea Mitchell. Since his takeover, the department has announced that it will have fewer briefings and make many of them off-camera. It "makes it hard to receive a clear picture about [the] US position," Tehran-based Iranian journalist Sadegh Ghorbani told HuffPost.
Perhaps most importantly, State does what it's always done: negotiate deals with other countries to end old conflicts and prevent new ones. The agency's defenders note its clear wins. Western diplomatic achievements like the deal to limit Iran's nuclear ambitions and the Paris climate agreement were only possible because of Kerry's work at State, said Federiga Bindi, a senior fellow at Johns Hopkins University's Center for Transatlantic Relations and former adviser to the Italian government. The agency also led the negotiations that allowed four Americans to come home from Iranian detention in 2016.
"If you don't fully fund the State Department, then I need to buy more ammunition," Trump's Defense Secretary, retired Gen. Jim Mattis, said in 2013. More than 120 generals and admirals repeated that message in a letter to lawmakers last month.
In taking aim at the State Department early with budget threats and tight restrictions on hiring, Trump is signaling his vision: military force and quick fixes over the long-term gains of diplomacy, carte blanche for authoritarian leaders who serve his agenda, and a smaller U.S. role in tackling global problems. This approach aligns with the ideology of White House chief strategist Steve Bannon, who hopes for "the deconstruction of the administrative state" and wants to avoid the kind of State official he sees as "a globalist, an interventionist, a neoconservative."
If the argument that U.S. engagement abroad is an undesirable interference sounds familiar, there's a reason: It's the one authoritarian rulers like Putin (and their defenders on the far right and the far left in the U.S.) often cite when they respond to State complaints.
"These kinds of regimes find it difficult to accept that their own people might demand positive change and liberalization and reform, and so they accuse the United States of spawning and fomenting these kinds of protests," Kramer said. "It's not a new criticism, but I think it has picked up in intensity. It's convenient for these leaders to point the finger at Washington and blame the State Department."
Sign up for the HuffPost Must Reads newsletter. Each Sunday, we will bring you the best original reporting, long form writing and breaking news from The Huffington Post and around the web, plus behind-the-scenes looks at how it's all made. Click here to sign up!
Popular in the Community