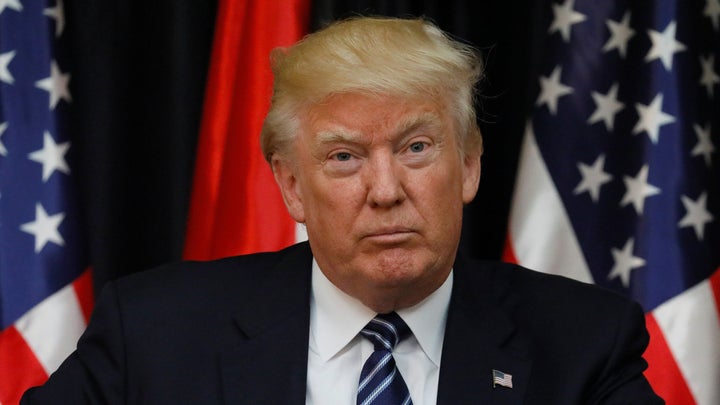 WASHINGTON — President Donald Trump's first budget didn't exactly get rave reviews, even from Republicans, as word of its cuts spread on Capitol Hill Tuesday.
"Clearly Congress will take that budget, and then work on our own budget, which is the case every single year, but at least we now have common objectives," House Speaker Paul Ryan (R-Wis.) told reporters. "We will have a great debate about the details and how to achieve those goals."
House Republicans have been a little warmer toward Trump's priorities, but many Republicans regarded deep cuts to non-military programs with alarm, suggesting Trump is trying to go too far.
"I don't think the president's budget is going anywhere," said Sen. Bill Cassidy (R-La.), arguing that the blueprint doesn't say anything about his priorities, especially on health care reform. "It's not a signal of mine, at all, and there's a significant number of senators who agree with me."
"I'm sure we'll take the budget and redo it," said Sen. Lindsey Graham (R-S.C.), who supports greater military funding but said cuts to the State Department and health research would be ill-considered.
"We'd have to retreat from the world or have a lot of Benghazi situations on our hands," Graham said. "The [National Institutes of Health are] a national treasure, and it will get hurt too."
Cassidy was even blunter, noting that the Trump budget embraces a House health care repeal-and-replacement plan that would roll back Medicaid and lead to higher premiums for millions of Americans.
"I think President Trump's campaign contract with the voters should be fulfilled — that we need to lower premiums," Cassidy said. "The voters expect their premiums to go down, not go up."
Sen. Rob Portman (R-Ohio) said he had not yet seen the budget, but his concerns were similar to Cassidy's. Portman is worried about preserving Obamacare's Medicaid expansion in his state, which the House health care bill would roll back.
"If it picks up on the House version, I think it risks pulling the rug out on people who are currently getting coverage," Portman said.
Democrats were substantially more dismissive, criticizing the budget as deeply cruel for its health care cuts and wildly unrealistic in its assumptions of economic growth.
"The Trump budget exists somewhere over the rainbow where the dreams of [Budget Director] Mick Mulvaney, Paul Ryan, and the Koch brothers really do come true," said Senate Minority Leader Chuck Schumer (D-N.Y.). "Of course, these dreams are a nightmare for the average working American."
Presidential budgets do spell out priorities for where the administration thinks money needs to be spent, but they still are primarily just blueprints. And even after Congress modifies them when it draws up its own plans, the results are also mostly guidelines. House and Senate appropriations committees draft the actual spending bills.
UPDATE: 4:15 p.m. ― Praise for Trump's budget did not exactly pile up as the day wore on.
"I also have serious concerns about how the proposed cuts would affect West Virginians and others across the country," said Sen. Shelley Moore Capito (R-W.Va.) in a statement, signaling she intends to pursue a different course. "In the coming months, I will use my leadership role on the Senate Appropriations Committee to ensure programs and projects important to West Virginians are funded at adequate levels."
Asked how the budget would affect rural voters in his state of Kentucky, Senate Majority Leader Mitch McConnell (R) demurred.
"Look, the president's budget, as we all know, is a recommendation," McConnell said. "We'll be taking into account what the president's recommending, but it will not be determinative."
Indeed, Senate Republicans appear more likely to simply cut a spending deal with Democrats, and not bother fighting over the plans offered by their party's leader. McConnell said that rather than wait for the budget process to finish, senators would work out the spending parameters among themselves.
"We'll have to negotiate the top line [spending levels] with Democrats. We know that. They will not be irrelevant in the process," McConnell said. "At some point here, in the near future, those discussions will begin."
Schumer, meanwhile, favored an approach that shuns Trump.
"There's only one bit of optimism here. Our Republican colleagues dislike this budget almost as much as we do," Schumer said. "Democrats and Republicans will tell President Trump and his minions to stay at the other end of Pennsylvania Avenue. Let us work out a budget together that will make America a better place."
REAL LIFE. REAL NEWS. REAL VOICES.
Help us tell more of the stories that matter from voices that too often remain unheard.