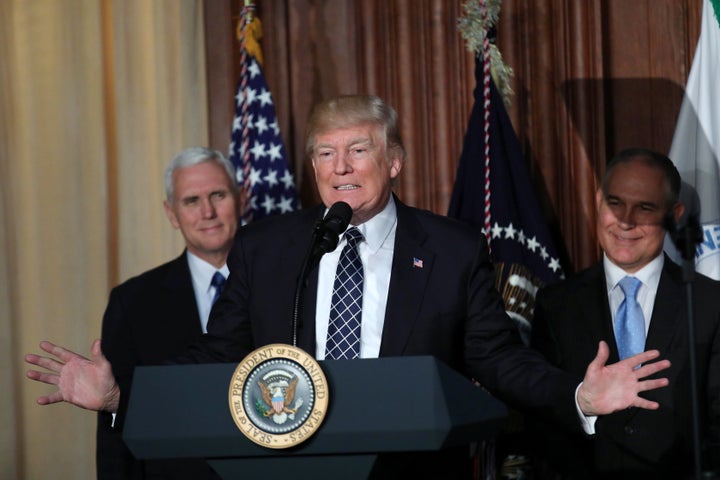 WASHINGTON ― The latest version of the Trump administration's 2018 budget will still cut the budget for the Environmental Protection Agency by nearly one-third.
The budget proposed on Tuesday would cut funding to the agency to $5.65 billion ― a 31.4 percent reduction.
Science and health advocates decried the cuts. The proposal "takes a wrecking ball to agencies that protect our health, safety and environment," said Ken Kimmell, president of the Union of Concerned Scientists and former Massachusetts Department of Environmental Protection commissioner, in a statement. The lower budget would mean "taking our environmental cops off the beat and allowing those who would seek to pollute to get away with it."
The budget proposes eliminating funding to every program to deal with global warming, including the Clean Power Plan, the first federal policy to put limits on carbon dioxide pollution from the utility sector, by far the biggest emitter of greenhouse gases.
"Clearly this is about declaring war on [the fight against] climate change," said Elgie Holstein, a senior director at the non profit advocacy group the Environmental Defense Fund. "It's not a particular surprise, though it's deeply disappointing."
In March, Trump signed an executive order instructing EPA Administrator Scott Pruitt to review the Clean Power Plan, which had already been stayed by the Supreme Court. Despite this, the EPA is legally required to regulate carbon dioxide emissions under a separate 2007 Supreme Court decision, which found that the public health risk posed by greenhouse gases means the agency should take some action.
Low-income people and communities of color, who disproportionately live in high-pollution areas, will bear the brunt of the cuts.
"These cuts will only guarantee more pollution which will likely trigger more asthma attacks, and more lead in our drinking water," Adrianna Quintero, executive director of the nonprofit Voces Verdes, said in a statement. "For Latinos who often live in counties that frequently violate air pollution standards, this could mean serious trouble. For African Americans who already suffer the highest incidence of asthma, this could be a matter of life and death."
"These cuts will only guarantee more pollution which will likely trigger more asthma attacks, and more lead in our drinking water."
If implemented, the proposed EPA cuts could stymie the Trump administration's own pledge to return power to state regulators and boost local infrastructure. The budget suggests slashing grants to state regulators by at least 30 percent, according to the National Association of Clean Air Agencies, which represents roughly 40 local groups. That means less monitoring of air quality and delayed building permits for companies looking to expand or build new facilities.
It also jeopardizes local agencies' ability to meet Clean Air Act standards. State regulators are responsible for devising annual implementation plans, which are submitted to the EPA and function as a sort of contract between state and federal agencies. The budget, advocates said, sets them up for failure.
If state agencies don't meet the standards, federal regulators are legally required to withhold highway funds, constrain economic development aid and, in the worst cases, come in and impose their own plans on local jurisdictions
"EPA should do this based upon public health and welfare," said Bill Becker, executive director of the National Association of Clean Air Agencies. "But if that isn't enough, they should do this to prevent the states and localities [from facing federal sanctions]."
Local agencies will likely raise permitting fees on companies to make up the difference.
"States have a legal responsibility under state, local and federal law to carry out environmental permitting and environmental regulations and enforcement," said John Walke, clean air director at the Natural Resources Defense Council. "The Trump budget turns a blind eye to those legal responsibilities with the farcical claim that states may be able to make it up somehow."
"I'll tell you how they'll do it," he added. "They'll do it with fees on industry."
Since taking office, Pruitt has focused heavily on appealing to heavily polluting industries that he's accused his predecessors at the EPA of mistreating. He's made visits to coal mines and given speeches at oil and gas conferences.
But in recent weeks, he has also ramped up calls to improve use of the Superfund, a program for cleaning up toxic waste sites that The Washington Post described as the "one part of the EPA that the agency's new leader wants to protect." Still, the proposed budget dissolves one-third of the program's funding.
"It's a lot of doublespeak," said Mary Gade, a former EPA regional administrator under President George W. Bush. "This budget is very, very draconian in terms of the Superfund."
This story has been updated with comments from Adrianna Quintero and John Walke.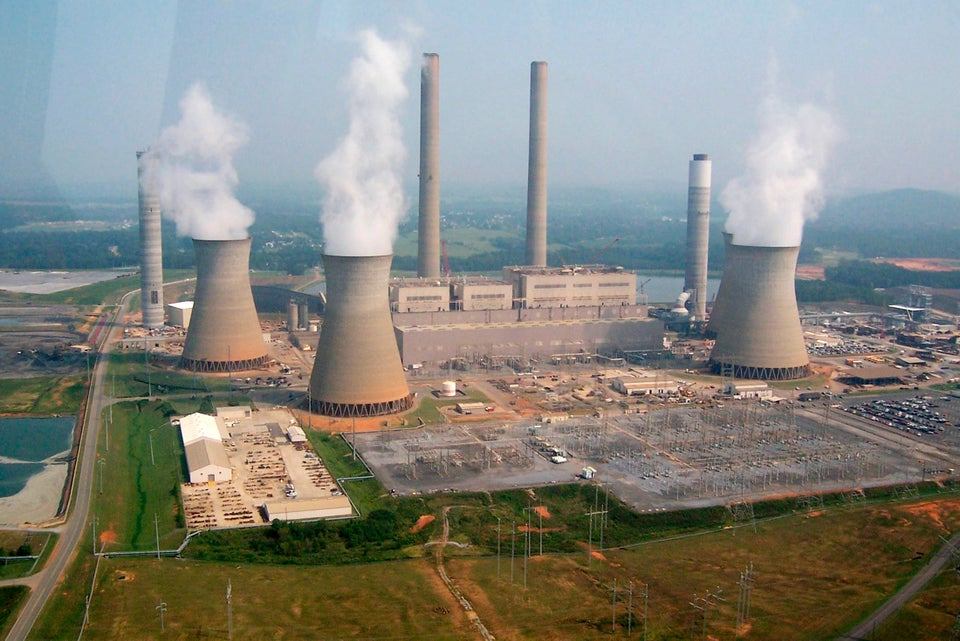 Why Scott Pruitt Is A 'Dangerous' Choice To Lead The EPA
Popular in the Community