WASHINGTON ― While President Donald Trump and Office of Management and Budget Director Mick Mulvaney propose deep cuts to the social safety net ― as well as thousands of fewer jobs at agencies like the Department of State and the Environmental Protection Agency ― Mulvaney is asking Congress to increase one aspect of the federal bureaucracy: his own office.
When Mulvaney goes before a House appropriations subcommittee on Wednesday, he will be asking for modest increases to the OMB budget and the office's full-time employees. He wants to boost the OMB budget 8.4 percent, from $95 million to $103 million, and add 30 employees to the staff of about 465.
Mulvaney's spokespeople did not respond to requests for comment. Democrats, however, were happy to point out the apparent hypocrisy.
"With 30 additional people, hopefully the OMB will have enough employees to double-check its math and realize the extreme harm the Trump Administration's budget will inflict upon millions of Americans," Rep. Rosa DeLauro (D-Conn.), an Appropriations Committee member and Trump budget hater, told HuffPost in an emailed statement.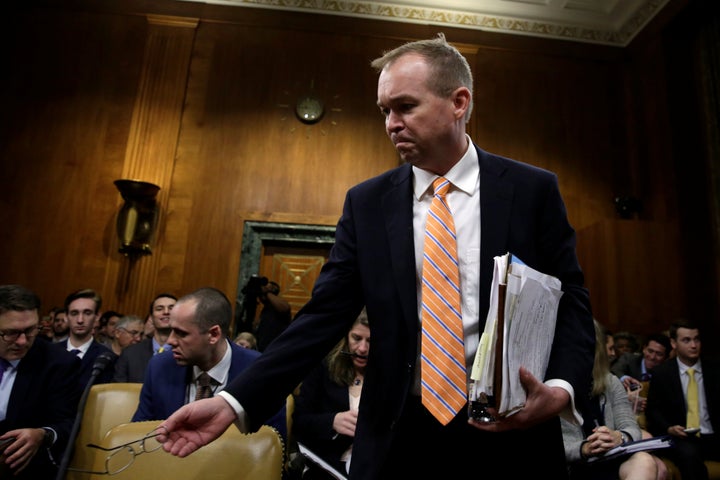 Mulvaney's request isn't far out of line with what former OMB Director Shaun Donovan sought in the last Obama budget. Donovan wanted $101 million, and 10 additional full-time employees.
But Donovan didn't simultaneously want to slash spending elsewhere.
Throughout his time as a member of Congress, Mulvaney branded himself as a fiscal hawk, and during his short time as Trump's OMB director, he hasn't shied away from proposing deep cuts at other federal agencies.
The Trump budget would cut 3,800 jobs from the EPA alone, as well as 2,000 from the State Department ― 25 percent and 8 percent respectively. The Department of Agriculture would get a 20.5 percent funding reduction, and the Department of Labor 19.8 percent. In fact, every Cabinet-level agency except the Department of Defense, the Department of Homeland Security and the Department of Veterans Affairs would see a substantial reduction in funding.  
Just because Trump's budget suggests these funding levels doesn't mean they are likely to become law. Those top lines do, however, serve as a starting point for congressional appropriators, who will craft the funding legislation that could eventually wind up on the president's desk. In other words, the Trump budget recommendations don't have much of an impact on Congress, but they do influence discussion.
Republicans haven't said what they plan to do with their own budget ― the House GOP plans to discuss it on Wednesday. If they want tax reform through reconciliation, most paths lead to lawmakers agreeing to their own spending blueprint first. And to achieve the balance that Republicans generally aim for, Budget Committee Chairwoman Diane Black (R-Tenn.) has hinted she will ask committees to follow through with severe cuts to federal agencies.
We'll see if she asks the same of OMB.
REAL LIFE. REAL NEWS. REAL VOICES.
Help us tell more of the stories that matter from voices that too often remain unheard.
BEFORE YOU GO