WASHINGTON ― The Trump administration wants to change the law so it can more easily force cities and counties to detain immigrants at the federal government's request, even if local officials believe it would be damaging to public safety efforts, costly and even unconstitutional.
The proposal is buried several hundred pages deep in President Donald Trump's budget, which was released Tuesday and is chock-full of measures to help increase deportations. The budget plan includes a $144.9 million boost to the Justice Department's immigration enforcement efforts.
The budget itself is unlikely to become law, but provisions of it might ― and both Trump and Republicans in Congress have given every indication that the conservative principle of leaving local decisions to local officials doesn't apply to immigration.
Under the proposal, jurisdictions that receive federal law enforcement grants would be required to comply with requests from the Department of Homeland Security to hold undocumented immigrants for up to 48 hours or provide "reasonable notification" before releasing anyone who is subject to a detainer ― a temporary detention request.
If approved, it would be a drastic expansion of the statute the administration is using to define "sanctuary cities," which Trump attempted to punish with a January executive order aimed at cutting off federal funding for noncompliant localities. A federal judge blocked the order last month, then Attorney General Jeff Sessions released a memo Monday clarifying that it would apply only to jurisdictions that violate 8 USC 1373, a narrow requirement that local governments allow police to share information with Immigration and Customs Enforcement.
That memo was a belated acknowledgment that current law doesn't allow Trump to go after cities and counties for not agreeing to hold individuals for ICE. But the budget document indicates Trump isn't giving up.
"What we see in this budget is them basically admitting under current law they can't actually go after sanctuary jurisdictions like they want to, so what they want to do is change the law," said Philip Wolgin, who works on immigration policy at the left-leaning Center for American Progress, adding that those changes would be "radical and drastic."
Justice Department official Lee Lofthus, assistant attorney general for administration, acknowledged Tuesday that the proposed budget "makes some changes to some of the rules regarding cooperation with immigration officials."
Lawyers for Santa Clara, California, one of the two localities that won a national injunction against Trump over his sanctuary cities order, did not immediately respond to a request for comment. Late Monday, the Justice Department asked a federal judge to reconsider the scope of that injunction, citing Sessions' memo as "new authority" in the case.
At the time that Trump signed an executive order promising to deny grants for "sanctuary cities," the government had no definition of what that term meant. There isn't a blanket definition anywhere. Some jurisdictions adopt it on their own to state they are pro-immigrant, but most often it's used by experts and media to mean jurisdictions that decline to fully cooperate with ICE detainers. Trump and Sessions often state or imply that detainers are mandatory — even though they are not — and that jurisdictions that don't comply with them are breaking the law.
"Sanctuary cities, like San Francisco, block their jails from turning over criminal aliens to Federal authorities for deportation," read a White House statement lashing out at the April ruling against Trump's order. "These cities are engaged in the dangerous and unlawful nullification of Federal law in an attempt to erase our borders."
"What we see in this budget is them basically admitting under current law they can't actually go after sanctuary jurisdictions like they want to, so what they want to do is change the law."
On Monday, Sessions tried to make it clear that "sanctuary cities" are those that violate 8 USC 1373. The law says nothing about detainers and relates only to basic information about a person's immigration status.
In 2014, then-DHS Secretary Jeh Johnson called for discontinuing detainers, in part because a number of courts had concluded that their use and abuse by states and local governments violated the Fourth Amendment, opening them up to civil liability. In a shift, Johnson requested that local governments notify ICE only of pending releases.
Those court decisions have provided guidance to "states and localities that have said they don't want to simply jump when ICE says jump and detain people," said Cecillia Wang, the deputy legal director of the American Civil Liberties Union. "They have been burned both by violating people's rights and by being financially responsible for violating constitutional rights."
Another addition to the law in Trump's proposed budget would require disclosure of more information about a detainee, including nationality, address and scheduled time of release. Noncompliance could lead to the loss of federal funding "through any lawful means," the budget document says.
Even if jurisdictions are strong-armed into changing their policies to keep federal grants, Trump's budget would deal a blow to the coffers of local law enforcement agencies. It's expensive to hold individuals whom police would otherwise release (officials in Florida's Miami-Dade County estimated they saved "hundreds of thousands of dollars" by limiting cooperation with ICE). And Trump's budget eliminates State Criminal Alien Assistance Program grants, which reimburse local law enforcement agencies for detaining some undocumented immigrants.
Congress allocated $210 million for the program in fiscal year 2016. Trump's budget brings it down to zero, passing the burden on to state and local taxpayers.
Before You Go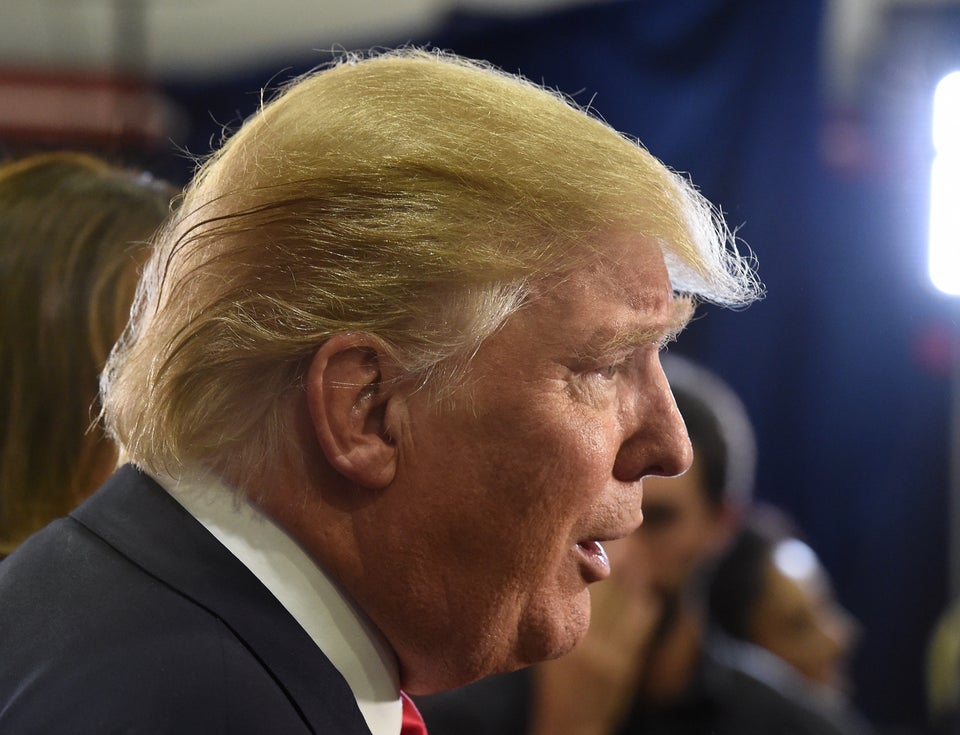 How Donald Trump Talks About Undocumented Immigrants
Popular in the Community