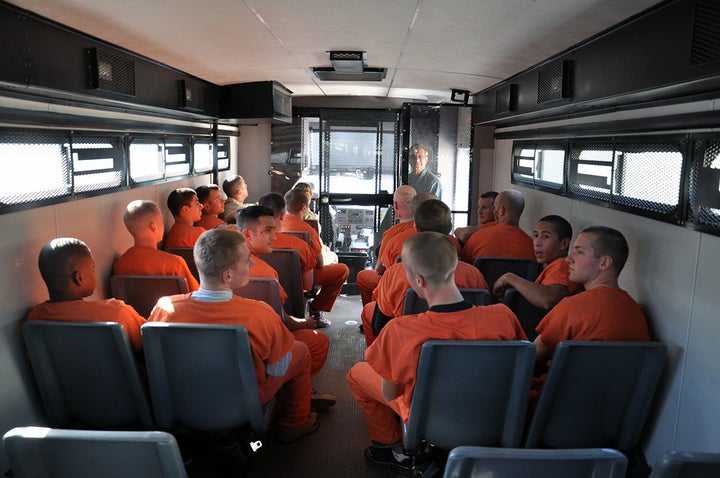 President Donald Trump is trying to keep his promise to end the "American carnage" of crime and drugs. His proposed budget would allocate hundreds of millions of dollars to swelling the ranks of federal prosecutors, who Attorney General Jeff Sessions ordered last month to pursue the most severe penalties possible.
But that's not where the "law and order" ends.
By cutting hundreds of millions of dollars in federal funding for mental health care and substance abuse treatment, the budget would also send more people to jail that don't belong there.
Eleven million people pass through America's jails each year, many of them suffering from mental illness or addiction. Decades of cuts in social services and treatment have turned the criminal justice system into a de facto mental health system. Chicago's Cook County Jail, where one-third of prisoners suffer from illnesses like bipolar disorder and schizophrenia, has been called "the country's largest mental hospital."
Combined with Trumpcare's proposed cuts to Medicaid—the nation's largest funder of mental health and substance abuse treatment—Trump's budget would mean even more of society's most vulnerable would end up behind bars.
Overcrowding, understaffing, and budget cuts across the criminal justice system have resulted in dangerous conditions for prisoners and workers. Between 25 and 40 percent of all mentally ill Americans will be jailed or incarcerated at some point in their lives. An estimated 65 percent of the jail population has a substance abuse disorder. Correctional officers report serious psychological distress at a rate about twice that of the general public.
We simply must stop sending so many people to jail and prison. Governments at all levels must dramatically reduce sentences and invest in alternatives to incarceration, like pre-trial diversion programs—as long as they aren't for-profit. We should stop asking correctional officers, nurses, and doctors to serve as America's front line on mental health and substance abuse.
A well-funded, effective, and humane mental health system, would go a long way towards reducing prison and jail populations while treating mental illness with compassion and support.
Society's most vulnerable deserve treatment and care, not less public investment and certainly not a jail cell.
Popular in the Community