WASHINGTON ― President Donald Trump insists he will unilaterally ban "bump stocks," the gun accessory used to simulate automatic fire, even if lawmakers decline to take up the issue.
"I'm writing that out myself. I don't care if Congress does it or not. I am writing it out myself," Trump said Monday at an event with state governors at the White House.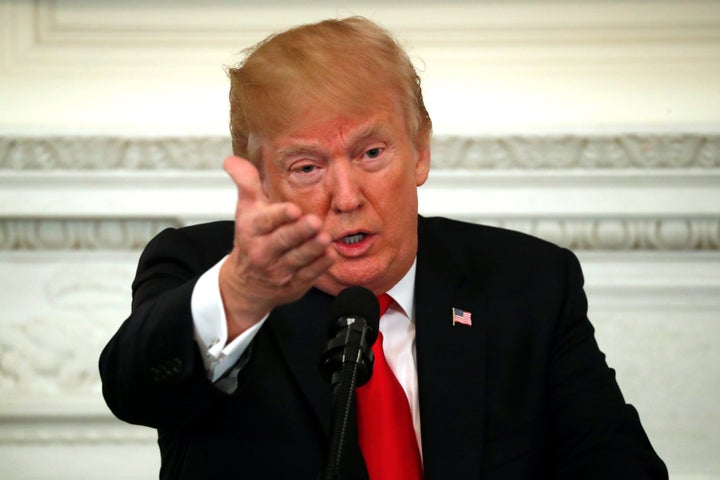 A gunman used weapons retrofitted with bump stocks to kill 58 people and injure more than 500 others at a country music festival in Las Vegas last year. Last week, after a high school mass shooting in Parkland, Florida, Trump directed Attorney General Jeff Sessions to take steps to ban the firearm accessories.
It's doubtful, however, whether the Trump administration can outlaw something that may not be subject to regulations in the first place.
The Department of Justice has said congressional action would be needed to regulate sales of the gun modifications. The Bureau of Alcohol, Tobacco, Firearms and Explosives, which is already exploring the possibility of regulating bump stocks, in 2010 and again in 2012 said it does not have the authority to regulate firearm parts and accessories under current law because they are not considered "machine guns."
The administration may decide to write a regulation simply deeming firearm accessories like bump stocks as parts of illegal "machine guns." But such a move would likely draw legal challenges.
The gunman who opened fire at Marjory Stoneman Douglas High School in Florida used an AR-15 assault-style rifle to kill 17 and wound others. The weapon was not modified with a bump stock, officials said.
Several GOP lawmakers last week expressed interest in banning bump stocks, as well as toughening gun background checks, in the wake of the Parkland shooting.
Senate Majority Whip John Cornyn (R-Texas), a chief sponsor of a bipartisan bill that would strengthen the national background check system, said he supports using legislation to address bump stocks.
"It may be as simple as just providing explicit authority to the Bureau of Alcohol, Tobacco and Firearms to regulate bump stocks," Cornyn said Friday.
A law permanently banning bump stocks outright is opposed by groups like the National Rifle Association. The nation's largest gun lobby has said it would rather see the matter addressed via existing regulations.
Trump told a bipartisan gathering of governors on Monday not to worry about the NRA because "they're on our side." The president also expressed confidence bump stocks would be banned.
"It's gone, don't worry about it," Trump added, referring to bump stocks. "Nobody's going to want them anyway … the bullets come out fast, but nobody knows where the hell they are going."