WASHINGTON ― President-elect Donald Trump announced Wednesday that he will not sell his global hotel chain, will continue to accept reservations paid for by foreign governments and will donate all profits from those bookings to the U.S. Treasury.
But ethics experts say that doing so fails to create even the semblance of a wall between the Trump Organization and the Office of the Presidency. On the contrary, it simply entangles Trump's business with the U.S. government and ensnares the American taxpayer as an unwitting partner in his hotels.
"Instead of demonstrating an appropriate arm's length between Trump's businesses and his presidency, he has constructed a stunt that links the two," said John Wonderlich, executive director of the nonprofit Sunlight Foundation.
The emoluments clause of the U.S. Constitution prohibits anyone "holding any Office" from accepting "any present, emolument, office, or title, of any kind" from "a foreign state." It also prohibits the "acceptance" of gifts or emoluments from foreign governments.
Many ethics experts believe that to truly comply with those restrictions, Trump would have to sell his stake in all of his companies and put the proceeds from the sale in a blind trust for the duration of his presidency. In that way, no one, especially not a foreign government, could make him richer by buying things from his companies.
All previous presidents in the modern era have sold their business interests before they assumed the office. But Trump thinks he has developed a workaround: He will "donate all profits from foreign government payments made to his hotels to the United States Treasury," his outside lawyer Sheri Dillon announced at a press conference Wednesday.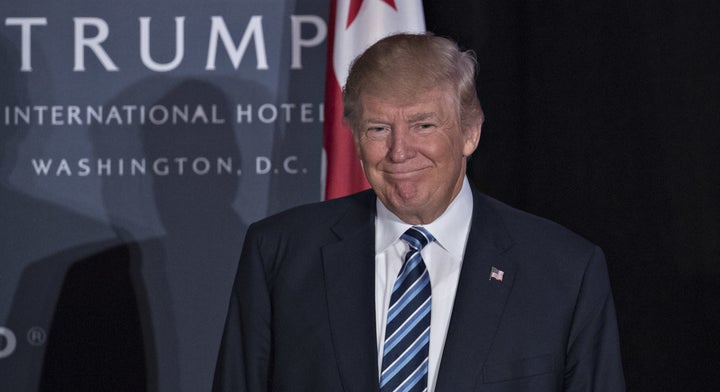 The plan that Dillon, a partner at Morgan, Lewis & Bockius, laid out falls far short of what multiple legal experts say is necessary to comply with the Constitution. Even if Trump doesn't keep the profits from foreign governments booking rooms at his hotels, those hotels will keep the largest share of every dollar, ruble or yen paid to them, to cover costs, taxes, fees, catering and any other overhead they deem necessary. In 2013, the average profit margin of a luxury hotel was between 6 and 15 percent, according to industry analysts.
So under Trump's plan, his hotels will hold onto more than 85 cents of every dollar they collect from foreign governments that book overnight stays, events and meetings at Trump hotels. Of the remaining percentage, whatever Trump donates to the U.S. Treasury will be a tax-deductible contribution, just one more benefit to Trump's bottom line.
Over the longer term, as more foreign governments choose to patronize Trump's hotels over others, his hotels become more profitable, and the value of his business increases — benefiting Trump and his family.
"Mr. Trump's ill-advised course will precipitate scandal and corruption."
Government ethics experts dismissed Trump's plan as little more than a fig leaf on Wednesday.
"Tragically, the Trump plan to deal with his business conflicts announced today falls short in every respect," said Norm Eisen, a former White House ethics lawyer for President Barack Obama. Instead, "Mr. Trump's ill-advised course will precipitate scandal and corruption."
In practical terms, "if the number of bookings at Trump's hotels increases under his presidency, it could be argued that his occupancy rate was benefiting from Trump's status as president," said Brendan Fischer, associate counsel at the Campaign Legal Center.
Moreover, the Trump Organization would still technically be accepting payments from foreign governments, even if the company passed on any profits to the U.S. Treasury.
With less than two weeks to go until Trump is sworn in as president, his future position is already having a real-world impact on bookings at one of his hotels, which is already using it as a lure for potential customers.
Following Trump's upset victory, the Trump International Hotel in Washington, D.C., pitched foreign embassies on booking luxury rooms as a way to curry favor with the incoming administration. So far, it appears to have worked. Foreign governments, including Bahrain and Azerbaijan, moved their annual diplomatic parties from other hotels to the Trump International after the election.
For some visiting dignitaries, the decision to stay at Trump's D.C. hotel, where rooms start at an average of $805 per night, is a matter of courtesy. "Why wouldn't I stay at his hotel … so I can tell the new president, 'I love your new hotel!'" one such diplomat told The Washington Post. "Isn't it rude to come to his city and say, 'I am staying at your competitor'?"
At Wednesday's press conference, Trump's attorney argued that a foreign government's decision to "pay for a hotel room is not a gift or a present, and it has nothing to do with an office. It's not an emolument, [and therefore] the Constitution does not require President-elect Trump to do anything here."
She also claimed that the "emoluments clause has never been interpreted to apply to fair market value exchanges that have absolutely nothing to do with an officeholder." Dillon, who is a tax law expert, did not explain how she arrived at the conclusion that payments to Trump's companies would have "nothing to do" with Trump.
"They need to hand over all revenue, not just figure out what the profits are. It all affects the bottom line."
But ethics experts agree there is no firm consensus on whether the emoluments clause applies to fair market value payments. The issue hasn't come up "because every modern president has separated themselves from their businesses, which Trump hasn't done," said Fischer, of the Campaign Legal Center. "If Trump had separated himself from his businesses, we wouldn't be having this discussion."
"The best reading of the Clause covers even ordinary, fair market value transactions that result in any economic profit or benefit to the federal officeholder," Richard Painter, the former top ethics adviser to President George W. Bush, argued in a recent legal brief. Painter is a critic of Trump's plans to maintain a stake in his business.
The Trump Organization deserves a modicum of praise for at least acknowledging the emoluments clause, Painter told HuffPost. But it should not be left up to Trump's hotels to determine what percentage of their foreign revenue counts as profit, he said.
Eisen had similar concerns: "How are we going to decide what is or is not a profit [from a foreign government booking]? Are they going to question everyone who comes to the hotel? Are you to ask them if they're going to submit expenses back to a foreign government? What about the non-hotel properties?"
"They need to hand over all revenue, not just figure out what the profits are," Painter said. "It all affects the bottom line."
As long as Trump retains ownership of his business ― whatever mechanisms he puts in place to reduce conflicts of interest ― the core ethical problem remains and there is no means to verify that Trump is abiding by the Constitution, said Fischer.
"Like everything else, Trump is asking the American people to take his word for it."
Nick Baumann contributed reporting.
Popular in the Community