The White House's two advisory councils of top business executives disbanded on Wednesday amid intense public blowback against President Donald Trump's response to the deadly attack by an accused white supremacist in Charlottesville, Virginia.
The move came two days after executives began resigning from the dwindling American Manufacturing Council and hours after the billionaire financier who headed the separate Strategic and Policy Forum hosted a call with other members of that panel.
Trump took credit on Twitter for dissolving the advisory panels in order to alleviate pressure on the executives.
"He took the coward's way out and disbanded the business council before anyone else bailed out," Jonathan Bernstein, founder of the consultancy Bernstein Crisis Management, said to HuffPost. "Rather than face more resignations, he just further proved that he was only interested in people who agreed with him."
The tone of Trump's announcement was a sharp departure from his previous, combative statements lashing out at those who had already resigned in protest of his refusal to quickly and pointedly condemn white supremacists.
After Merck & Co. CEO Kenneth Frazier, the only African-American on the manufacturing council, stepped down on Monday, Trump lambasted his company's high drug prices.
Under Armour CEO Kevin Plank and Intel CEO Brian Krzanich dropped out later Monday evening, just hours after Trump gave a press conference in which he said that "racism is evil" and called out the Ku Klux Klan and neo-Nazis.
On Tuesday, the president disparaged the two businessmen as "grandstanders" and vowed to replace them.
But his criticism did nothing to stem the departures. Exactly 15 minutes after Trump posted his tweet, Scott Paul, president of the Alliance for American Manufacturing, quit the manufacturing council. Paul tweeted that "It's the right thing for me to do." On Tuesday evening, AFL-CIO President Richard Trumka announced his resignation amid mounting pressure from unions in the federation.
The retreat continued on Wednesday with Inge Thulin, chief executive of the industrial conglomerate 3M, resigning after "careful consideration." Denise Morrison, chief executive of the Campbell Soup Company, resigned soon after.
And within minutes of Trump's tweet announcing the end of both panels, Johnson & Johnson CEO Alex Gorsky sent out a press release declaring to be "unacceptable" the president's "statements equating those who are motivated by race-based hate with those who stand up against hatred." In an email to HuffPost, a spokeswoman said Gorsky had resolved to resign from the manufacturing council before the president posted his tweet. She did not respond when asked if the White House had alerted Johnson & Johnson of the disbanding of the councils before making it public.
The 16 members of the Strategic and Policy Forum, meanwhile, remained mostly quiet.
Steve Schwarzman, chief executive of financial giant BlackStone Group, and Mark Weinberger, chief executive of the professional services firm EY, made statements condemning hatred and bigotry, but told HuffPost on Tuesday that they planned to remain on the panel.
Walmart CEO Doug McMillon issued a strong rebuke of Trump's response to the Charlottesville violence in a statement posted on the company's website. But he indicated that he planned to stay on the Strategic and Policy Forum.
A spokeswoman for Toby Cosgrove told HuffPost that the chief executive of the nonprofit hospital chain Cleveland Clinic planned to remain on the panel too because it gave him access to "the highest level of government to give direct input on healthcare issues."
Three executives either declined to comment Tuesday or were away on vacation. The nine other members ― including JPMorgan Chase CEO Jamie Dimon, PepsiCo CEO Indra Nooyi and General Motors CEO Mary Barra ― did not respond to HuffPost's request for comment.
On Wednesday, protesters descended on BlackStone and JPMorgan headquarters demanding that their chieftains leave the council.
Late that morning, Schwarzman ― a close Trump confidant ― held a conference call with other members of the Strategic and Policy Forum, according to The New York Times. The executives talked and decided to abandon the group.
All those defections are likely to further isolate the White House from the very corporate leaders whom Trump has intensely courted with pledges to lower taxes and eliminate regulations deemed onerous.
Even before the violence in Charlottesville and Trump's halfhearted response, people had been leaving the Strategic and Policy Forum. In February, then-Uber CEO Travis Kalanick stepped down in hopes of distancing his ride-hailing service from Trump's executive order barring travelers from several Muslim-majority nations. In May, Tesla and SpaceX chief Elon Musk resigned after Trump's withdrawal from the Paris climate accord left him "no choice." Walt Disney Company CEO Bob Iger also resigned over the president's decision to pull the U.S. out of the historic climate agreement, which was signed by every country except Syria and Nicaragua.
West Wing infighting, repeated policy fumbles and bombastic public statements from the president have dimmed executives' hopes that the Trump administration will accomplish its ambitious pro-business agenda. The instability sown by the president's response to the Charlottesville attack, which left anti-racism protester Heather Heyer dead and nearly two dozen injured, won't help.
"He's clueless on what to do, he doesn't want to admit he's clueless on what to do, he brings in advisers, and when they don't agree, he fires, criticizes or both," Bernstein said. "That is making the entire business world nervous, even though, at first glance, the Trump administration would seem to be business friendly."
Before You Go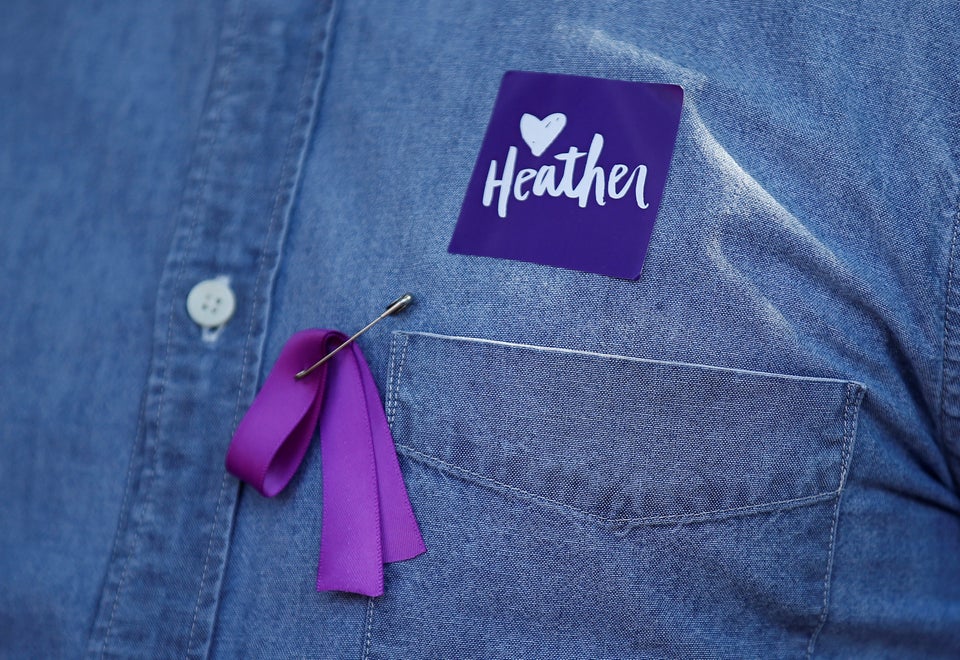 Memorial Held For Charlottesville Victim Heather Heyer
Popular in the Community