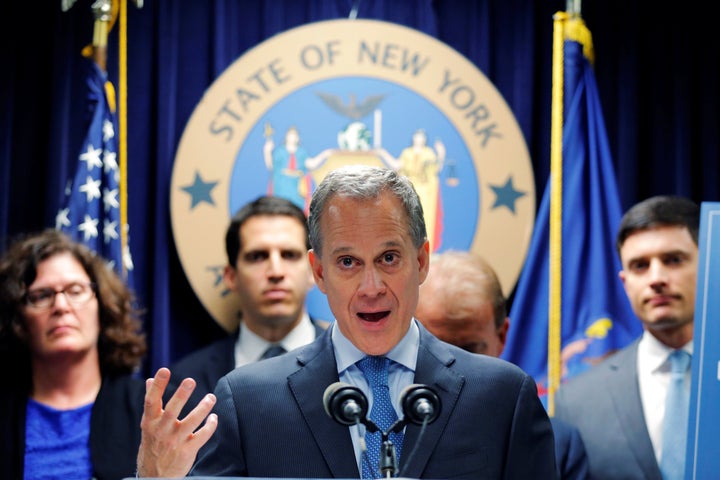 An ethics watchdog group has stepped up its campaign that calls on New York's attorney general to investigate whether President Donald Trump's business practices are violating the law.
The nonprofit group Free Speech for People sent a letter Friday to Attorney General Eric Schneiderman, who indicated last month that his office is discussing concerns about Trump and his business holdings.
It's part of a continued push from different fronts for an examination of Trump's potential conflicts of interest as both president and business owner, and concerns about the emoluments clause of the Constitution, which prohibits a federal officer holder from accepting funds from foreign entities.
A letter last month from Free Speech for People pointed out past illegal activities involving the president's businesses, and called on Schneiderman to revoke a business charter that allows the Trump Organization to operate in New York.
The latest letter highlights additional concerns to Schneiderman that dealings by the Trump Organization in Baku, Azerbaijan, "may have violated the Foreign Corrupt Practices Act" and U.S. sanctions against Iran, according to a draft provided to The Huffington Post.
Only a "thorough investigation of the Trump Tower Baku affair and the Mammadovs' connections to the Revolutionary Guard could reveal if these allegations are substantiated," the letter concluded. "We urge the state of New York to use the resources it has available to begin that investigation."
The nonprofit group sent a similar letter to Joon Kim, acting U.S. attorney of the Southern District of New York, urging his office to probe Trump's dealings in Baku.
Three other watchdog groups on Monday sent Kim a letter asking him to investigate if any Trump businesses in his jurisdiction were "receiving payments ... from foreign governments that benefit President Donald Trump" and don't comply with the law. One of the groups, Citizens for Responsibility and Ethics in Washington, filed a lawsuit in January asking a federal judge in Manhattan, New York City, to declare that Trump is violating the ban on emoluments.
The groups sent a similar letter to Preet Bharara, now the former U.S. attorney of the Southern District, just days before Trump fired him last Saturday.
The emoluments ban was established because of concerns that foreign entities could use large cash payments to influence or "buy" a president or other federal office holder. Trump properties across the globe are currently profiting from foreign investments and purchases. Last month, the Kuwaiti government ran up a $60,000 bill for a national party at the president's hotel in Washington, D.C. Mother Jones reported Wednesday that a woman linked to Chinese intelligence purchased a condominium in Trump Tower in Manhattan for nearly $16 million.
Schneiderman is weighing what action to take — if any — regarding such issues. In remarks to reporters at a meeting of the National Association of Attorneys General last month, he said that legal strategies were being discussed, and "certainly, my office is looking at anything that's passed on to us and doing our own research."
"We've had meetings with people discussing these matters already," he continued. "It's premature to say one way or another how this is going to proceed."
Schneiderman stressed that it's "not sustainable" for Trump to "refuse to divest from all of his vast holdings and refuse to disclose what those holdings are." "It is so far beyond the bounds of anything that anyone has ever attempted that people are having trouble coming up with a clear legal strategy to address it," he added.
Ron Fein, legal director of Free Speech for People, told HuffPost that it's taking time for lawyers and courts to "gear up" to respond to concerns about Trump's legal issues because the situation is so unique.
"Most presidents operate in good faith when it comes to something like conflicts of interest," Fein said, adding that strategies are beginning to coalesce to develop "antibodies" to the Trump scenario.
Schneiderman has clashed frequently with the president and has a reputation as a "Trump slayer." He filed a lawsuit against the now-defunct Trump University, a pricey certificate program that was supposed to impart Trump's business savvy that had no license to function as a school and garnered scores of complaints. Shortly after his election, Trump agreed to pay $25 million in fines and restitutution to settle the case and two class action suits against the operation.
Popular in the Community