Now it's up to Capitol Hill to decide where U.S. relations with the longtime partner go and whether America will stick to even limited advocacy for human rights abroad.
Congress has powerful tools at its disposal and at least three expected votes over the next few months that it could use to press the Saudis for accountability and weaken their sense of impunity.
And there's a growing expectation that lawmakers must act to signal U.S. leadership. American allies say they doubt the Saudis will seriously investigate a plot that might implicate the kingdom's own leadership, and they don't trust the Saudi-friendly Trump administration to get to the truth. Despite some criticism of Riyadh, Trump's team has unsurprisingly stuck to its general approach on partners' human rights violations: avoid public criticism, claim to be urging change in private.
Trump's biggest move to push Riyadh so far ― withdrawing Treasury Secretary Steve Mnuchin from a key Saudi investment conference ― came after loud requests from Republican senators. Overall, the administration is focused on finding a narrative that avoids any rupture with the kingdom on what Trump sees as key issues: cooperation against Saudi rival Iran; arms deals that the president pitches as jobs programs; and business ties that personally benefit the Trump family.
A bipartisan group of lawmakers has already triggered a process that compels Trump officials to look into Khashoggi's killing and could lead to human rights-related sanctions on top Saudis. After the Saudis' statement, Sen. Bob Corker (R-Tenn.), the chair of the powerful Senate Foreign Relations Committee, underscored the importance of that investigation.
"[The Saudis] can undergo their own investigation, but the U.S. administration must make its own independent, credible determination of responsibility for Khashoggi's murder," Corker tweeted.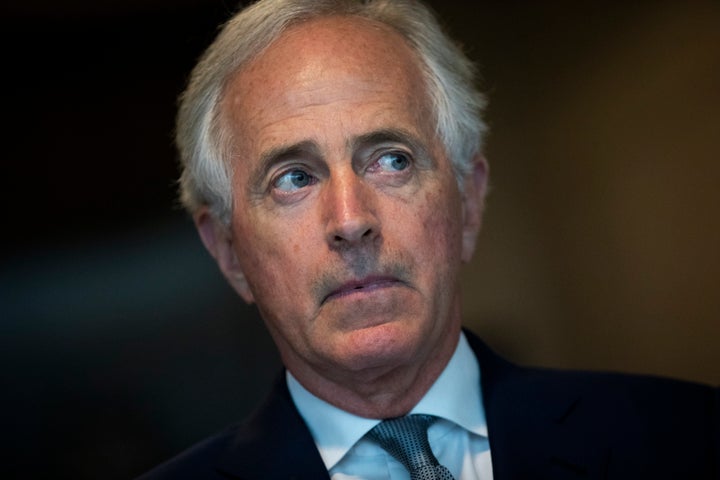 But the administration has already disappointed Congress once after a request to investigate the Saudis, producing a document last month to justify the bloody behavior of a U.S.-backed coalition led by Saudi Arabia in Yemen. Three Republicans and four Democrats in the Senate wrote a joint letter earlier this month expressing "significant concerns" with that State Department report.
Democrats are now saying they want an independent investigation into Khashoggi's murder that does not risk being skewed by the motivations of the Saudis or their friends in the Trump White House. If they can sustain that rhetoric and bring some Republicans on board ― Corker, for one, has complained about Trump keeping U.S. intelligence about the incident from lawmakers ― they might be able to actually make that happen.
It helps that there are already strong demands along those lines from prominent rights and press freedom groups, and from the late Khashoggi's well-connected employer The Washington Post. The paper's national security columnist David Ignatius suggested the Senate and House intelligence committees might investigate.
Translating the talk into legislative action could begin soon after the midterm elections. By mid-November, the Senate is expected to vote on a bill from Sens. Chris Murphy (D-Conn.), Bernie Sanders (I-Vt.) and Mike Lee (R-Utah) that would end U.S. support for a Saudi-led coalition fighting Iran-backed rebels in Yemen. The coalition is responsible for the majority of the more than 10,000 civilian deaths in the conflict, the United Nations says, and its actions like impeding food and medicine shipments have helped create what the U.N. calls the worst humanitarian crisis in the world.
"We've heard a lot of tough talk. Now there's going to be a vote where they're going to have to make this decision," said Kate Gould, who lobbies Congress on behalf of the anti-war group Friends Committee on National Legislation.
Congress has become increasingly angry with the Saudis and their partner the United Arab Emirates over their role in conflict. When the Senate last held what many considered a proxy vote on U.S. support for the Saudi campaign ― which takes the form of aerial refueling, intelligence support and weapons sales ― 44 senators voted no.
The timing seems right for more to flip, and not only because of the Khashoggi crisis. Crucial red-state Democrats will no longer have an election to worry about, and lawmakers are now facing calls from even anti-Iran hawks to reconsider the policy. It's also possible to imagine an end to refueling and intelligence cooperation becoming a compromise position between Capitol Hill and Trump. That would send a message to the Saudis without directly challenging the weapons sales he likes to boast about.
"We've heard a lot of tough talk. Now there's going to be a vote."
Two such arms deals will give Capitol Hill the chance to weigh in on U.S.-Saudi relations in the months ahead. Congress will soon consider a pair of Trump-backed bomb sales to the Saudis and Emiratis that together are worth around $2 billion. For now, Corker and Sen. Bob Menendez (N.J.), the top Democrat on the Foreign Relations Committee, are signaling that the administration should not even bring up the question. When it ultimately does though, the Senate has the right to block either or both of the sales ― turning a vote into a referendum on Saudi judgment.
Central to those fights would be activists who have long fought to get Yemen on Washington's agenda. They say that intermingling the yearslong conflict with the Khashoggi killing is complicated because they want to avoid any truce over the journalist reducing the momentum against the war ― but they understand why there's a connection, and Riyadh likely will as well.
"No one's going to convince anyone that the Khashoggi assassination doesn't weigh on people's minds as they take a vote on Yemen, but I think what's important is the way it does," said Scott Paul of Oxfam America. Concern over Khashoggi "shouldn't be seen as the objective of a vote. It should be seen as contributing to how U.S. leaders view the credibility of Saudi Arabia as a partner in Yemen. This vote matters in terms of that relationship, but also to the millions of Yemenis on the brink of famine."
The well-funded Saudi influence network in Washington will likely do everything it can to tamp down concern in Congress. A conservative media campaign trying to smear Khashoggi to protect the Trump-Saudi connection is making inroads with constituents, an aide told HuffPost, and congressional staff say it's hard to predict what will be top of mind after the midterms. One aide noted that concern about looking weak on Iran is already featuring in conversations about Saudi Arabia.
But pro-Saudi talking points haven't stopped Congress from getting more aggressive over Yemen.
There's no guarantee they will work any better after one more Saudi-linked transgression
This story has been updated to reflect Trump's comments to The Washington Post published Saturday night.
Popular in the Community