President Donald Trump labeled outgoing National Economic Council Director Gary Cohn "a globalist" during a cabinet meeting on Thursday, making the third time in three days that the controversial term has been used on the national stage.
Trump was addressing Cohn's upcoming departure from the White House when he used the word to describe Cohn, who is Jewish. The term is increasingly used in xenophobic and anti-Semitic contexts.
"He's been terrific," Trump said. "He may be a globalist, but I still like him. He's seriously globalist, there's no question, but you know what, in his own way he's also a nationalist because he loves our country."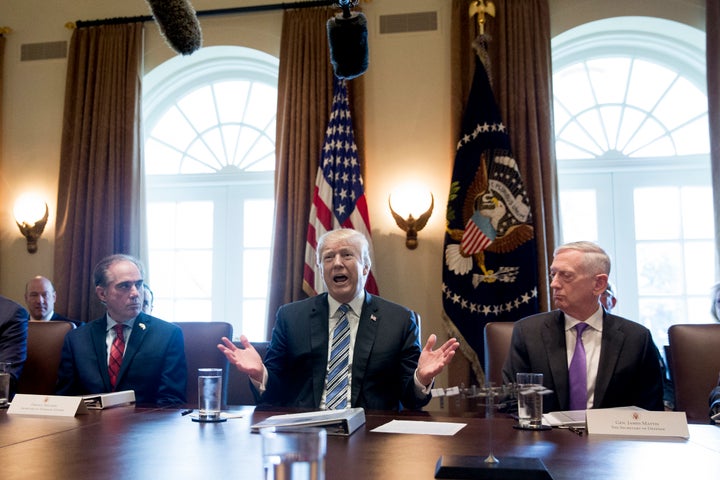 Its use within those circles targets a longstanding conspiracy theory about an international Jewish cabal working to undermine the traditional white family and Western culture by pushing for immigration and diversity.
"For the far right, globalism has long had distinct xenophobic, anti-immigrant, and anti-Semitic overtones," the article states. "It refers to a conspiratorial worldview: a cabal that likes open borders, diversity and weak nation states, and that dislikes white people, Christianity and the traditional culture of their own country."
The White House confirmed Tuesday that Cohn will resign from his spot as Trump's chief economic adviser "in the coming weeks." The former Goldman Sachs executive hit a tough spot in his relationship with the president last summer after Cohn disagreed with Trump's response to neo-Nazis and anti-racism protesters in Charlottesville, Virginia, Reuters reported.
Cohn, in an interview with the Financial Times, had said at the time that he considered resigning over Trump's delayed condemnation of the protesters and the president's initial claim that "both sides" deserved blame for the violence that left a woman dead.
Cohn ultimately decided to stay in his position, though asserted that the Trump administration "must do better."
"As a Jewish-American, I will not allow neo-Nazis ranting 'Jews will not replace us' to cause this Jew to leave his job," he told the paper at the time. "I feel deep empathy for all who have been targeted by these hate groups. We must all unite together against them."
Popular in the Community