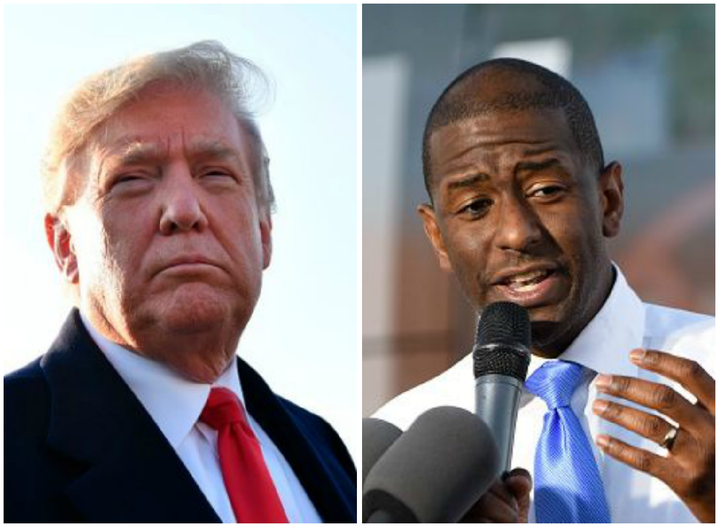 President Donald Trump referred to Florida Democratic gubernatorial candidate Andrew Gillum as a "thief" in a tweet supporting Republican Ron DeSantis.
Trump touted DeSantis as a "Harvard/Yale educated man and "a great Congressman" while calling Gillum a "thief" and "Mayor of poorly run Tallahassee, said to be one of the most corrupt cities in the Country!" in a tweet on Monday morning.
The thievery Trump is likely referring to isn't theft but an ongoing FBI corruption investigation regarding development in the city. Gillum accepted a ticket to the musical "Hamilton" from an undercover FBI agent who he said he believed was a local developer, and it has been a topic of contention that DeSantis has frequently brought to the forefront of their debates.
Gillum addressed the issue on his Twitter account just last week, saying that he "should have asked more questions of those around me" and that he accepts "responsibility for that." He added, "But I'm running for Governor. Florida has 99 problems, and Hamilton ain't one of them."
DeSantis has also been under fire for making racist comments in reference to Gillum, who is black. The day after winning their respective primaries, DeSantis told voters to not "monkey this up" by voting for Gillum.
Gillum was later asked about that remark during a debate, and he told the crowd about DeSantis' affiliation with neo-Nazis.
"First of all, he's got neo-Nazis helping out in this state. He has spoken at racist conferences. He's accepted a contribution ― and would not return it ― from someone who referred to the former president as a 'Muslim n-i-g-g-e-r.' When asked to return that money, he said no. He's using that money to now fund negative ads," Gillum said, spelling out the slur once tweeted by Steven Alembik in reference to President Barack Obama. "Now, I'm not calling Mr. DeSantis a racist. I'm simply saying the racists believe he's a racist."
Calling all HuffPost superfans!
Sign up for membership to become a founding member and help shape HuffPost's next chapter