"We're taking people out of the country. You wouldn't believe how bad these people are," he said. "These aren't people. These are animals."
The livestreamed roundtable at the White House centered on so-called sanctuary policies, which limit local law enforcement cooperation with federal deportation efforts. His dehumanizing comments about immigrants weren't new, nor was his attack on a Democratic politician. The most remarkable thing about both of them was that in the Trump era, reducing a group of people to subhuman and threatening to incarcerate another politician were scarcely notable.
The president referenced "animals" after a sheriff asked him about MS-13, a gang that started in the U.S. made up largely of Salvadoran immigrants and that has become a frequent target of Trump and top officials. The president was "very clearly" referring to the gang, White House spokeswoman Sarah Huckabee Sanders said on Thursday in a press briefing.
But Trump did not name the gang in his answer, instead referencing people in general who are being stopped and taken out of the country. He quickly pivoted to talking about the need to change laws to more easily deport people or keep them out in the first place ― policies that would affect millions of immigrants who by and large have nothing to do with MS-13.
The full exchange is below:
Fresno County, California, Sheriff Sheriff Margaret Mims: There could be an MS-13 member I know about ― if they don't reach a certain threshold, I cannot tell ICE about it.

Trump: We have people coming into the country, or trying to come in ― and we're stopping a lot of them ― but we're taking people out of the country. You wouldn't believe how bad these people are. These aren't people. These are animals. And we're taking them out of the country at a level and at a rate that's never happened before. And because of the weak laws, they come in fast, we get them, we release them, we get them again, we bring them out. It's crazy. The dumbest laws ― as I said before, the dumbest laws on immigration in the world. So we're going to take care of it.
Trump singled out Oakland Mayor Libby Schaaf, a Democrat who was not among the officials in attendance. She made national headlines in February when she warned residents on television before a targeted operation that she heard there would be arrests in the area by Immigration and Customs Enforcement.
ICE acting Director Thomas Homan, who previously called for the government to prosecute local officials over sanctuary policies, said she had helped as many as 800 people get away. (The San Francisco ICE spokesman resigned afterward, criticizing the agency for making what he called a misleading claim, since no operation nets all its targets.) The White House said at the time that the Department of Justice was reviewing her actions, but nothing has come of it.
Trump said Wednesday that he still wants the Department of Justice to prosecute Schaaf.
Addressing Attorney General Jeff Sessions and alluding to speculation about obstruction of justice charges against himself, Trump said, "You talk about obstruction of justice, I would recommend that you look into obstruction of justice for the mayor of Oakland, California, Jeff."
Sessions did not react, according to a report from the room.
Trump is leading a crackdown on unauthorized immigration at the U.S.-Mexico border that will refer adults apprehended after illegal entry for criminal prosecution, even if that means splitting up families and jailing asylum seekers. He is seeking legal changes that would make it easier to turn away or indefinitely detain asylum seekers and children.
"You talk about obstruction of justice, I would recommend that you look into obstruction of justice for the mayor of Oakland, California."
Meanwhile, he is continuing to push for more deportations from the country, including through increased local law enforcement involvement with ICE, even though local officials say that would be counterproductive to other policing efforts.
Trump framed the deportation issue around criminals, as he often does, although ICE arrests increasingly affect people who have not been convicted of crimes.
For him to call immigrants animals is nothing new. In 2015, he used the word twice in an interview with The Washington Post, referring to an undocumented immigrant who had been arrested for fatally shooting a woman in San Francisco. (The man's attorneys said the shooting was unintentional, and he was acquitted.)
Last July in Ohio, Trump said "criminal aliens" were "animals" and then made a gruesome claim that they are murdering "young, beautiful" girls. Later that month, he said in New York that MS-13 "thugs" had "transformed peaceful parks and beautiful quiet neighborhoods into bloodstained killing fields" and "they are animals."
He referred to a New York City terrorism suspect, a legal permanent resident who came to the U.S. on a diversity visa, as an "animal" in November.
In February, Trump referred to certain immigrants as "animals" who want people to suffer, and he accused Democrats of wanting to protect murderers. "I can't get the Democrats ― and nobody has been able to for years ― to approve common-sense measures that, when we catch these animal killers, we can lock them up and throw away the keys."
Referring to subgroups as animals has been used to justify violence, including by Nazis during the Holocaust and by Hutu perpetrators of the Rwandan genocide. Black people have been compared to animals throughout history and were treated like them through slavery and violence. Animal metaphors have similarly been used by conquerors and colonialists to dehumanize indigenous populations.
This story has been updated to include comment from Sarah Huckabee Sanders, as well as Trump's full remarks.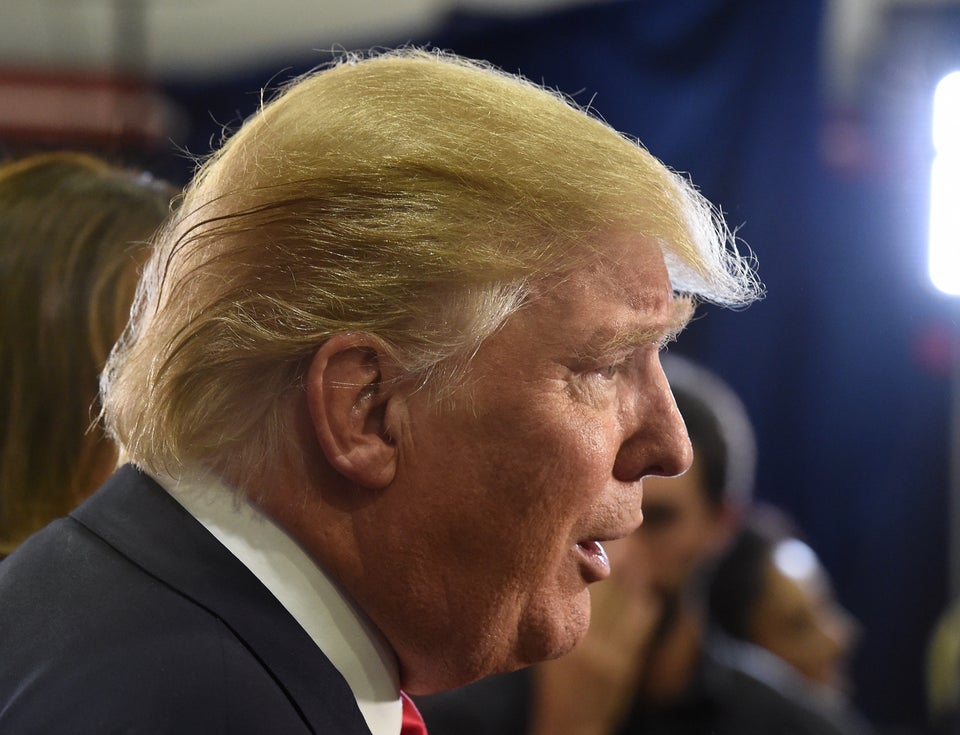 How Donald Trump Talks About Undocumented Immigrants
Popular in the Community