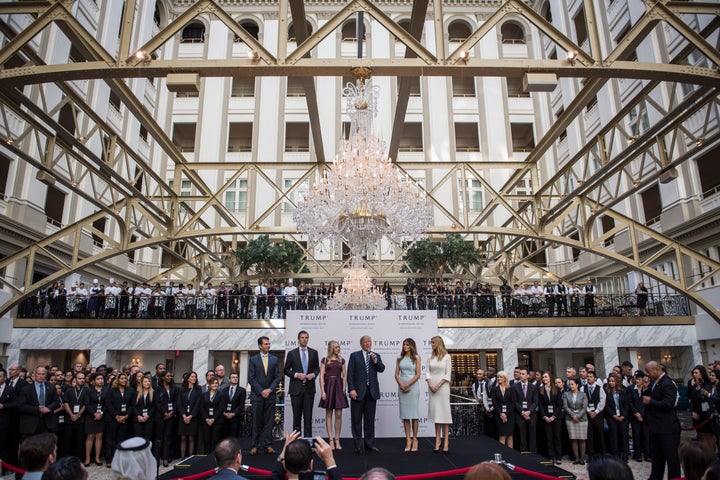 WASHINGTON ― Donald Trump's campaign may not be winning the presidential race, but it did a fine job this month of providing business to his hotels.
Trump's new hotel in Washington received $13,432, according to new Federal Election Commission filings late Thursday. His hotel in New York City received $18,014. And his hotel in Las Vegas was paid $79,044.
The FEC filings cover the first 19 days of October and do not specify precisely what services were provided. The Trump campaign did not respond to The Huffington Post's queries.
The payments for the New York hotel were over a number of days and were described as "lodging." The Las Vegas total was a single payment made on Oct. 17, and may have been for the campaign's visit to the city for the third presidential debate on Oct. 19. It also was described as lodging.
The payment to the new Washington hotel at the Old Post Office site, a few blocks from the White House, also was made on Oct. 17 and was for "rental/catering services." The hotel hosted a Sept. 16 Trump press briefing that turned into a tour of his property.
Trump held a "grand opening" ribbon-cutting ceremony there on Wednesday that was far more elaborate. Its costs, though, do not have to be disclosed until the FEC filing that's due a full month after the Nov. 8 election.
Trump's campaign further paid $8,544 to his golf resort in Potomac Falls, Virginia, and $6,040 to his son Eric Trump's winery in Charlottesville, Virginia.
These payments were on top of his monthly rental payments of $9,000 to the Trump Plaza and $169,758 to Trump Tower. The Trump Tower rent jumped fivefold in July over what it had been for most of the campaign, even though the number of employees working there has no more than doubled.
That rent increase coincided with the signing of a joint fundraising deal with the Republican National Committee that started sending Trump tens of millions of dollars in donors' money for the first time.
Trump's staff has justified his insistence on using his personal Boeing 757 jet and renting campaign office space at Trump Tower despite the attendant high costs because of his $2 million per month contribution to his own campaign. (The Clinton campaign rents two floors in a Brooklyn Heights office building at a per-square-foot rate that's a fraction of what Trump pays.)
But Trump so far in October has contributed zero cash to his effort ― only $31,000 of "in-kind" contributions in rent and payroll, meaning office space and staff he was already paying for, but which now is being used for campaign purposes.
Trump has claimed he'll wind up spending $100 million of his own money on his race. But so far, the actual total is only $56 million, according to the FEC filings. To hit $100 million, Trump would have to spend $44 million in the remaining days before the election.
Support HuffPost
The Stakes Have Never Been Higher
Popular in the Community