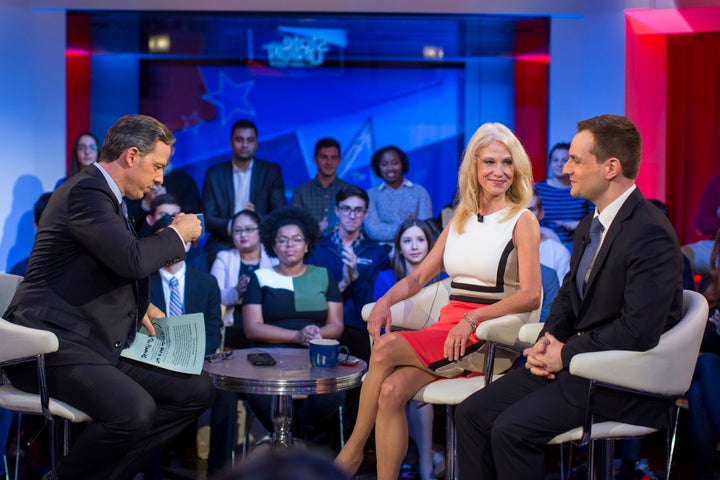 What's traditionally a clinical dissection of a presidential race turned every bit as vicious and ugly as this election wound up, with President-elect Donald Trump's top campaign staff gloating about their victory Thursday evening and denying any connection to the openly racist Alt-Right movement.
"If providing a platform for white supremacists makes me a brilliant tactician, I am glad to have lost," said Jennifer Palmieri, a top aide to Democratic nominee Hillary Clinton, her voice cracking. "I would rather lose than win the way you guys did."
"No, you wouldn't. No, you wouldn't," taunted Trump's campaign manager, Kellyanne Conway. "That's very clear to me. No, you wouldn't. Respectfully."
"You guys are pathetic," added David Bossie, Trump's deputy campaign manager.
The Harvard Institute of Politics' quadrennial post-election forum is typically a seminar of interest only to political junkies. But Thursday's discussion re-litigated the Trump team's scorched-earth strategy of promising criminal prosecution of Clinton and showcasing the female accusers of her husband as a way to deflect attention from Trump's long history of demeaning women and minorities ― including audio of him bragging of his ability to grab women by the genitals.
The Clinton staffers pointed to Trump's decision to bring in Steve Bannon ― who has boasted that his Breitbart News website had become a platform for white nationalists who call themselves the Alt-Right ― as the campaign's CEO in August.
That was on top of Trump's use of racially charged language at his campaign events, the Clinton staffers said. "There were dog whistles sent out to people," said Clinton pollster Joel Benenson. "Look at your rallies. He delivered it."
"You're not being nice. You're certainly not being analytical," Conway responded.
She argued that Trump successfully appealed to voters frustrated with their lack of economic progress in recent years, while Clinton failed to connect with them. "How in the world did we have a female candidate whose closing arguments were so negative?" Conway asked. "It was all about Donald Trump. She was obsessed with Donald Trump. Obsessed with calling him a racist, a xenophobe, a homophobe, a sexist. And guess where it got you."
Clinton had held polling leads over Trump through most of the summer and autumn, but saw her advantage narrow dramatically in the final days of the campaign, when FBI Director James Comey revealed he was looking at additional emails in the probe of Clinton's private email server. He announced the weekend before the election that the new emails had not changed his earlier decision not to file charges.
Popular in the Community