In newly filed campaign disclosure forms, President Donald Trump's 2020 presidential campaign committee has revealed that it paid a $50,000 retainer to criminal defense attorney Alan S. Futerfas who represents the president's son Donald Trump Jr. The timing of the payment is certainly raising eyebrows. Trump claimed he found out about the controversial meeting his son held with a Kremlin-linked lawyer around the time the New York Times first reported it, but the payment to Trump Jr.'s lawyer was made eleven days before.
According to the disclosure forms, Trump's presidential campaign made a $50,000 payment to Futerfas' law firm on June 27, 2017. The first story about Trump Jr.'s meeting with lawyer Natalia Veselnitskaya went up on the New York Times website on July 8, 2017, 11 days after the payment was made. On July 12, in an exchange with reporters on Air Force One en route to Paris, Trump said, "I only heard about it [Trump Jr's meeting with the Russian lawyer] two or three days ago."
A report from Yahoo News this week revealed that Trump's lawyers knew about the email chain between Trump Jr. and music publicist Rob Goldstone for weeks. According to the Yahoo News report, Trump's lead attorney, Marc Kasowitz and Alan Garten, general counsel of the Trump organization, found out about the now infamous email exchange the third week of June. The payment from Trump's committee was made the fourth week of June.
Trump is known to be careful with spending, monitoring expenses closely and grousing when too much money is spent. The fact that a $50,000 payment, to a criminal defense attorney that represents his son on a matter related to the Russia investigation, could be made by a campaign committee he controls without his knowledge would certainly be surprising according to two sources familiar with Trump's oversight of campaign expenses.
A spokesman for Trump's campaign did not immediately respond to a request for comment.

The use of campaign funds to pay for Trump Jr.'s personal legal bills is also eyebrow raising. President Trump claims he is worth $10 billion dollars (Bloomberg News says he is worth $2.86 billion and Forbes says he is worth $3.5 billion). A majority of Trump's campaign donations come from low-dollar donors, the type that give less than $100. That a family worth billions is using campaign committee funds to pay personal legal bills is not something that is likely to go over well with Trump's base in the long-run.
The expenditure appears to be legal though. Lawrence Noble, who served as general counsel of the Federal Elections Commission and currently serves as general counsel of the Campaign Legal Center told HuffPost if Futerfas' representation of Trump Jr. is strictly related to matters pertaining to the presidential campaign then it is permissible to pay him from the campaign committee.
But if the investigation turns to noncampaign matters, as some have speculated it might given that special counsel Robert Mueller has broad investigative powers, it would not be legal for the Trump campaign to cover Trump Jr.'s legal bills.
A copy of the campaign disclosure is shown below: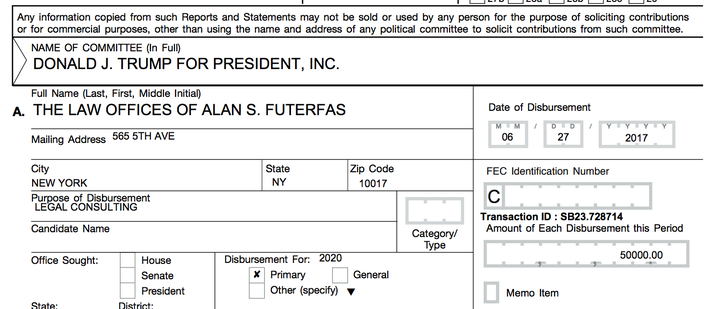 Popular in the Community