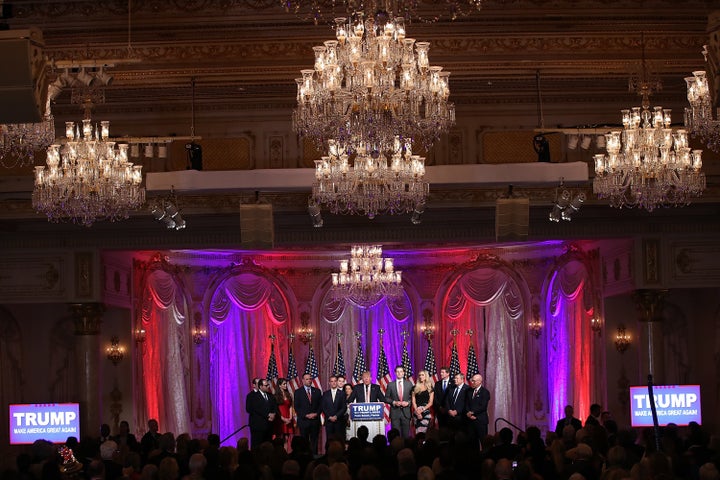 Donald Trump's presidential campaign paid more than $1 million last month to companies controlled by the presumptive GOP presidential nominee, according to reports the Trump campaign filed late Monday with the Federal Election Commission.
The figure represents payments for facilities rental, catering, monthly rents and utilities at more than a half-dozen Trump-owned companies and properties. It includes nearly $350,000 that the Trump campaign paid a Trump-owned company, TAG Air, for the use of Trump's private jets and helicopters.
The most striking expenditure in the new filings was $423,372, paid by the Trump campaign for rentals and catering at Trump's 126-room Palm Beach, Florida, mansion, Mar-A-Lago, which Trump operates as a private club.
Though the payment was in May, the Mar-A-Lago bill likely covers a number of campaign events Trump has staged there in recent months. A spokeswoman for the Trump campaign did not respond to an email from The Huffington Post inquiring about the expenditures and Mar-A-Lago.
Other Trump-owned recipients of campaign funds include Trump Restaurants, which raked in $125,080 in rent and utilities; Trump Tower Commercial, which charged $72,800 in rent and utilities in the building that houses Trump's campaign headquarters; the Trump National Golf Club, in Jupiter, Florida, which collected $35,845 for facilities rental and catering; and the Trump International Golf Club in West Palm Beach, Florida, which billed the campaign for $29,715, for facilities rentals and catering.
It's not unusual for candidates to tap their own companies for campaign functions. But the law requires that campaigns pay fair market value for goods and services, so that a candidate's company doesn't make an illegal donation of office space — or Palm Beach mansions, for example.
But the money flowing from Trump's campaign to his companies reflects the blending of Trump's successful brand -- as a real estate celebrity and reality TV star -- with his increasingly gonzo campaign for the presidency.
Trump, who claims to be worth more than $10 billion, has even said he could personally profit from his own campaign for president. "It's very possible that I could be the first presidential candidate to run and make money on it," he told Fortune magazine in 2000.
After Monday, however, that seems very unlikely. Trump's campaign reported $1.3 million in cash at the start of the hugely expensive general election phase of the race. In 2012, the campaigns and super PACs of President Barack Obama and Republican nominee Mitt Romney each raised and spent more than $1 billion.
According to HuffPost's Paul Blumenthal, Trump's current financial situation "places him further behind [presumptive Democratic nominee Hillary Clinton] in terms of funds and campaign infrastructure than any other modern presidential candidate."
Support HuffPost
The Stakes Have Never Been Higher
Popular in the Community