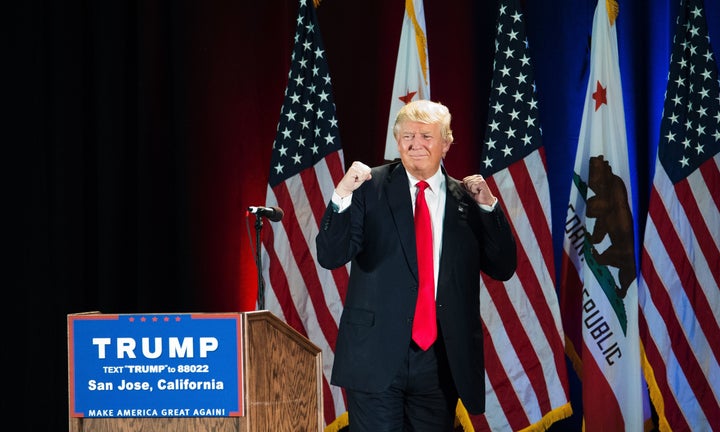 Politico reporter Ben Schreckinger, who was denied entry to a Trump election night event in March, was ejected Thursday night by a Trump campaign staffer and a private security guard, according to his publication. The Trump campaign denied Schreckinger press credentials for the event, so he attended the rally with the public by obtaining a general admission ticket.
The Trump campaign has periodically denied press credentials to numerous outlets this election cycle, presumably because they published critical or unflattering stories. Politico has been part of this apparent media blacklist, which also included BuzzFeed, Mother Jones, The Daily Beast, National Review, Univision, Fusion, The Des Moines Register and The Huffington Post.
"Once again the Trump campaign has refused to allow a Politico journalist to cover a campaign event, this time physically ejecting our reporter from a rally as he typed on his laptop," Politico editor Susan Glasser said in a statement.
"If this is an effort to squelch independent coverage of their campaign, it will not work," she continued. "Such actions constitute a violation of the basic right of a free press to report and as such the Trump campaign has a responsibility to let journalists do their job."
Even outlets whose reporters aren't barred from events have faced hostility from the campaign. A New York Times reporter was ejected from a January stop at a pizza restaurant after he published an article critical of the campaign's Iowa organizing efforts. Campaign manager Corey Lewandowski grabbed then-Breitbart reporter Michelle Fields as she tried asking Trump a question at a March election night event. (Fields is now reporting on the election for HuffPost).
News outlets who have been denied press credentials, like The Huffington Post, or journalists wishing to report at Trump events outside of the designated "press pen," have in the past used general admission tickets to cover them.
Reporters generally seek a press credential to avoid waiting -- possibly for hours -- to enter an event with the public, and to have space and wireless internet access to be able to file stories on deadline. TV networks especially need the time to set up equipment, and the space to have a clear shot of the candidate on stage. But getting press access also means dealing with the campaign's restrictions on journalists' movements. In the Trump campaign case, these have resulted in threats when journalists tried to leave the "press pen" to cover newsworthy moments off stage.
Schreckinger was covering Trump's event outside the press section when stopped by a campaign staffer, according to Politico's account.
A campaign staffer spotted the reporter typing on a laptop outside of the press pen at the San Jose Convention Center and asked the reporter, who was attending on a general admission ticket, if he had press credentials. The Trump campaign has refused to credential the reporter for multiple events.

The staffer said he would consult with his superiors and returned minutes later with a private security officer who instructed the reporter to leave the premises, escorting him out a nearby exit.
Trump spokeswoman Hope Hicks told Politico the campaign wasn't aware of the incident and was "looking into it."
Hicks did not immediately respond Friday to HuffPost's request for comment.
Carla Marinucci, a California-based reporter for Politico, also described on Twitter how she was also approached by Trump campaign staffer in the general admission section. The staffer suggested the reporter was there to "disrupt" it.
Schreckinger's removal comes two days after a raucous news conference in which Trump blasted reporters for asking him legitimate questions about veterans donations -- questions the press had been seeking answers to for months. Trump said such contentious dealings with the press would continue if he's elected president.
Legal scholars on Friday told the The New York Times that Trump's attacks on the press, along with criticism of the judicial system and views on presidential power, "collectively sketch out a constitutional worldview that shows contempt for the First Amendment, the separation of powers and the rule of law."
Popular in the Community