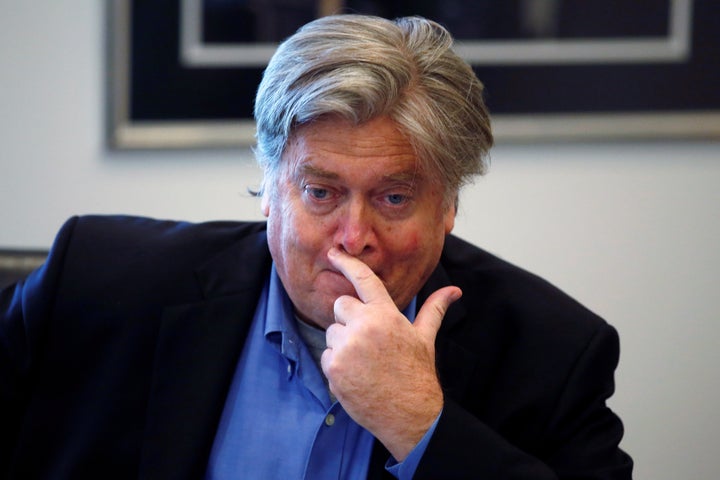 Donald Trump has shaken up the highest levels of his campaign staff for the second time in only a dozen weeks, and his strategy of losing the election by appealing to the hard right is taking shape with his selection of a high ranking member of the Breitbart Echo-chamber team to replace his oligarch concierge, Paul Manafort.
Stephen Bannon, the executive chairman of Breitbart News LLC, will become the Republican campaign's chief executive, and Kellyanne Conway, a senior adviser and pollster for Mr. Trump and his running mate, Gov. Mike Pence of Indiana, will become the campaign manager. Paul Manafort, the campaign chairman, will retain his title. But the staffing change, hammered out on Sunday and set to be formally announced Wednesday morning, was seen by some as a demotion for Mr. Manafort.
Republicans have said for years that their presidential campaign's electoral failures were due to choosing sane and well spoken candidates whose messages of misogyny, racial dog whistles, economic populism for the ultra wealthy and religion-fueled discrimination were not far right enough for them to win in 2012 with Mitt Romney's "self-deportation" and 47% insults or with John McCain's "Country First" sloganeering after he opened Pandora's Box by introducing an obscure Alaska Governor to the national stage.
So now, they'll test the theory that only a true know-nothing Republican candidate who is the absolute darling of hard right loonies ― like that Alaskan Sarah Palin ― can win a presidential election, even though all of the polls indicate that independent voters in swing states have been turned off like a light switch by Donald Trump's wild accusations, race hate and indefensible attacks on our Constitution's guarantee of equal protection under law.
Poll after poll tells the story of Republican Donald Trump's plummeting support across America after a devastating convention performance and his campaign's subsequent implosion, so it should come as no surprise that the Wall Street Journal broke the news in the wee hours of this morning only days after their editorial board told Trump to resign the nomination if he can't begin running a campaign by Labor Day.
Trump is not even dumping current campaign manager Paul Manafort in this shakeup.
Donald Trump seems to have adopted a "keep your friends close, enemies closer" approach to the 2016 general election campaign after witnessing his former campaign manager Corey Lewandowski scurry off to CNN where he's disgraced the profession of journalism. Just this week Lewandowski was on twitter happily exposing his predecessor's secrets: copious overseas cash payments in Ukraine. The country of Ukraine has seemingly fixated this year's Republican campaign as the only place in the world for which it actually has precise policies, mainly to help out Vladimir Putin's territorial claims.
After President Obama demolished GOP nominee Mitt Romney in 2012, the Republican party commissioned an autopsy which stated plainly that the party was dead in the water unless major structural changes were made.
Instead, Republicans have reveled in their undead, zombie party status over the last four years and this is the final stage in doubling down on stupid, with their candidate who needs ever larger disasters to satisfy his need for thrills, attention and admiration by his hard right audience.
After the 2016 campaign is over, we should ask the medical examiner to skip the Republican Party autopsy, so we can proceed directly to the wake.
Popular in the Community