The caravan of asylum-seekers and migrants headed toward the U.S. is hundreds of miles and many days away from reaching the border. There's something that's closer, though: the midterm elections. As Republicans fight to hold on to the House of Representatives, the Trump administration is sending troops to the border and floating drastic measures that could bar Central Americans from entering the U.S. or seeking asylum.
Keeping out asylum-seekers would be consistent with the president's long-stated policy preferences and draw more attention to immigration, one of his favorite bogeymen. It would also likely be illegal.
"There's no question that there's going to be a huge court battle and that he would get smacked down if he tries to block all asylum-seekers," said Kerri Talbot, director of federal advocacy for the progressive policy group Immigration Hub. "And I think the administration knows that. But frankly, I don't think they care because they just want to distract people from core issues, and they want to get their base riled up."
The Trump administration is considering cracking down on asylum-seekers at the border, multiple news outlets reported Thursday. That could entail changes to rules and regulations and a presidential proclamation declaring a specific population — such as Central Americans — is barred from entering the U.S. on national security grounds, or a measure denying migrants from seeking humanitarian relief once in the country, according to reports.
Homeland Security Secretary Kirstjen Nielsen told reporters on Friday that "everything is on the table" and that the administration will announce additional measures in coming days, according to San Francisco Chronicle reporter Tal Kopan. Neither the White House nor the Department of Homeland Security responded to HuffPost's request for comment.
Although the law does grant the president some authority to bar certain groups of immigrants from entering the U.S., the policies reportedly under consideration would likely be swiftly challenged in court. Under U.S. law and international treaties, people who fear for their safety at home are eligible to seek asylum. The fact that the president has spoken disparagingly of migrants could lead to claims that racial animus motivated the change, similar to other legal challenges on his immigration policies.
If the Trump administration implements a policy change like the one described in news reports, it would block people with valid asylum claims, said Omar Jadwat, director of the ACLU's Immigrants' Rights Project, although he expressed caution, emphasizing these are early reports and things could change.
"The kind of thing they're talking about, really it's not about turning back the caravan; it's not about preventing people from entering the country, as much as it's about renouncing our obligation and guarantee of protection to people who are persecuted," Jadwat said.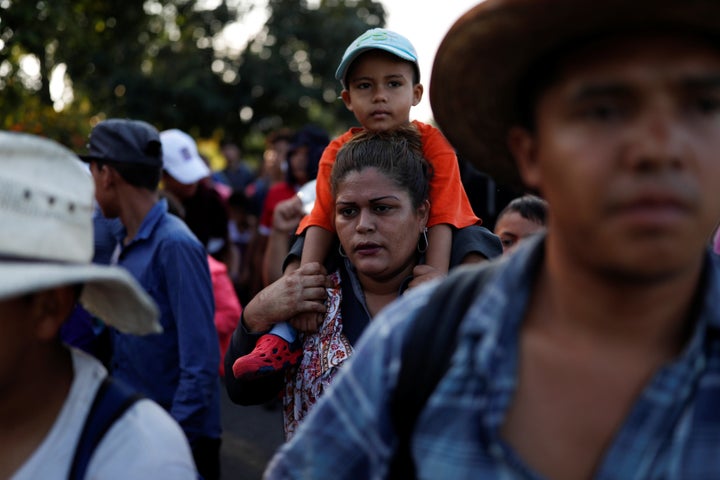 Asylum claims, many of which are from Central Americans, have increased in recent years. This coincided with a change in the sorts of immigrants seeking to come to the U.S. without authorization. Instead of adults from Mexico, who can be quickly turned back, a large proportion of today's migrants are Central American families and kids, who cannot.
It's not easy to actually gain asylum in the U.S., and the Trump administration has taken steps to make it harder. But the fact that migrants are able to remain in the U.S. while their claims are adjudicated, coupled with limits on detention of kids that leads to most families being released, has been a source of frustration for the administration.
"This is not an issue of being able to get physical custody of an alien ... The problem is that once apprehended they can't be sent home," a senior administration official, who refused to be quoted by name, told reporters on Tuesday.
When a similar caravan made it to the U.S. last year, having dwindled to about 400 people, most migrants sought asylum at ports of entry. More than 90 percent of them passed the first step of the process to apply for asylum, meaning they were admitted into the U.S. to undergo further proceedings, Buzzfeed News reported. Overall, about three-quarters of asylum-seekers passed their initial screening in 2018.
That has left the government searching for a tougher approach to keep the caravan away, given the limits on his threats to cut off aid to Central American nations.
It's not clear that such a response is proportionate. The caravan is already shrinking; the highest estimate was more than 7,000 people, but some have already decided to stay in Mexico or returned to their home countries. Mexico offered migrants protections to stay there. Adam Isacson, director for defense oversight at the human rights group Washington Office on Latin America, predicted that only about 1,000 caravan participants would likely actually make it to the U.S.
"Adding 1,000 who are going to make it to the border isn't going to be that much a burden," he said. "There's no need to call in the troops."
Still, the administration may use the caravan — and the news coverage with video of migrants walking en masse toward the U.S. — as a justification for its policy aims.
Officials could be emboldened by its eventual success with the travel ban, which was blocked in its first iteration but ultimately upheld in a watered-down version by the Supreme Court. In that instance, the administration caused chaos in a sweeping policy that it then narrowed based on court rulings. The same could happen for a new policy, said Scott Shuchart, a former Department of Homeland Security official who resigned over the family separations policy earlier this year and now is a fellow at the Center for American Progress.
"My expectation is that whatever this regulatory filing is, that it's being done in a way to be splashy and high impact and to 'trigger the libs' and all of that, of a piece with the end stretch of the election formulation," Shuchart said.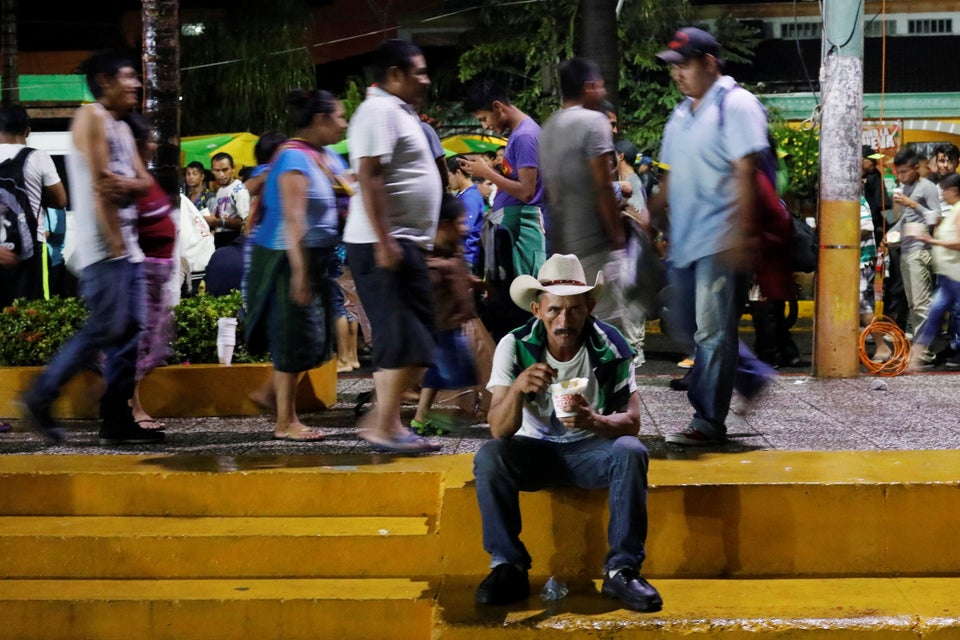 Migrant Caravan Moves Toward The U.S.