By announcing his intention to pull the United States out of the Paris climate agreement on Thursday, President Donald Trump made clear that his administration is not committed to fighting climate change. But that shouldn't come as news.
Climate analysts say Trump's many attempts to roll back climate regulations since becoming president had already been jeopardizing America's ability to meet its Paris commitments. He'd essentially ditched the deal long before Thursday, they say.
According to a recent Climate Action Tracker report, the U.S. would have likely failed to meet its Paris commitments "by a wide margin," assuming the Trump administration's climate policies were fully implemented. Trump has said he wants to throw out several climate change regulations introduced during President Barack Obama's tenure, including the Climate Action Plan and Clean Power Plan. If successful, Trump's rollbacks could cause the U.S. to release 0.4 gigatons more carbon dioxide in annual emissions in the year 2030 than if those policies remained, the report says. (In the worst-case scenario, if all Obama-era climate regulations were eradicated in their entirety, that gap would increase to 1.8 gigatons.)
"This amounts to a very significant reversal of the downward trajectory that U.S. emissions have been on," Bill Hare, one of the report's authors and CEO of Climate Analytics, a nonprofit climate science and policy institute, told Scientific American this week.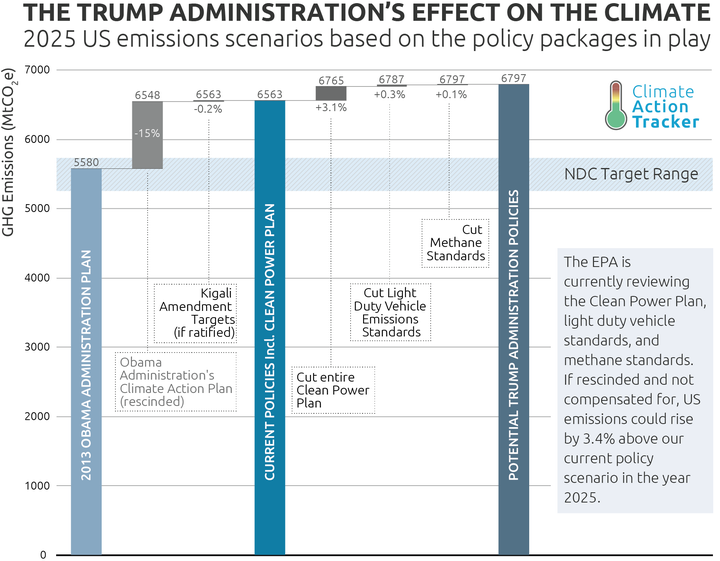 If the U.S., the world's second-biggest CO2 emitter, had wanted to meet its Paris commitments ― which was to reduce emissions by 26 to 28 percent below 2005 levels by 2025 ― experts say the country needed to be even more ambitious with its climate policies, not less. Current U.S. policies, including the Clean Power Plan, would result in a reduction of emissions by only 10 percent below 2005 levels by that time. 
"Whether the United States stays in or out of the Paris agreement, the upshot is the Trump administration is delaying action on climate change," The Washington Post's Chris Mooney wrote in the days before Trump's Paris announcement. "Since climate change is a collective problem, that means that the slack must be made up some other way."
It appears other nations ― specifically China and India, which are beginning to ditch fossil fuels and embrace renewable energy ― are now picking up that slack.
"Both China and India look set to overachieve their Paris Agreement climate pledges," says the Climate Action Tracker report; so much so that the two nations' emissions reductions could "significantly outweigh" any negative effects on emissions resulting from Trump's proposed rollbacks in the U.S.  
"Five years ago, the idea of either [China or India] stopping — or even slowing — coal use was considered an insurmountable hurdle, as coal-fired power plants were thought necessary to satisfy the energy demands of these nations. Yet, recent observations show they are now on the way towards overcoming this challenge," the report says. "This stands in contrast to the decisions of the U.S. administration under President Trump, who appears intent on going in the opposite direction."
The climate action of American states and cities, as well as industry, could also help to mitigate the worst of Trump's climate policies, said report co-author Niklas Höhne. 
In the wake of Trump's Paris announcement, dozens of state and local officials vowed to continue the climate fight. In an open letter this week, the mayors of 61 U.S. cities promised to still meet commitments agreed to under the Paris deal. "The world cannot wait — and neither will we," the mayors wrote.
By bailing on the Paris deal, the U.S. federal government "is on its own," said Höhne, a founding partner of the NewClimate Institute. "The Paris Agreement has already set in motion a process that can no longer be stopped: national climate policy and the global energy transition are advancing. Renewable energy has become so economically favorable that it now displaces coal in China, India and also in the U.S."
"Within the U.S., progressive states and businesses will continue, possibly even more so, to pursue the energy transition," he added.
Calling all HuffPost superfans!
Sign up for membership to become a founding member and help shape HuffPost's next chapter
BEFORE YOU GO
PHOTO GALLERY
What You Can Do Right Now To Stop Donald Trump's Dangerous Climate Agenda