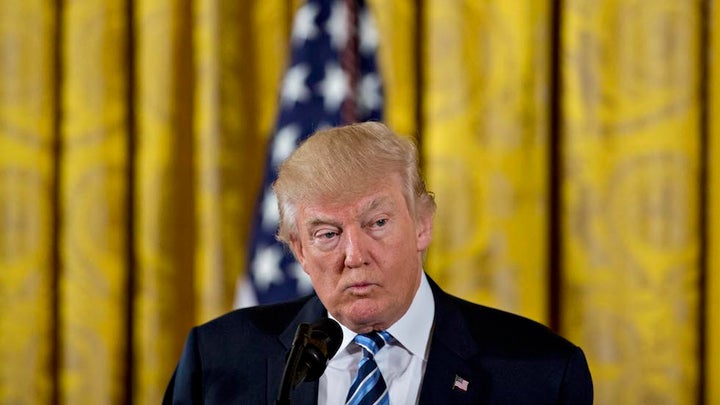 Feb. 3: "We're taken advantage of by every nation in the world virtually," Trump said on Thursday at a prayer breakfast in Washington DC. "It's not going to happen anymore." Each morning Trump turns on the TV, finds something that itches his sense of grievance, and tweets. His hair-trigger super id absorbs those around him. Thursday, Trump's communications advisor KellyAnne Conway defended his Muslim ban by citing a Bowling Green "massacre" that never happened except in her mind.
The retraction later issued by Conway echoes what Congressional leaders are doing; cleaning up after Trump's impulse fictions rattle US allies.
Trump sought to calm the world. Don't worry about his "tough" phone calls, but the reaction is having the opposite effect. Trump's compulsive scratching the idea that the United States is a patsy is shaking up the world around him. "I personally wish that he had never run, I told him that, because I actually think this is something that is gonna be detrimental to his mental health," shock jock radio host Stern said to CNN about Trump, once a frequent guest on his show.
The list of things President Trump has threatened in order to restore his equanimity: science, sanctuary cities, Planned Parenthood, and, now, the University of California at Berkeley.
Before heading to the National Prayer Breakfast on Thursday, Trump floated the idea of stripping federal funding from Berkeley, where a protest against a scheduled appearance by a Trump stand-in, Breitbart writer Milo Yiannopoulos, led to violence. Proxies for Trump's super id are everywhere.
On Friday, Trump plans to coalesce others' grievances with his own by axing protections won by American consumers after the financial crisis in 2006 when lax banking rules nearly brought the world economy to its knees. In particular, U.S. banks want the yoke thrown off, to be "too big to fail" again.
"He wants to be liked, he wants to be loved," Stern said of Trump. No one knows whether Trump is pacing like a caged animal in the Oval Office or if he is even aware top advisor Steve Bannon has set up a shadow National Security Council within the NSC in order to remove any paper trail of its discussions or conclusions.
As a fog of fear and paranoia descends over the Trump WH, the GOP Congress and federal agencies are moving rapidly to see how much they can get away with. The U.S. Environmental Protection Agency's website started deleting references to climate change. The website has been closely watched since Trump's inauguration on Jan. 20. Federal climate plans created under former President Obama, tribal assistance programs, and references to international cooperation have been stricken from the site. A mention of carbon pollution as a cause of climate change has also been removed and adaptation has been emphasized, indicating an attempt to separate the cause of climate change from the response which will likely be to cut funding for science.
The U.S. Senate voted on Thursday to overturn a rule aimed at cutting water pollution from coal-mining waste, an Obama regulation cheered by conservationists and condemned by the coal industry as a "job killer". It was only the second time the Congressional Review Act, which allows lawmakers to stop newly minted regulations in their tracks, has been used since it was passed in 2000.
The Senate was scheduled later on Thursday to debate killing a rule requiring companies such as Exxon Mobil to disclose taxes and other payments they make to governments; an amuse bouche to the fossil fuel industry on Rex Tillerson's first day as Secretary of State.
Senator Sheldon Whitehouse (D-RI) has asked that dozens of Freedom of Information Act Requests be filled before consideration of Trump EPA pick, Scott Pruitt. Those FOIAs ask for disclosure of contacts between Pruitt and Koch Industries, Peabody Coal, Devon Energy, ALEC, CEI and the State Policy Network. Other requests are for records pertaining to Pruitt's work soliciting funding for the Republican Attorney Generals Association.
One GOP friendly sportsman user group has had enough. Land Tawney, president and CEO of Backcountry Hunters and Anglers blasted Representative Jason Chaffetz, R-UT, who might have imagined it was time to be rewarded for the key role he played, over many years in Congress, tenderizing opposition to Hillary Clinton and her private use of an email server and Benghazi.
For beating the drum so loudly, Chaffetz thought he would have no resistance in passing a measure his funders want: a path to ownership of federal lands. Chaffetz' bill, introduced last week, would have ordered the incoming Department of Interior secretary to immediately sell off 3.3 million acres of land in public, national ownership.
"What happened last week was just a small fraction of the ire the sportsman community has been feeling," Tawney said, reflecting the outrage from hunters and fishermen, including many Trump supporters.
Related
Popular in the Community