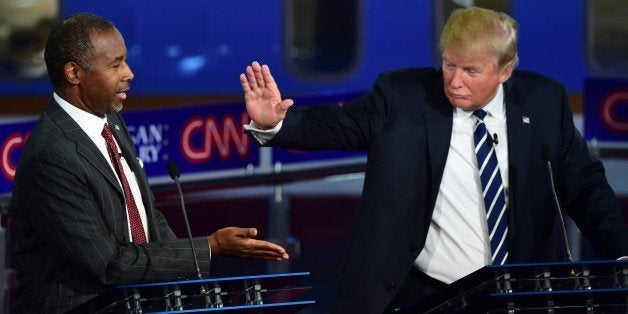 Recent comments, or lack of comments in one case, among the set of candidates for the presidency from the Republican Party -- my party -- with respect to Muslims, have been disgusting, damaging and dangerous. And it is not enough to toss off these candidates with a few words of derision like the Financial Times op-ed page did recently, calling their first debate a "freak show." Though an accurate enough description, more substance is required.
Some of that substance has just manifested itself in the form of calls, emails and letters to the Military Religious Freedom Foundation (MRFF), for which I am an advisory board member, having taken the place of Glen Doherty, a former Navy SEAL who was killed, sadly enough, in the same attack that took Ambassador Chris Stevens's life near Benghazi, Libya in 2012.
This correspondence to the MRFF left no doubt in anyone's mind who read or listened to it that many if not all of the Muslim soldiers, sailors, airmen and Marines in the U.S. Armed Forces found the Republican candidates' pandering utterly despicable. Moreover, they found it extremely harmful in light of the fight against terrorists like ISIS/ISIL in which the military is intimately involved, operations in Afghanistan and Iraq as well as in Africa and elsewhere, and in terms of damage to the pride and respect afforded Muslims in the ranks. In short, such remarks -- or the lack of a countering remark by one particular candidate, Donald Trump, when Muslim integrity and citizenship were questioned in his presence -- left most of these warriors questioning the Republican Party's credentials, indeed its character, for leading this country from the White House or the Congress.
That there is a well-financed campaign in America to discredit Muslims in general is shocking, to be sure, but at least historically understandable: America has always had such racial hatred, religious bigots, and otherwise mentally-impaired people. But for the highest ranks of one of the nation's principle political parties to appear publicly to condone such tactics is something quite new. Senator Joseph McCarthy might have gotten Eisenhower's attention sufficiently to shake his hand in Milwaukee when Ike was campaigning there in 1952, but that was as far as it went. Ike reviled McCarthy and everything for which he stood.
And Senator John McCain, at a campaign event in 2008, demonstrated quite superbly how such hateful remarks should be treated, swiftly and powerfully, when he answered a woman who questioned President Obama's religion and ethnicity and said: "No ma'am, no ma'am, he's a decent family man, citizen that I just happen to have disagreements with on fundamental issues, and that's what this campaign is all about."
Not so with some of the current crop of Republican candidates.
Donald Trump, the front-runner, failed to challenge a questioner last Friday who wanted to know when the U.S. could get rid of its Muslims. Trump also failed to rebut an assertion -- once again -- that president Obama is a Muslim.
Dr. Ben Carson seems to be trying to crawl out from under his statement that a Muslim should not be president (and the innuendo that accompanied such a remark in the minds of the Americans who still believe Obama to be a Muslim). But he is not making a great deal of progress.
Indeed, as the wolves circle around these candidates, each seems to be rethinking the extremes they have visited to create a following, to excite "the Base," and to raise their and the media's ratings. But none of them seems to have a clue as to what his remarks mean to the men and women in the military. This is particularly unconscionable for Dr. Ben Carson. He might not have been in the combat arms in the Army but he did wear the uniform and should know better.
As a Republican, I am utterly ashamed of my party. As a soldier for 31 years, I am disgusted with these "courageous" candidates, none of whom has served a day in the Infantry in their lives. As a citizen, I am deeply concerned for my country.
I can only take solace from the clear reality that none of them will ever win the White House.
Lawrence Wilkerson is a Visiting Professor of Government and Public Policy at the College of William and Mary. He was chief of staff to Secretary of State Colin Powell in the first George W. Bush administration. He served 31 years in the US Army.
Calling all HuffPost superfans!
Sign up for membership to become a founding member and help shape HuffPost's next chapter