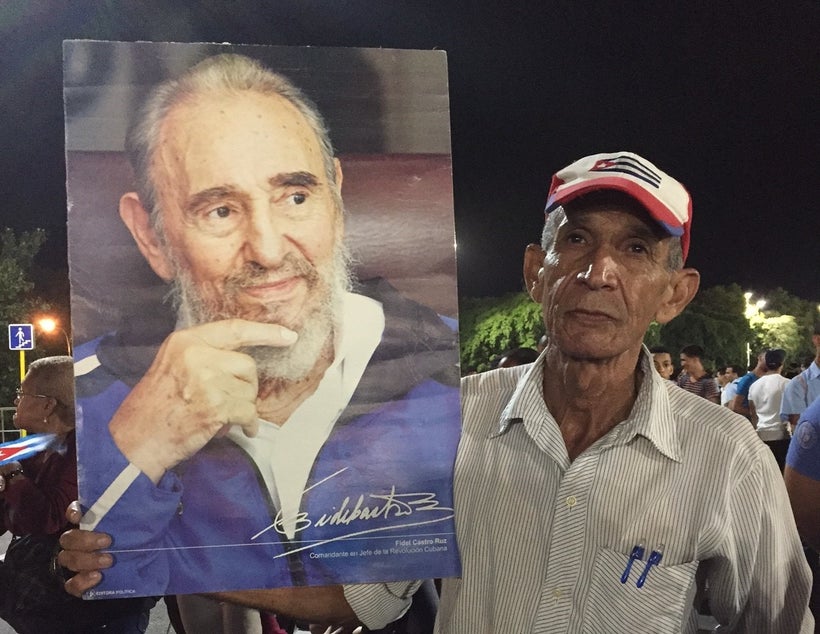 Did ya' hear the one about Fidel Castro showing up at the Pearly Gates? No? Well, I'm not going to recount the joke, but suffice it to say that I heard it less than three days after Castro's death. In Cuba. And it was funny.
Several weeks ago I eagerly booked myself a seat on the first commercial flight to Havana in over 50 years ― a major historical event. Having spent the last 20 months visiting Cuba, offering tours, and making friends who are now like family, I was excited to be a part of this moment in history. As fate would have it, this inaugural flight coincided with two other history changing moments – the death of Fidel Castro and the election of Donald Trump. Ask any number of people about either of those events and you'll get a rainbow of polarized responses. Ask me what it was like to be in Cuba during this trifecta of historical occurrences, and I'll tell you that I often feel like I'm in a Where's Waldo book – an interested observer who shows up at historic events, often unplanned.
With this perfect storm of historic transformation, I was entering a rarely navigated social and cultural time in Cuba, and as an American, I worried about what that meant. Who put my mind at ease? Cubans. Despite the ban on music and alcohol sales during the mandated nine days of national mourning, and the genuine sadness for many over Fidel's passing, Cubans have an easygoing sense of fun, and they make the best out of any situation. In this incredible season of change for both the US and Cuba, there is still so much we can stop and laugh about – and that's where the joke comes in.
Indeed, while Cubans mourned their Comandante en Jefe, they also reflected on how much has shifted since he relinquished governance to his brother Raul ten years ago. Under Raul Castro, small but important policy shifts allowing more privatization have slowly made an impact on the lives of everyday Cubans. When President Obama initiated the current detente in 2014, easing travel and financial restrictions imposed by the US embargo that has been in effect since 1962, the foundation was in place for Cubans to reap the benefits of the resulting travel boom.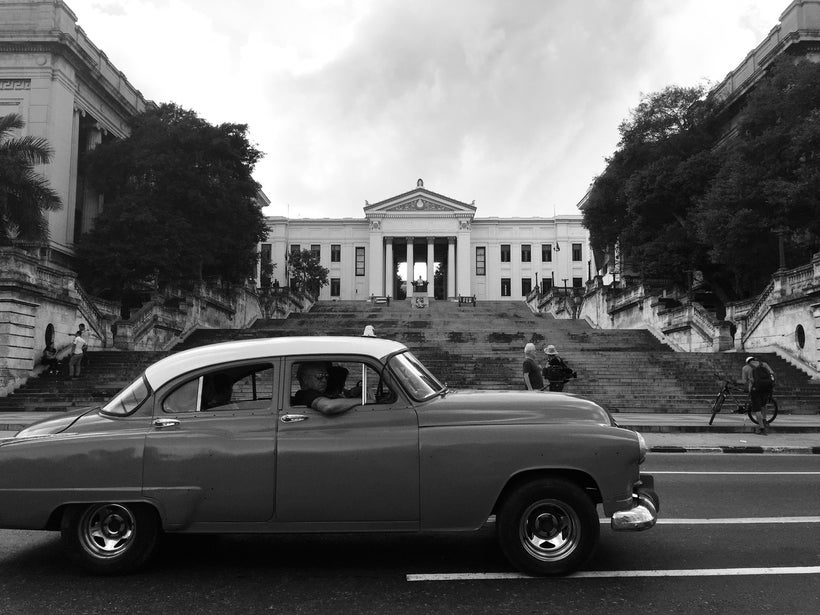 Cuba is still a communist country with one-party rule, but easing tensions with the US has allowed its people build a better future. In my opinion, everyday Cubans are much more focused on improving neighborly relations, with an end goal of the US lifting its embargo, than on mourning the changing of the revolutionary guard.
But that's not the end of the story, as significant change is underway in the US as well. I sense the election of Donald Trump has caused considerably more concern for Cubans than the passing of Fidel. On November 28, as I was boarding that historic flight to Havana, Mr. Trump tweet-threatened to terminate "the deal" with Cuba. Hanging on every word emanating from the US, Cubans worry that all of the progress they have seen in the last two years will be reversed. Yes, it is unlikely that the embargo will be lifted anytime soon, as that will take an act of Congress that is not currently in favor. But at the risk of offending my Cuban friends and colleagues, I don't believe Cuba is a high enough priority for Mr. Trump to reverse the all of the progress that has been made. I also don't believe Mr. Trump would want to negatively impact the US industries who have invested in the budding relationship with Cuba, such as the airlines, cruise lines, and telecoms.
With that said, policy by tweet does have a negative impact on business, as it creates uncertainty. Already my company, Access Trips, which specializes in people-to-people culinary tours, has seen an increase in questions around potential changes in policy that could affect future travel to Cuba. Some people have put off booking their trips until after inauguration, while others have inquired about insurance to protect their investment. As a company, we have updated our policies to give our guests renewed confidence. Do I think Mr. Trump will rescind President Obama's executive orders that impact travel to Cuba in the near future? No. Do I understand the concern? Of course. Cuba has been a forbidden fruit for decades, and we Americans are just starting to get our minds around what it means to travel there. Uncertainty can create anxiety for people spending thousands of dollars to jet off to a developing and largely unknown destination.
In our office we often jokingly quote the famous Greek philosopher Heraclitus: "The only constant is change," especially with regard to Cuba. In the past two years travel to Cuba has involved a sea of headlines regarding policy changes, economic changes, and leadership changes. But what remains constant is the strength of the Cuban people and their vibrant culture. Now is the time to seek it out and celebrate it.
Since none of us have a crystal ball to see into the future, here are some practical ways to prepare yourself for travel to Cuba during this time of change.
What you should know before you travel to Cuba:
As with any destination, make sure all your required paperwork is in order, including passports, visas and international flights
Check in with your airline to confirm flight details, including whether they handle the required visa and medical insurance documents for you
Print out all travel documents before you go as reliable computers, printers, and internet are hard to come by in Cuba
Purchase trip cancellation insurance that includes a "cancel for any reason" benefit that includes natural disasters and political changes
Book your tour with a company that is proactive and flexible in response to the ongoing changes in Cuba
While the mood was subdued during this time of national mourning, and our newly elected leader has everyone on their toes, I left Cuba last week with a renewed connection to the Cuban people, and a stronger than ever commitment to pioneering the best ways to discover the island nation.
Tamar Lowell is CEO of Access Trips, a culinary tour company operating licensed people-to-people tours in Cuba.
REAL LIFE. REAL NEWS. REAL VOICES.
Help us tell more of the stories that matter from voices that too often remain unheard.
This post was published on the now-closed HuffPost Contributor platform. Contributors control their own work and posted freely to our site. If you need to flag this entry as abusive,
send us an email
.