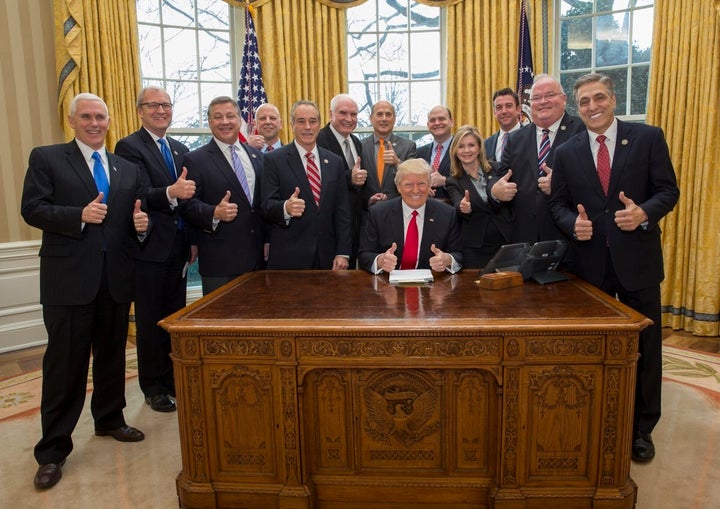 Take a room full of middle-aged and old white guys in suits (with one woman), have them point thumbs up, sporting overly exuberant smiles. Voilà! A meme is born.
This group photo features President Donald Trump and a merry band of gushingly supportive GOP representatives who call themselves the "Trump Caucus." Several wags on Twitter were taken by their uniformity ("It's so white I need sunglasses," quipped one) and a certain look that said "sales" to many.
It was shot after the president schmoozed at a "listening session," at which he seems to do most of the talking.
The crew included congressmen from North Dakota, Pennsylvania, Missouri and Tennessee, and a lone congresswoman from Tennessee. Rep. Chris Collins (R-N.Y.) and Rep. Duncan Hunter (R-Calif.) came out for Trump a year ago, they pointed out. "Good friends," the president said. They mostly told the president their names and chit-chatted a bit.
"We're going to find the leakers," Trump responded, vowing they would "pay a big price for leaking."
"You know, the Russians are just a ruse — it's all about the leakers," he added.
Then it was time to pull out the thumbs for the shot that so inspired Twitter users.
Popular in the Community