As usual, President Donald Trump is either ignorant or lying about his own policies. This time, it's so ridiculously obvious that correcting the record might sound fake.
During an event Thursday at Northeast Iowa Community College in Peosta, Trump was very excited to report that "incredible" numbers of people were signing up for association health plans, a form of coverage his administration is making easier to buy. He's right about one thing: That truly is incredible, in that it's the opposite of credible.
"I hear it's like record business that they're doing," Trump said. "We just opened about two months ago, and I'm hearing that the numbers are incredible. Numbers of people that are getting really, really good health care instead of Obamacare, which is a disaster."
To recap: zero people have actually enrolled in this insurance because it is literally impossible to do so until Sept. 1 at the earliest. And as for Obamacare being a "disaster," its current problems have a lot to do with Trump himself.
Association health plans are policies that allow small companies in the same industry to band together to buy health benefits for their employees. These already existed before Trump, and before the Affordable Care Act became law in 2010.
President Barack Obama's administration made them comply with the Affordable Care Act's rules requiring health plans to provide a minimum, basic set of benefits (things like prescription drugs and maternity care) and limited how insurers could set prices based on the health status of the workers.
The Trump administration is changing that. These association health plans could evade the benefit rules and also charge premiums based on workers ages, occupations and places of business.
Association health plans may save some employees and employers money because they offer skimpier benefits, although those savings could be negated if an employee needs care not covered by her plan and has to pay out of pocket.
And these plans are designed to attract healthy consumers, so the more of them that leave the Affordable Care Act exchanges to join association health plans, the more costly the exchange customer base becomes and the higher premiums for those customers will be.
For decades, Republicans have favored expanding association health plans, largely because these plans don't have to follow important state insurance laws, like those that require specific services to be covered.
Naturally, Trump thinks his lieutenant concocted the idea all on his own earlier this year.
"Secretary Acosta. So he has turned out to be one of our greats. I told you about health care. He came out of nowhere with this incredible plan," Trump said in Iowa.
But here's another thing about the incredible plan: The biggest boosters of association health plans don't even want to sell them.
The National Federation of Independent Business has been pushing Congress and federal agencies to loosen the rules for association health plans for many years, and has long viewed them as a way to make it easier for their members to offer health coverage to small-business workers. Trump even announced his association health plans initiative at an NFIB event in June.
So you'd think the GOP-friendly NFIB would be champing at the bit to roll out an association health plan for its members. Nope!
As Politico reported this month, the NFIB isn't planning to start an association health plan after all. The National Association of Realtors, also a huge supporter of association health plans in the past, isn't so sure now either.
So the "record business" Trump has already touted may be a while coming, if anyone ever buys one of these plans at all.
Meanwhile, the Democratic attorneys general of 11 states and the District of Columbia filed suit Thursday to block the association health plans rule. The lawsuit claims these plans will disrupt the Affordable Care Act markets and that the administration overreached in the regulation by redefining what an "employer" is under federal law.
With all of this going on at once, perhaps it's understandable that Trump would confuse "record business" with absolutely no business at all in any way, shape or form. After all ― to borrow a phrase ― nobody knew health care could be so complicated.
Before You Go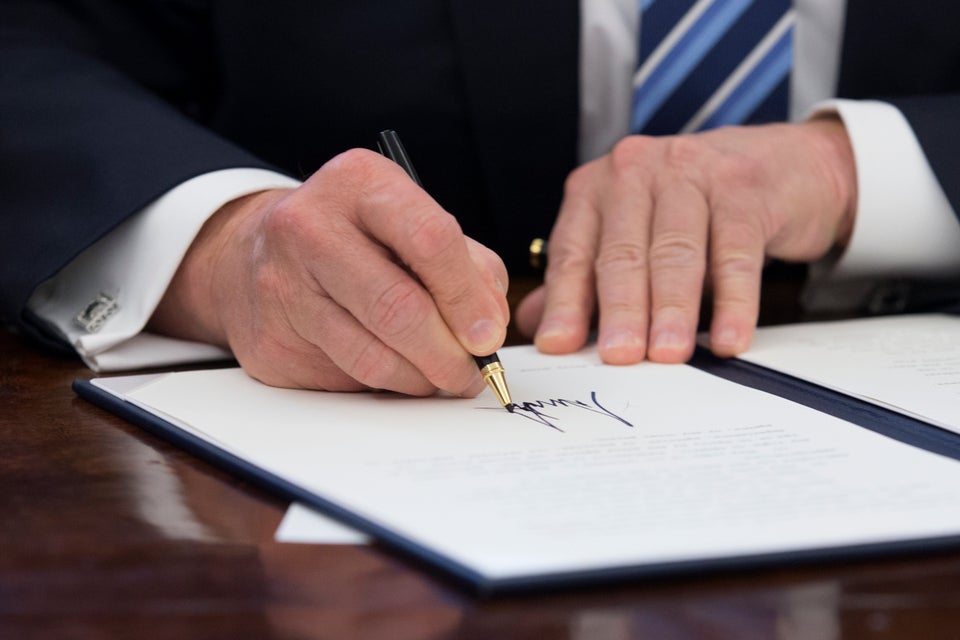 Donald Trump Loves Signing Things
Popular in the Community